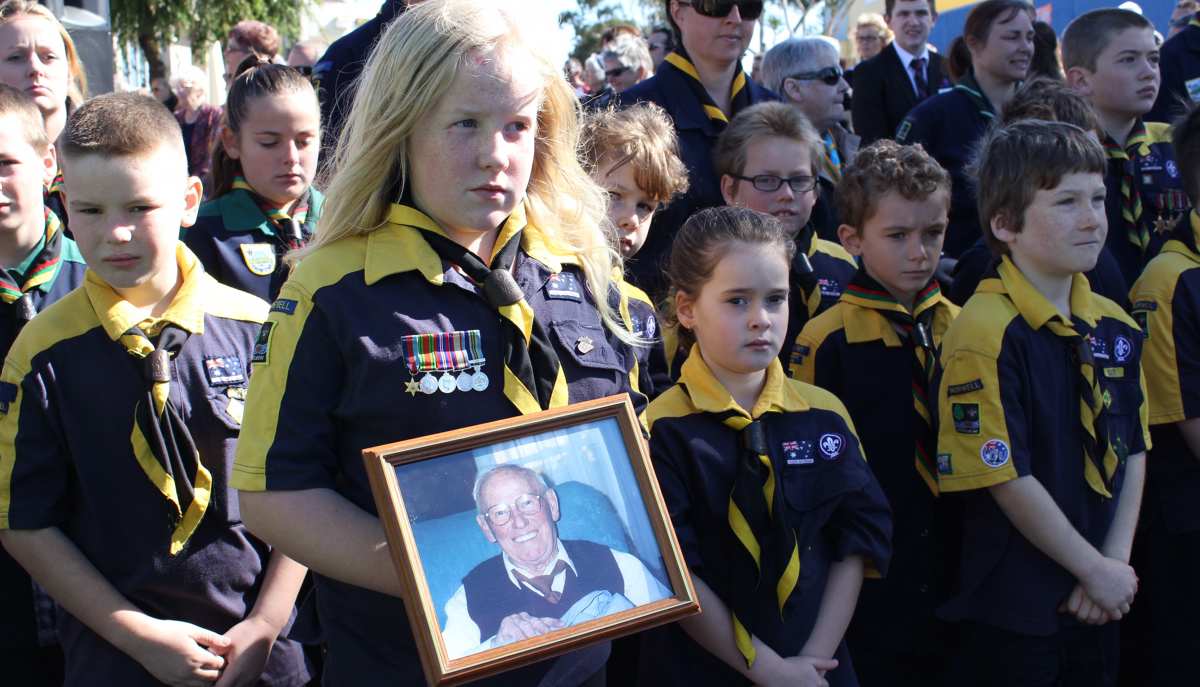 Thousands of Latrobe Valley residents converged on their town cenotaphs and RSLs on Friday, to pay solemn respect to those men and women who have made the ultimate sacrifice.
Services across the region acted as a prelude to next year's Gallipoli landing centenary, with crowds swelling significantly since last year as the nation's focus turned to the Anzac spirit.
"Wherever Australians are called to assist, mateship comes to the fore," Warrant Officer Class 1 Glenn Armstrong said in his address at the Traralgon service.
"We need to commit ourselves to live lives worthy of the sacrifice by looking after our mates."
Warrant Officer Armstrong said he was "emotionally moved" to come home after 32 years of service and see how much his town's Anzac Day ceremony had grown.
The sentiment was echoed across the Valley, with Moe RSL president Ray Watson describing his first glimpse of the crowd as "mind-blowing".
"Every year there's more and more people interested in what actually happened with the Anzacs," Newborough RSL president Troy Hutson said at his town's service.
Yallourn North able seaman Neil Irving delivered a speech to the crowd reflecting on his proudest moment while serving Australia in the navy.
"I was very humbled to address everyone, this is my last Anzac Day so it just meant a lot to address everyone while I was in uniform," Mr Irving said.
"I'm very proud to have served my country, I recommend it to anyone.
"It's important that you never forget those who have made the ultimate sacrifice for our country and celebrate our way of life."
At Morwell, Dallas Howell, an Iraq and East Timor veteran, was guest speaker.
Morwell RSL vice president, Les Maher said he wanted a younger veteran to speak and offer a perspective on modern conflicts.
"The message that we want to get across is that the RSL is here for all people. You don't have to be a returned serviceman or servicewoman, the RSL is still here to assist anybody and it's open for membership for non-military people. Once they become members we can help them," Mr Maher said.
Current servicemen Brendan, 25, and Jack, 22, Dalrymple attended the service to escort their great uncle and Kokoda track veteran Jack O'Callaghan, 93, in a wheelchair to lay a wreath at the town's cenotaph.
The young men said their great uncle fought hard not to be in a wheelchair, but was proud to be a part of the service.
"(Anzac Day) is everything. It's a part of our history to be a part of our custom's traditions in the defence force and remembering those who have gone before us," Brendan said.
At Trafalgar, residents were determined to honour veterans as best they could, and even when a recording of the national anthem cut out half way through, the crowd continued to sing.
Guest speaker, Trafalgar Football Netball Club president Darren Brock, spoke of the similarities in the values and attributes of players in sport teams and those in armed conflict.
He also spoke of the grave differences between the two situations.
"For those soldiers there was no half time break, no water boys and it was not just a matter of losing a game," Mr Brock said.
"Anzac Day to me and many others is the most important day as an Australian.
"As every year goes by I believe there is a greater appreciation of Anzac Day."
Three players at the club are currently serving in the Australian armed forces.