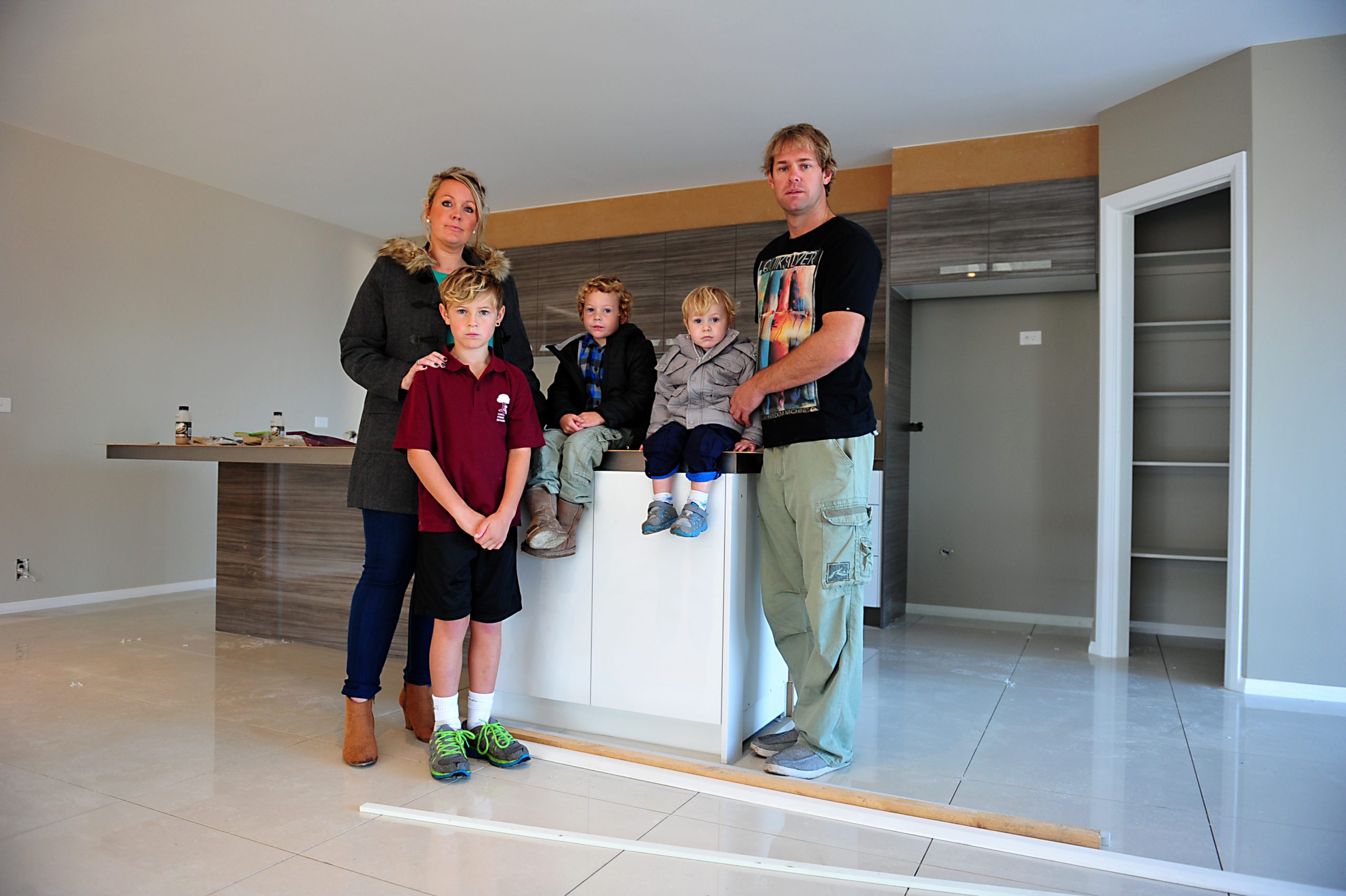 RELATED COVERAGE: Neilson Builders into liquidation

Last week the Gina family were excitedly preparing to move into their new Churchill home.
This week they have no idea where they are going to sleep.
As one of 13 home build projects across Gippsland frozen amid the Neilson Builders collapse, Vanessa and Matt Gina's future is at the mercy of an investigation into the company's demise.
"It's horrible, it's just horrible – we have to be out of our house, which we've already sold, in two weeks and into the new house; it was supposed to be a straight swap over," Ms Gina said.
With an estimated $30,000 of work still to be completed at the new house, including carpeting, plumbing and heating, and every last dollar tied up in the Neilson liquidation process, a Certificate of Occupancy is beyond their reach.
"We just don't have any more money to get someone to finish the house – we've paid all our money already to Neilsons," she said.
"Now we are finding out the house isn't insured anymore because it was Neilson which took out the insurance policy – if something happened to it we are in really big trouble."
With three young children and "no plan B", Ms Gina said her family felt they had been cheated and deceived.
"We had just had a face-to-face meeting with (Neilson Builders directors) and they assured us to our faces that everything was okay," she said.
"They promised us that our house would be completed on schedule and promised everything would be alright."
Ms Gina first came to suspect Neilson Builders' troubles after Christmas, when building activity on their home ceased for six weeks.
"They kept telling us the sparky (electrician) had 'family issues'; in hindsight it was stupid for me to keep thinking nothing of it," she said.
Despite continued assurances from Neilson Builders the build would continue, by the seventh week of inaction, Ms Gina tracked down the 'sparky' in question.
"I rang the electrician and started off by saying I was so sorry he was having family issues, but he was a bit confused by that – he said 'I don't have family issues, they owe me $30,000 – I'm not working for them 'til I get my money'," Ms Gina said.
"I confronted them and told them 'you have lied to me' – but they just blamed it on the sparky. That's when it all really started going rocky."
Negotiating building variations so the Ginas could pay third party tradesmen to continue work, Ms Gina learned of the growing number of tradesmen cutting off ties with the company.
However, it was not until Friday when Ms Gina, still planning her family's upcoming move, discovered the company's demise in a chance conversation at the supermarket.
"I tried to ring (director) Alan (Whitty) over and over again but no one would pick up, I even went to his house, but he just sent his youngest daughter out to tell me to go away."
"I am so angry at them – I've seen some businessmen actually crying that they might have to close their doors because of this – it's just the lies they told us all the way through that I can't believe."
The Express has made repeated attempts to contact management at Neilson Builders, however no calls have been answered since last Friday.
Meanwhile, with financial investigations into the company already underway as part of the liquidation process, the likelihood of restitution is unclear.
"I know it's wishful thinking to think we would get anything from the liquidation, but we are just hoping for a miracle here," Ms Gina said.