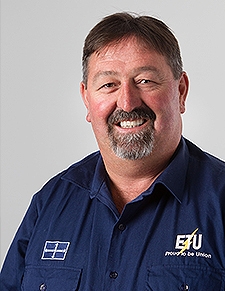 A Latrobe Valley electrical union stalwart is free to apply for his right to enter workplaces, after initially being barred by the Fair Work Commission in April.
Electrical Trades Union Gippsland organiser Peter Mooney has been prevented from entering building and construction industry sites after it was deemed he failed to satisfy the FWC's "fit and proper person" criteria.
Union officials are required to hold an entry permit in order to gain access to workplaces, under the Fair Work Act 2009, however his application was rejected due to his role in a number of past breaches of industrial law.
A subsequent challenge by the ETU was rejected by a full bench in the FWC last week, however in handing down its decision, indicated Mr Mooney may not be again rejected on similar grounds.
"The passage of time since Mr Mooney last engaged in conduct for which he was required to pay a penalty under industrial laws demonstrates that he has acquired an understanding of the need to comply with such laws and is fit and proper to hold an entry permit," the full bench said.
While disappointed the FWC's rejection had not been overturned, Mr Mooney said the full bench comments "felt like a bit of a win".
"I don't know technically why they rejected me in the first place, other than I've been pretty successful in what I do as a representative for the ETU and the workers," he said. Federal Government's Fair Work Building and Construction targeted Mr Mooney in an April press release about FWC's rejection of entry rights to 18 union representatives across the country, including ETU state secretary Tony Gray and CFMEU state secretary John Setka.
"I think I was being made an example of; for whatever reason this Federal Government is trying to weaken the strong union organisers out there."
The FWBC department did not return a call from The Express.
News of Mr Mooney's initial rejection drew an outpouring of support from Express readers in phone calls and in online comments.
"To say Peter Mooney does not fill the FWCs 'fit and proper person' criteria shows a complete disregard for the true character of Pete and reflects poorly on the FWC for becoming a union bashing instrument of a union hating government," reader Vin Heaton-Harris said on the Express website in April.
Mr Mooney has re-applied for right of entry permit this week.