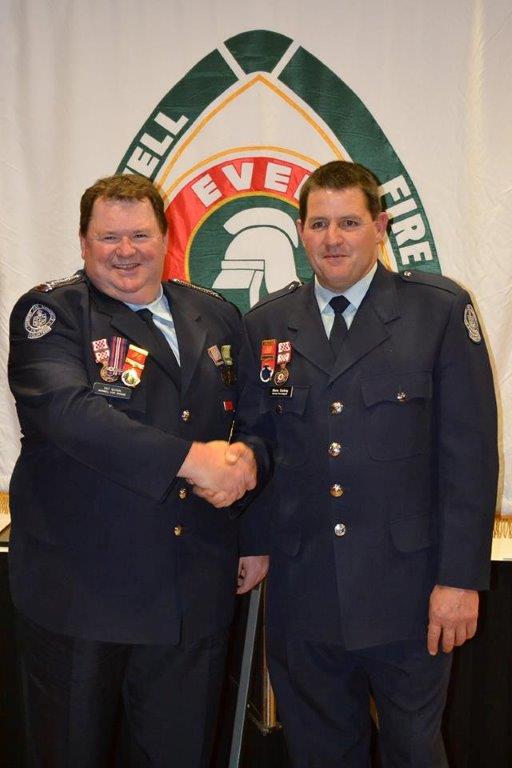 Two life memberships were awarded at Morwell Fire Brigade's 2014 annual dinner and presentation night.
Lieutenant Pat Quinn and firefighter Steven Darling received the highly acclaimed awards acknowledging 30 plus years of dedicated service to the brigade and wider Morwell community.
Mr Quinn said the honour was not only a significant personal achievement, but also recognised the importance of volunteer work with the brigade.
"The brigade's 100th birthday coming up next year further underlines the strength of our organisation," he said. "Steve and I have been an integral part of this history alongside many other stalwarts who have graciously volunteered their time.
"We encourage others throughout our local community to give serious thought towards becoming a volunteer for the Morwell brigade. There is plenty of training provided; no-one is left out."
Nine National Emergency Medals were also presented for efforts during the 2009 Black Saturday Fires. Recipients were: senior station officer David Bodinnar, leading firefighter Alex Mihai, operations officer Shane Mynard, station officer Gareth McDermott, leading firefighter Emma Conway, firefighter Peter Martin, leading firefighter Colin Corbett, senior station officer Paul Fixter and leading firefighter Julian Seri.
Nine brigade members received CFA service awards: Five Year Certificate – Mr Martin; 10 Year Medal – firefighter Rohan Gordon; 20 Year Clasp – firefighter Lynne O'Callaghan and Dave Ryan; 25 Year Clasp – station officer Rohan Taylor; 30 Year Clasp – Mr Mynard and Mr Mihai; 40 Year Clasp – member Terry Ainsworth and Lieutenant John O'Bryan.
The Commendation for Service Award for showing exemplary leadership service during the Hazelwood Mine fire earlier this year was given to Mr Mynard and Lieutenant Pat Quinn.
The brigade auxiliary was presented with a cake to celebrate 60 years of service.
Firefighter Hayden Stephens was awarded Firefighter of the Year with Runner of the Year, brigade member, Chris Ainsworth.