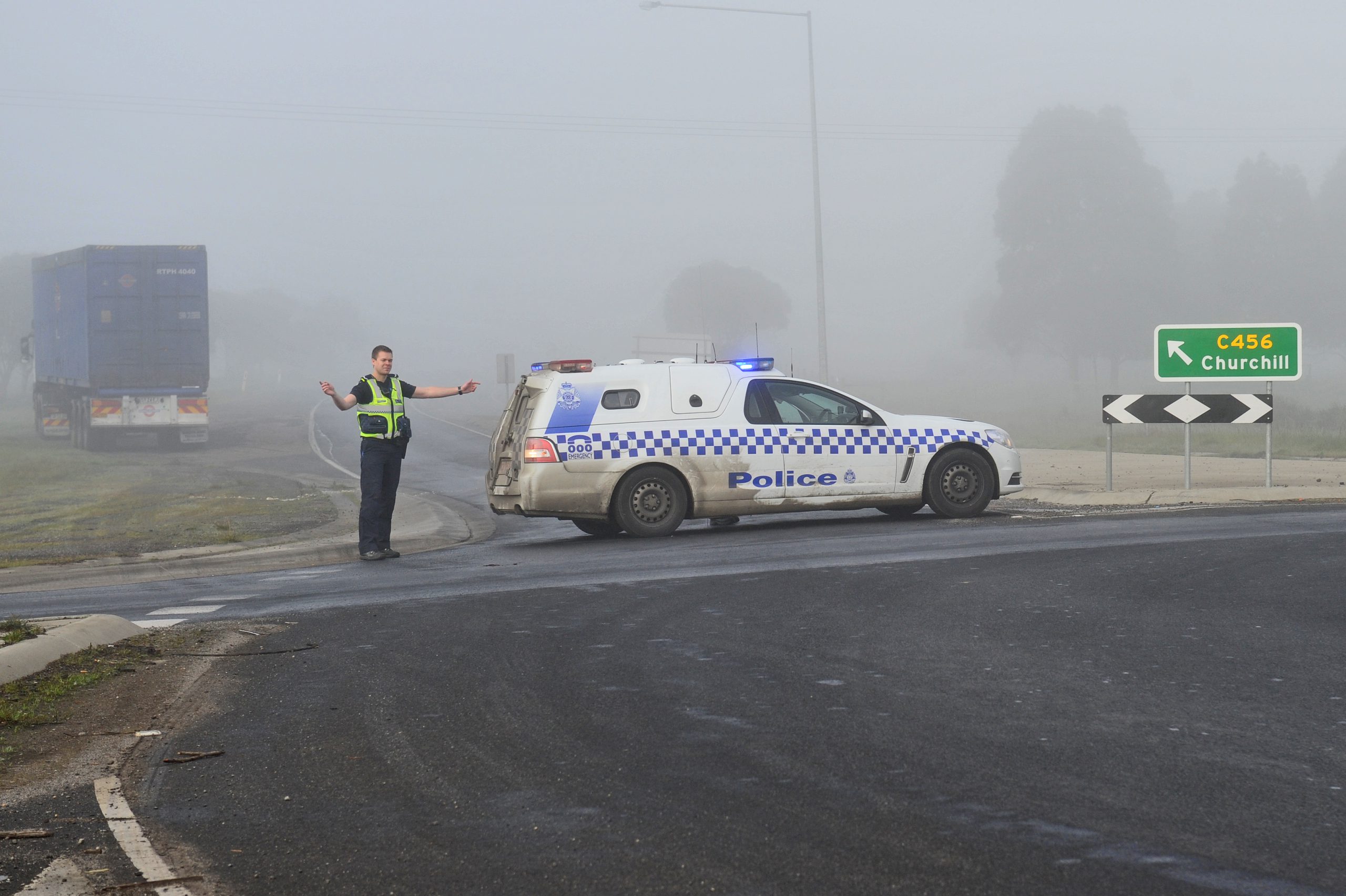 POLICE have made yet another plea for careful driving in foggy conditions, after a collision involving five cars shut down Monash Way between Morwell and Churchill for more than an hour yesterday.

Hydraulic fluid was spread across Monash Way on Wednesday about 8.20am, after a turning truck towing a wood chipper on a trailer was struck by a north-bound car.
"The truck was heading south and had stopped to turn right into Brodribb Road; it's clear he stopped, couldn't see anything, and took off and the north bound car has smashed into the wood chipper trailer," Churchill Sergeant in charge Phil Denhouting said.
However, the initial collision caused a chain reaction; a second north bound car swerved to avoid the collision, while a third car ran into the initial colliding vehicle.
A fourth car stopped abruptly, only to be back-ended by a fifth car.
Traffic was blocked in both directions as authorities worked to clear the hydraulic fluid from the road, which Sgt Denhouting described as "worse than ice on a road".
The driver in the initial north bound car was taken to hospital with minor injuries, while traffic was reopened about 10am.
"I cannot reiterate enough from Victoria Police's perspective that drivers in fog drive to the conditions; if that means driving at 40 km per hour, then you drive that slow and turn your headlights on," Sgt Denhouting said.
"Sometimes I just don't know what it's going to take to get people to turn their headlights on in fog."
Mopping up
Local firefighters helped clean up the mess from a two-car collision outside Mid Valley Shopping Centre on the Princes Highway on Tuesday.
The east-bound lane closed as hazardous car fluids were cleaned from the road, and the wreckage was taken away by tow truck.
Unregistered car impounded
A CAR was impounded under hoon legislation on Sunday afternoon, after a Morwell man in his 20s was clocked driving 127 kilometres per hour in an 80km zone.
The incident occurred along Commercial Road between McDonalds Street and Miners Way in an unregistered vehicle.
The driver was issued with a summons to appear at court for excessive speeds at a later date.
POLICE are investigating two thefts involving alcohol swipes from local liquor stores. The first theft occurred at a hotel drive-through in Traralgon in Franklin Street on 20 June. Police said they wished to speak to the two men pictured above left that might be able to assist with their enquiries.
In another theft, $200 worth of alcohol was taken from a Tramway Road liquor outlet about 6.55pm on 21 June.
Police also wish to speak to the three males pictured above right. Latrobe Valley police Leading Senior Constable Brett Godden said these kinds of thefts occurred at least once a week.
"Stores need to take proper security measures and improve CCTV cameras,"Ldg Snr Const Godden said.
Anyone with information in relation to the thefts or identity of the men involved can phone Crime Stoppers on 1800 333 000.