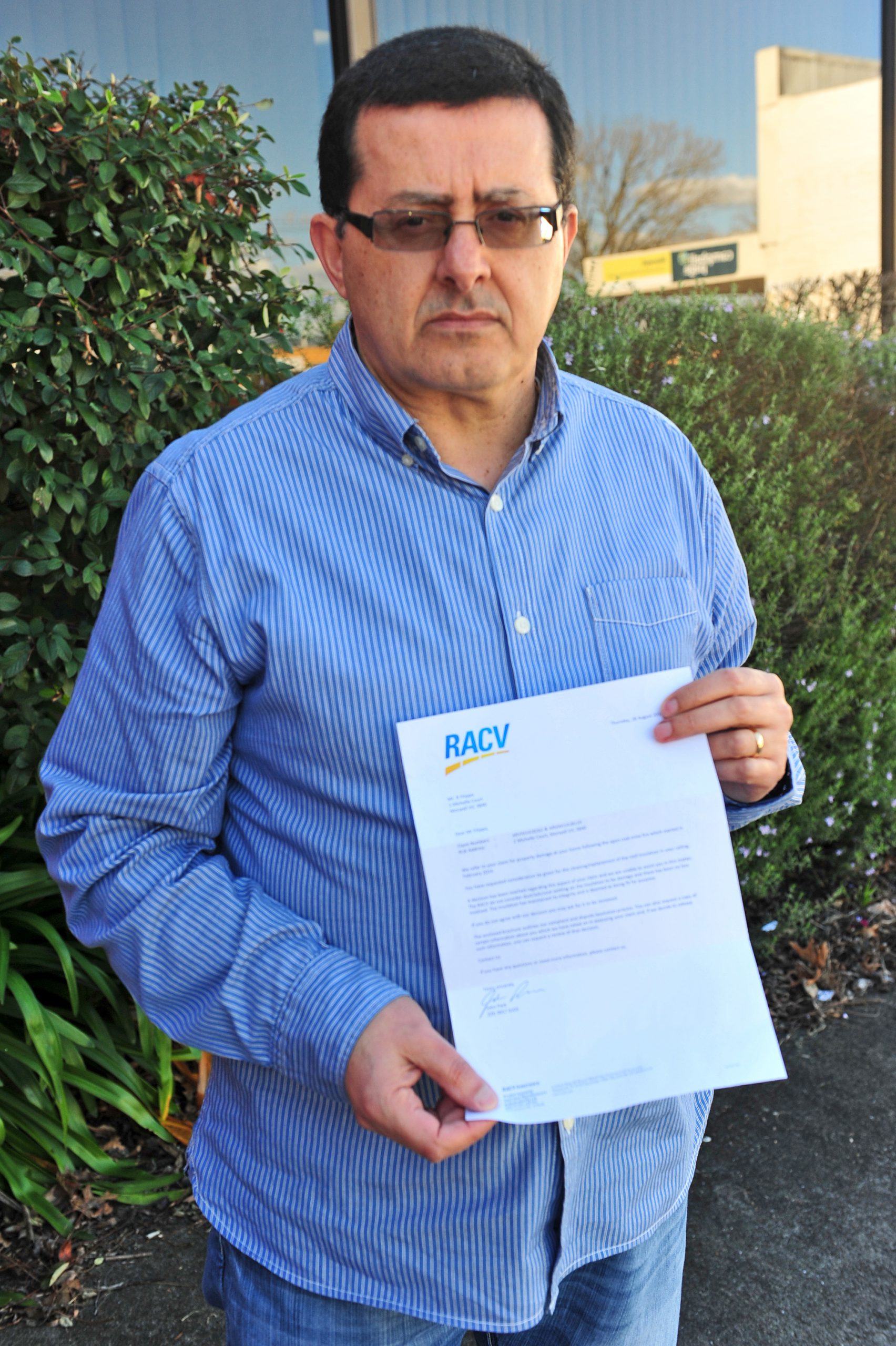 A BITTER dispute over the replacement of roof insulation caked in ash and soot from the Hazelwood mine fire has left a Morwell man at his wit's end.

Michelle Court resident Rocco Filippo was surprised and disappointed when his home and contents insurer of 27 years, RACV, refused to replace his insulation which was installed about five years ago as part of former Prime Minister Kevin Rudd's insulation scheme.
"I've been with these guys for 27 years, I've got my cars insured with them, everything insured and I've never made a claim and all I'm asking is to get the insulation replaced," Mr Filippo said.
Mr Filippo said he worried for his family's health because of the potentially toxic substances residing within the bats following the fire.
"I thought the RACV, being such a big company that there wouldn't be any problems but they didn't want to know me," he said.
Since the Hazelwood mine fire, insurance broker Alan Wilson had acted on behalf of many Latrobe Valley residents who had been denied payouts.
According to Mr Wilson, RACV have reserved the right not to replace old insulation, but will pay for cleaning and have occasionally replaced insulation in newly-built homes with recently replaced bats.
Unlike many other insurance companies who eventually came to the table and provided sums of about $5000 to members, Mr Wilson said RACV reserved the right to choose what they would pay for.
He said RACV were the only company to take this stance and required extensive information from Latrobe City executive officer John Mitchell and Member for Morwell Russell Northe to say the fire was actually out before making a decision.
Budget Direct chose not to give payments to any of their members which would have cost the company $35,000 in total, according to Mr Wilson.
"(Budget Direct) would not help the citizens of Morwell out at all and quite aggressively defended their action of not paying the claims," Mr Wilson said.
He estimated that Suncorp, an umbrella insurance organisation of many insurance firms, paid more than $1 million on ex gratia payments to help the Morwell community.
However, Mr Wilson said most insurance companies have put in writing that if there is another mine fire, they will not make any ex gratia or claim payments.
Mr Filippo was told if he was not happy with RACV's decision to only conduct cleaning, he could contact the ombudsman.
To have his house cleaned by RACV contractors, Mr Filippo would be required to pay $300 in excess.
However, after The Express contacted the company about Mr Filippo's claim, the newspaper was told Mr Filippo could have investigated other channels and the claim would be escalated to higher personnel.
Community Recovery Committee chair Carolyne Boothman is seeking Morwell residents who have had trouble with their insurance companies.
"People need to be a lot more persistent and talk to their insurance companies because a lot more of them have come good now,' Ms Boothman said.
"Our other big push is that people, as they're renewing their contents insurance, that they ask if they'll be covered if it happens again."
The committee is attempting to tally how many roof cavities remain uncleaned and how many people have not received insurance because of an inability or unwillingness to pay their excess.
If your roof cavity still requires cleaning, phone Latrobe City Council on 1300 367 700.
Once numbers are tallied, the group hopes to present the State Government with these figures to apply for funding to help residents pay their excess.
If you are having trouble with your insurance company payouts, phone Alan Wilson on 1300 888 111.