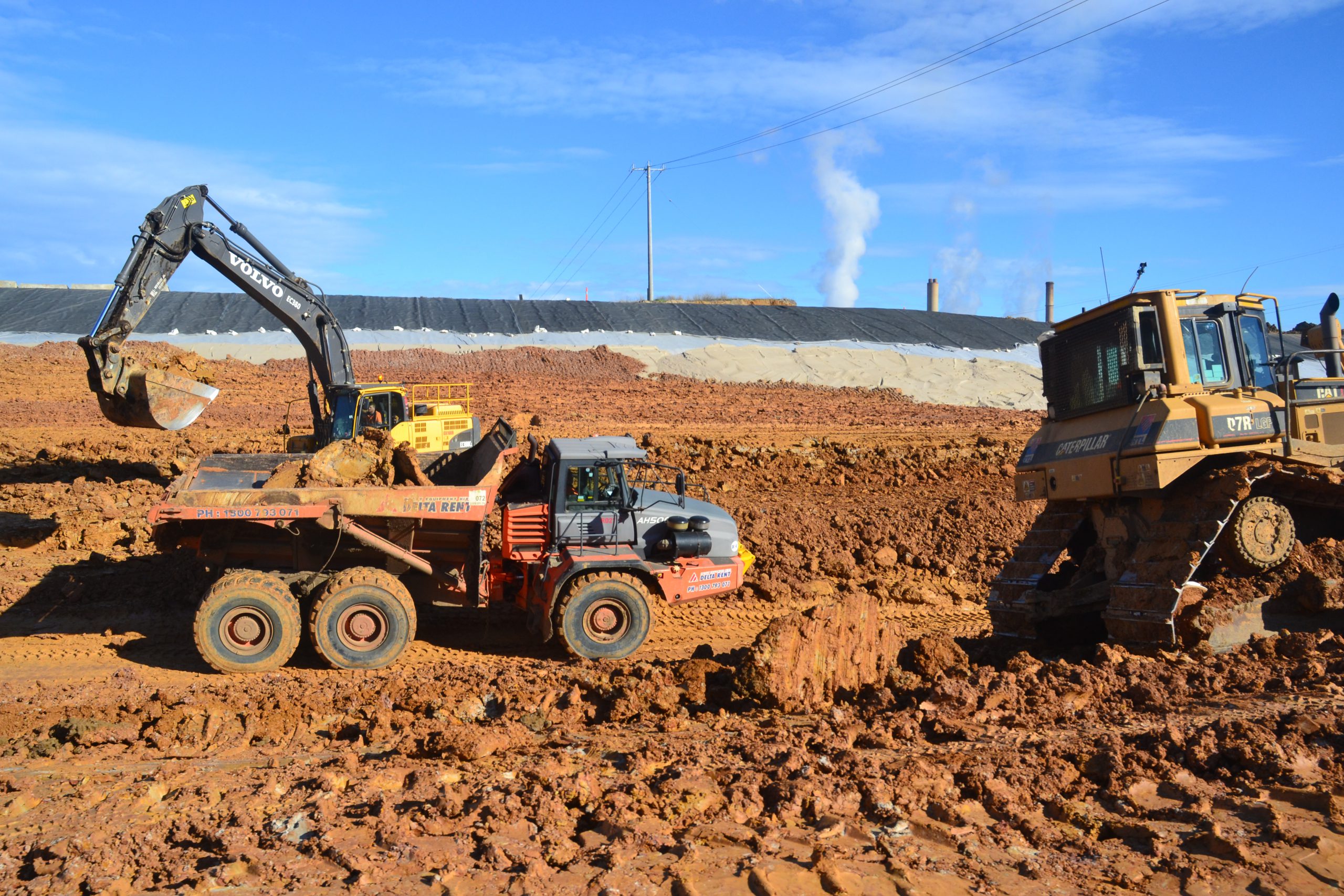 The State Government could unlock the job creation floodgates in the Latrobe Valley if it forced open cut operators to fast-track rehabilitation of vast swathes of disused mine.

Construction Forestry Mining and Energy Union mining and energy president Luke van der Meulen has called on both major political parties to consider the economic and employment benefits associated with the large scale excavation projects, opportunities for which are "plentiful" and "ripe for the taking".
"These jobs are there right now," Mr van der Meulen said.
"We've got the people and the technology and the know-how, but it needs to start right now because it's going to take a long time so we need to start cracking right now."
Latrobe Valley mine operators are required to rehabilitate disused sections of mine – through major excavation works involving the capping of spent coal batters with suitable earth material – in accordance with schedules set out within State Government approved 'work plans'.
At the Hazelwood open cut, where the February mine fire took root in a section where mining operations had ceased decades earlier, rehabilitation is not set for completion until 2032.
Mr van der Meulen said if rehabilitation timelines were fast-tracked, the Latrobe Valley could enjoy a constant stream of job creation similar to the levels of employment seen during the eight kilometre diversion of the Morwell River around the western end of the Hazelwood open cut.
The $100 million project saw local earth working company RTL shift 10 million cubic metres of earth between 2006 and 2010.
"There were hundreds and hundreds of people working on that job for years, it was simply massive; it's landscaping on a massive scale," Mr van der Meulen said.
"Rehabilitation is exactly the same, on top of all the bull dozers, front end loaders and excavators, there's the revegetation part – there's tree replanting, re-grassing and getting the ecological health back into the site."
In response to concerns the potential fast-tracking of mine rehabilitation programs would only lead to outside contractors swooping into the area and "cherry picking" rehabilitation contracts, Gippsland Trades and Labour Council secretary John Parker said the State Government would have to ensure priority was given to local workers.
"It's only morally right for this type of work to go to local workers, so they would have to be given first preference for the jobs. There's no point in governments throwing money into a region just for someone to come out of Melbourne and snatch it up," Mr Parker said.
"We are always talking about transition industries of the future, but this is a legitimate transition opportunity for the Latrobe Valley right here and right now.
The potential benefits of mine rehabilitation as a fire prevention measure were explored during the Hazelwood Mine Fire Inquiry, however the Inquiry made no specific recommendations about rehabilitation in its final report, noting it as it was a "complex, costly and time-consuming exercise".
Mr van der Meulen called on both side of governments to take leadership on rehabilitation as a job creation measure before the next election.
"It about time Labor and (the Coalition) stopped blaming each other for what they didn't do while they were in power, and tell us how they are going to fix this place," he said
"This is a major work that needs to get done, and will create a lasting legacy that generations can enjoy – if we do these things we can start putting value back into the Latrobe Valley environment, which people can one day appreciate again instead of it being a derelict wasteland."
Energy and Mining Minister Russell Northe said more knowledge was needed about the "complex area" of rehabilitation before any changes were considered, including potential impacts on mine stability, public and safety infrastructure.
"I have asked the department to undertake a review of rehabilitation plans at all Latrobe Valley coal mines with a focus on long term stability and safety," Mr Northe said.
Yallourn mine operator Energy Australia spokesperson Emma Tyner said the company was rehabilitating its mine progressively, taking into account the requirements of the operating mine and its infrastructure.
"We have carried out significant rehabilitation of the (old) Township Mine. This work has included hundreds of thousands of plantings as well as work on the batters," Ms Tyner said.

"A large section of the batters has fire service infrastructure in place so it's not appropriate to rehabilitate these areas until the mine is no longer in use," the EA spokesperson said.
Meanwhile Loy Yang A owner AGL spokesperson Gerald May said the company progressively rehabilitated its mine and external overburden dump in accordance with works plan obligations.

"In the future, as the mine develops, AGL Loy Yang plans to commence placing overburden back into the mine as part of its rehabilitation strategy which will contribute significantly to rehabilitation activities at the mine," Mr May said.