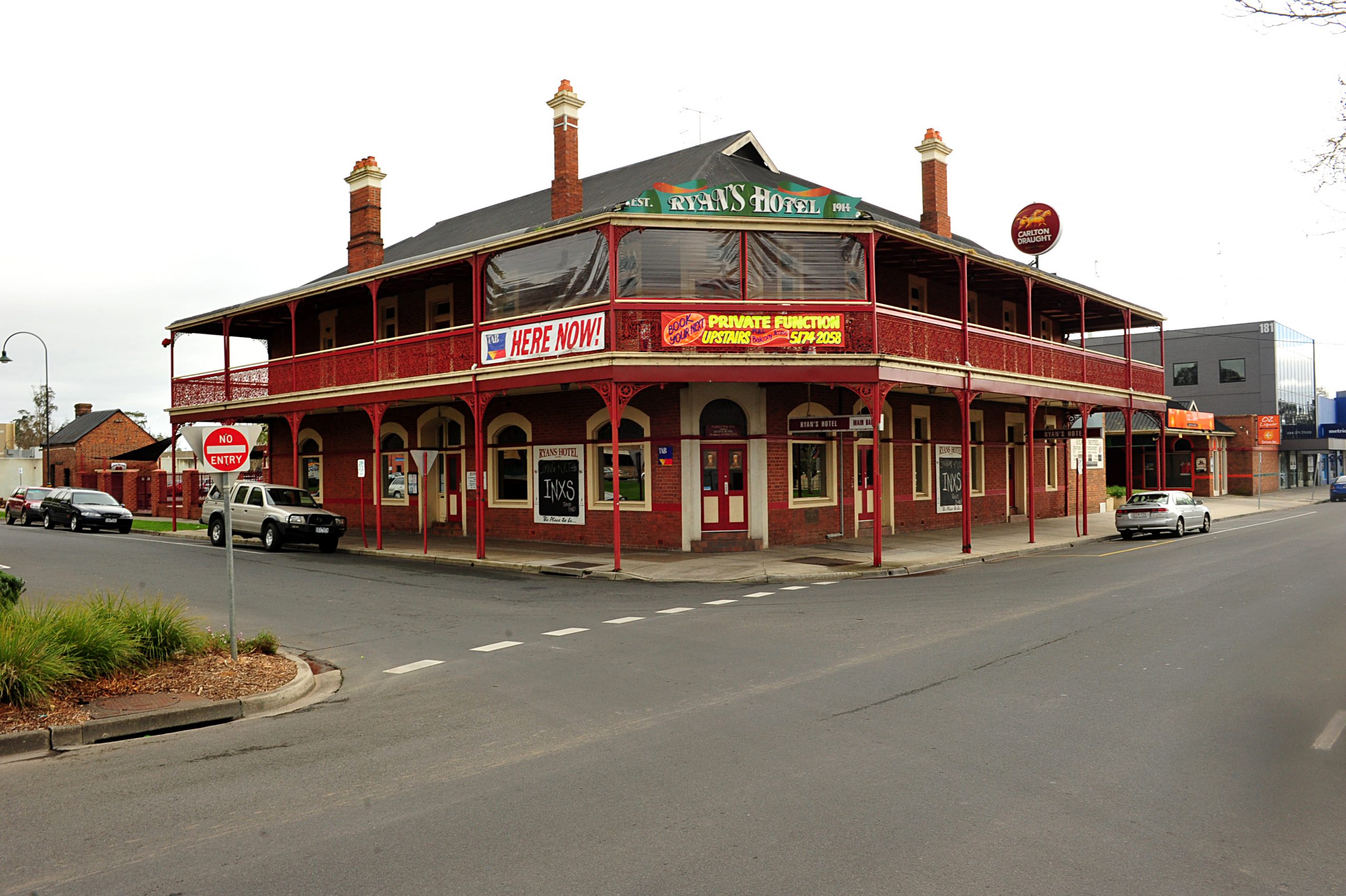 Traralgon's iconic Ryan's Hotel will reduce its opening hours and impose an early lockout as part of a Victoria Police bid to stamp out alcohol-fuelled violence in the region's entertainment district.
The Victorian Commission for Gambling and Liquor Regulation last week ruled the pub's closing time be brought to 4am from 5am and a 1.30am lockout be applied.
While in an independent decision, some members of the Traralgon Liquor Accord yesterday agreed to voluntarily impose a 1.30am lockout in their venues.
Ryan's was the latest target of local police, who earlier this year successfully pushed for Saloon Bar and Inferno nightclub to close at 4am, following a lengthy dispute before the Commission.
Police had originally sought Ryan's close at 3am with a 1am lockout, but reached a compromise with the licensee.
Latrobe police Inspector Dean Thomas said he commended Ryan's for agreeing to the changes.
"There is clear evidence to suggest that reduced trading hours, together with reduced lockout times and other initiatives contribute to a reduction in harm caused through alcohol consumption," Insp Thomas said.
"And the Traralgon liquor accord has shown a great deal of maturity in also agreeing to reduce their lockout as they appreciate they are part of the solution."
According to Insp Thomas, licensed venues Star Bar and Turk's Sports Bar agreed at yesterday's Accord meeting to refuse entry or re-entry into their premises after 1.30am.
Star Bar's opening hours have recently been extended to 2am.
Insp Thomas said the owners of Spirit Bar on Kay Street were currently seeking to extend the venue's closing time from 1am to 2am and if this was successful they had agreed to impose the 1.30am lockout.
Generally, venues without a lockout specified in their liquor licence had practiced a 2am cut-off.
Insp Thomas said he would like to see all venues eventually impose a 1.30am lockout.
He said police would work with the late-night bus service to ensure its departure times correlated with the new arrangement.
"I would encourage people wanting to venture out of an evening to head out earlier so they can enjoy the night," Insp Thomas said.
Ryan's Hotel licensee Tina Doyle said she was happy to take a proactive approach in working with police and the community to "make it a safer place for everybody".
Traralgon CBD Safety Committee chairman councillor Michael Rossiter said there was no simple "one answer" to the Valley's alcohol and drug-fuelled violence issues and part of the solution would have to include increased community education.
"Police are dealing with alcohol and drug-related violence and its effects on a regular basis and it poses a great risk to police officers and the community," Cr Rossiter said.
He said consistent lockout times may assist police reduce alcohol-related violence.