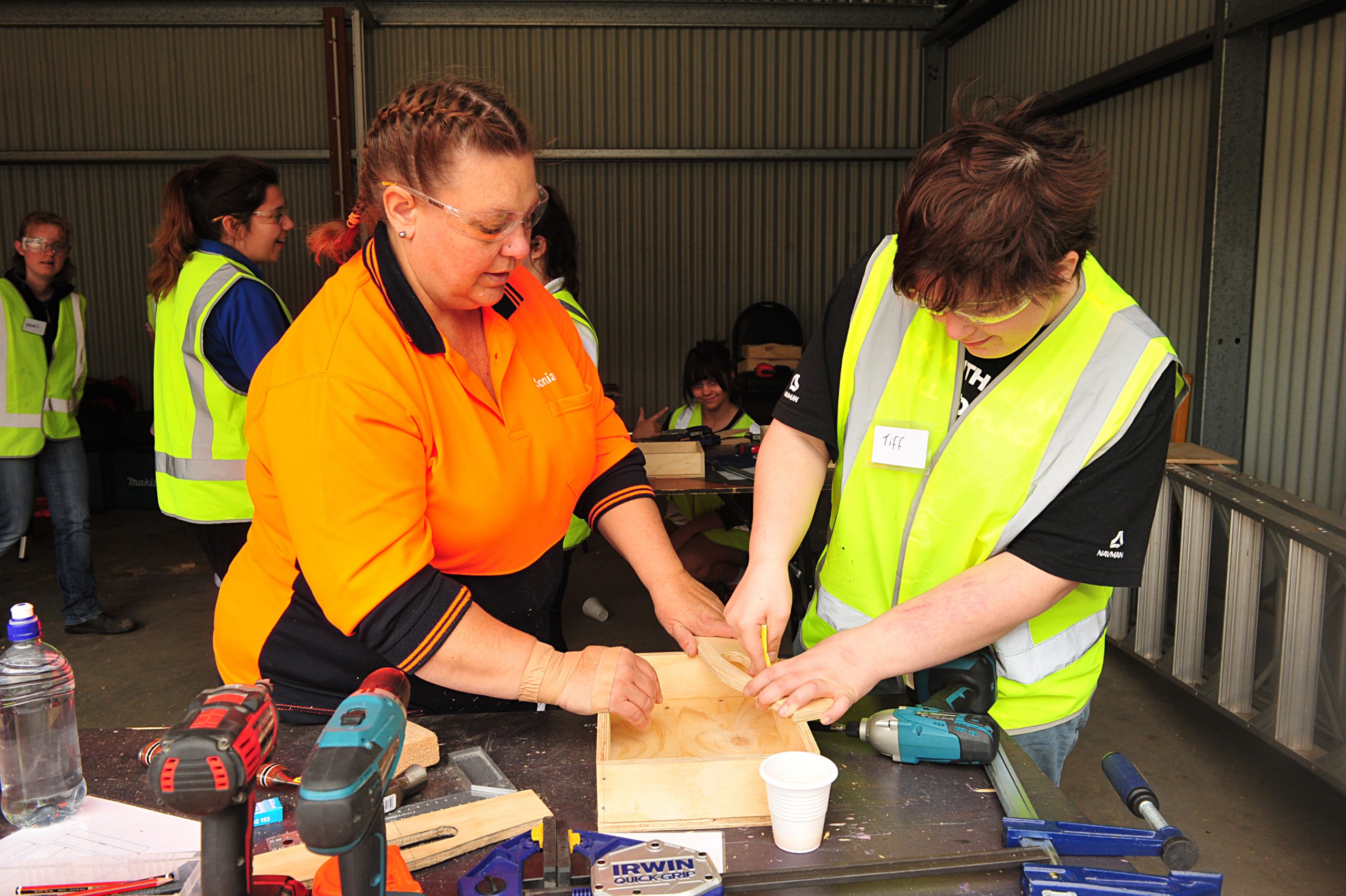 DRILLS were whirring and hammers banging as Latrobe Valley girls tested out some tools during a workshop aimed at encouraging them to pursue non-traditional trades roles.
Women painters, plumbers, mechanics, cabinet-makers and other tradies guided 20 girls on how to construct a cutlery caddy, while discussing their careers at Traralgon's Country Fire Authority complex.
The event was one of three Supporting and Linking Tradeswomen held in Gippsland in the past week.
Painter and decorator Sonia Morenweck, who had 30 years of experience, said there were barriers for women entering trades.
"A lot of it is not having the support behind them, people telling them that they can't do it," Ms Morenweck said.
"It doesn't have to be family support, it can be career advisors, teachers, it could be friends, just to support them."
Participant Tiff Black said she was exploring possibilities for future careers and found the day helpful.
"I liked finding out about what kind of jobs there are and that women are actually in these trades, its not just men," the 16 year-old said.
Fellow participant Lauren Heriban said she enjoyed the woodwork.
"It seems really hard, then you do the hands-on stuff and you think 'well I could actually do this; this seems fun'," Lauren said.
Traralgon apprentice plumber Tahlia Pike was among those who guided the girls through their woodwork, but also acted as a role model for the participants.
Ms Pike said she decided to pursue a job in trades when she "had enough" of the hospitality industry four years ago.
The 22 year-old began her apprenticeship after completing work placement and was now working for Cheney Plumbing and almost qualified, but warned it was not always easy.
"When I first started there were six or seven other blokes… they could be very nasty; they would always look at me and I felt like I wasn't trusted," Ms Pike said.
She said she also phoned several employers before landing her work placement, with many turning her away because she was a girl.
A Victorian Equal Opportunity and Human Rights Commission representative was at the session to explain to participants their rights in the workplace, including rules against discrimination and sexual harassment.
A Department of Human Services spokesperson said the department hoped to launch a database of women in trades for customers and set up a local support network for women tradies, as they did not often come into contact with many female peers.
The Skill Women Trade Workshop utilised the services of SALT and was sponsored by the State Government, and supported by Local Learning and Employment Networks, Berry Street, Bunnings and Traralgon CFA and local businesses.
For more information or to connect with tradeswomen visit
www.saltaustralia.org or search for Supporting and Linking Tradeswomen on Facebook.