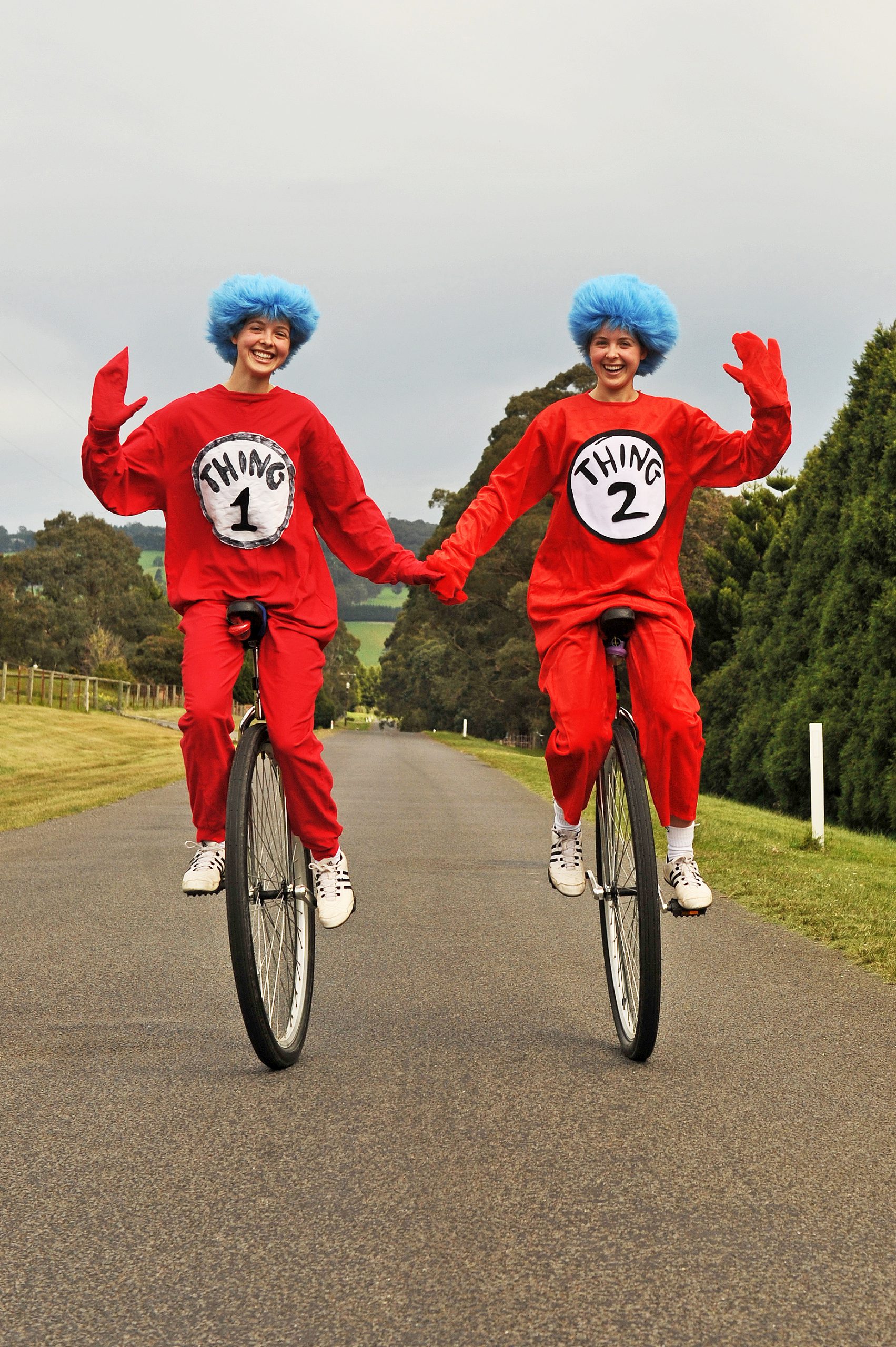 In their craziest costumes and on top of their largest unicycles yet, Hernes Oak twins Sophie and Amanda Fontaine will ride in the 'Around the Bay – Ride for a Child in Need' challenge next month.
On 19 October the identical twins will ride 50 kilometres in the event for their fifth year and won't be easily missed, dressed as Dr Seuss characters Thing 1 and Thing 2.
Sophie and Amanda have raised more than $6000 for children's education charity The Smith Family over the years and hope to add $1500 to the tally this year.
Getting onto the cycles, combatting crowds and staying upright in windy conditions are among the challenges the girls will face, but they insist it is not as dangerous as it seems.
"If you fall off, 90 per cent of the time you land on your feet," Sophie said.
The girls were also quick to downplay the difficulty of their hobby.
"It takes quite a few months to be able to get on and ride by yourself," Sophie said.
"But then once you get that far you can ride for as long as you want," Amanda added.
This year the girls, who have been unicycling since they were 10 years old, have stepped up to a 36-inch wheel and are looking forward to once again joining in the "really good" atmosphere of the event.
The Smith Family's Victorian general manager, and keen cyclist, Anton Leschen said donations raised by fundraising riders meant the charity would be able to support more disadvantaged children in their education.
"It's alarming to hear that over 350,000 Australian children regularly miss out on at least two essential child items, such as up-to-date school books and new school clothes, or the opportunity to participate in school activities," Mr Leschen said.
"If kids miss out on the things they need for school then they're not going to succeed.
"If we can reach our fundraising target ($1.2 million), we can put a significant dent in this figure and support more children and young people in need succeed in their education."
For more information or to sponsor the Fontaine sisters' ride visit www.aroundthebayfundraising.com.au and search for 'Thing 1 and Thing 2'.