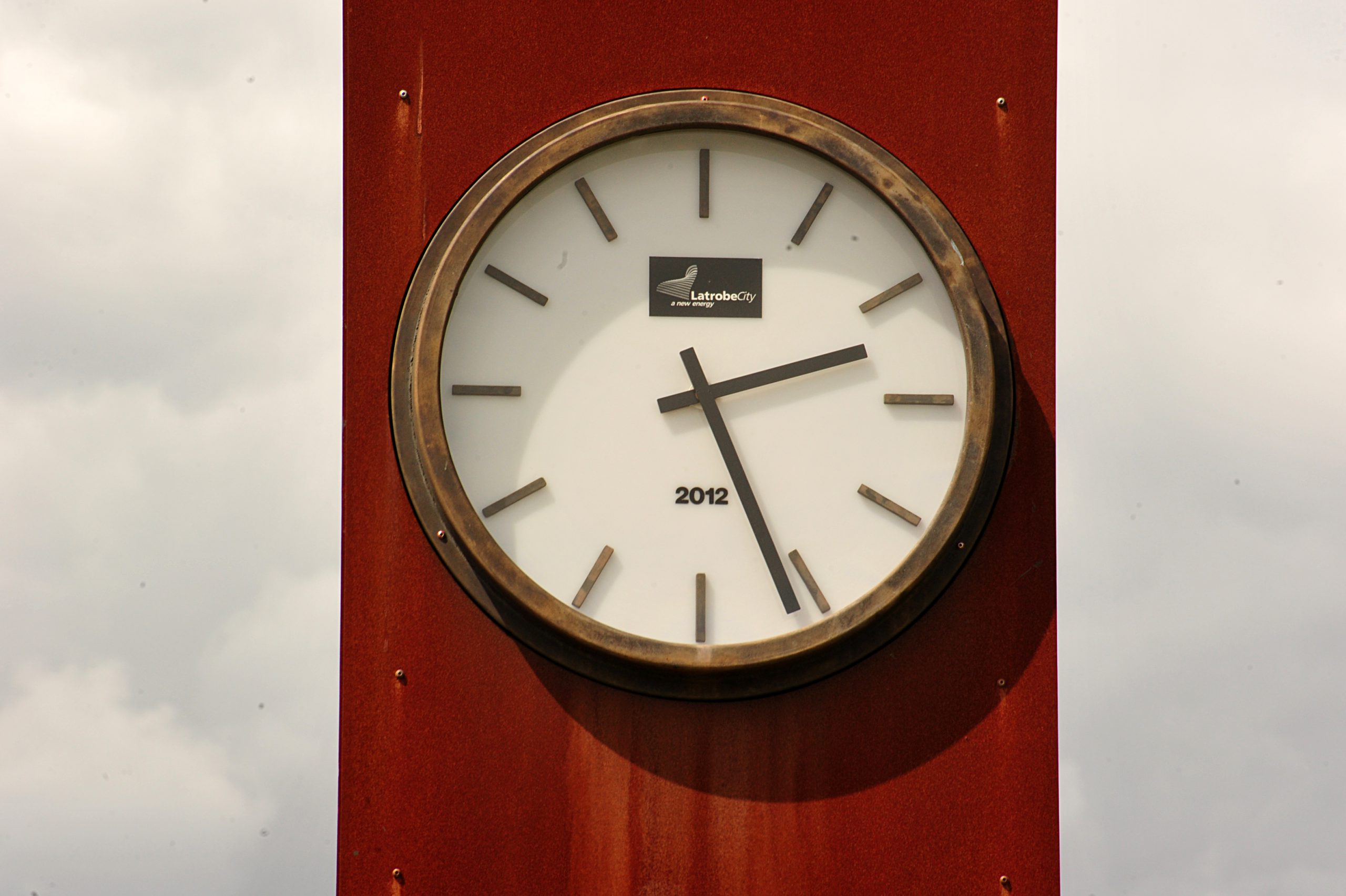 SPECIAL REPORT
A CONTROVERSIAL and divisive two-year chapter in Latrobe City Council's internal history has come to an end with the conclusion of an unfair dismissal case by a high-profile whistleblower.

The resolution, made behind closed doors, ends a drawn-out stoush between the council and former project officer Alan Cox, in a process which involved councillors, the Fair Work Commission, the Independent Broad-based Anti-corruption Commission and an investigation by the Victorian Ombudsman.

Dismissed in September last year for alleged misuse of surveillance equipment, Mr Cox, along with a number of internal supporters, has consistently argued his sacking was intrinsically linked to a prolonged period of whistleblower harassment, after he took allegations of corrupt hiring practices within council's maintenance department to senior management in August 2012.
It is alleged the confidentiality of the subsequent complaints process was breached, leading to claims of targeted bullying against Mr Cox and other whistleblowers for "ratting" on their superiors.
The resolution, reached in September and confirmed by acting chief executive John Mitchell on Friday, comes 19 months after Mr Cox and a handful of co-workers took specific allegations of misconduct to Latrobe City's whistleblower coordinator.
Mr Cox's allegation involved the "forced" recruitment of a department manager's friend into a "non-existent" role, circumventing standard council employment procedures, for which the recruit was paid $32,000 for four months contracted work.
Other whistleblower allegations are believed to have involved claims of "cronyism", "bullying" and further accounts of "questionable employment practices" by the department manager in question.
An internal investigation was subsequently launched.
Numerous sources within council claim an alleged breach of whistleblower identities resulted in a campaign of "targeted" harassment against Mr Cox from within his own department, until his dismissal seven months later.
However, former general manager community infrastructure Grantley Switzer has "absolutely rejected" all allegations of compromising the complaints process and all claims of "whistleblower harassment".
"There was absolutely no harassment towards those staff that made complaints; (that they) were the targets of victimisation as a result of the whistleblowing," Mr Switzer told The Express on Friday.
"I simply did not see any evidence to suggest that being the case.
"Complaints were seriously dealt with and appropriate action was taken. Every support was made available for those members, and I personally endeavoured to support Alan throughout this process as much as possible.
"I had a good relationship with Alan and the people the complaints were made against, so I considered it appropriate as per our procedures that HR and organisational excellence took an impartial look at the process," he said.
Mr Cox's case, which has been widely discussed throughout the organisation and Latrobe Valley community, has been compared to the drawn-out Essendon Football Club ASADA investigation, in terms of its long-term impact on staff morale.
One well-placed source said Mr Cox's case "symbolised everything that was wrong with Latrobe City Council", citing a range of issues which prompted the current policy and procedure overhaul being implemented by Mr Mitchell.
"The talk of harassment has stopped people from being able to speak up," the source said prior to the conclusion of the dismissal case.
"If Alan Cox loses his case there will never be another whistleblower or person who stands up against any corruption at Latrobe City Council.
"If he is vindicated and proved to have been unfairly dismissed and treated fairly with the outcome, others will be empowered to stick their hands up… which would be an indictment on council and the previous administration, and an indictment on the legal system."
While the unfair dismissal hearing in FWC is understood to have been placed on hold to allow the Victorian Ombudsman to probe the allegations of whistleblower harassment, The Express understands the subsequent investigation failed to legally prove the allegations.
The findings of the investigation may never be made public.
Meanwhile, Mr Mitchell has come under fire for opting to resolve the case behind closed doors, instead of allowing it to run its course in the public domain.
Former Latrobe City chief executive Paul Buckley, who left the organisation three months after Mr Cox's sacking, was openly critical of the decision to resolve the dispute confidentially.
"In my view, appropriate processes were in place for the dismissal claim to be heard by FWC; that's a process that both protects the employee and the organisation and provides and independent arbitration of these disputes and in my view was appropriate," Mr Buckley said on Friday.
The decision to resolve the unfair dismissal outside of the FWC has been explained by sources within the organisation as Mr Mitchell's desire to not "air council's dirty laundry" in the public domain.
Mr Cox has declined on numerous occasions to comment on the ordeal, citing ongoing legal proceedings during the unfair dismissal case, however issued a statement on Friday.
"I have no comment to make other than all issues between myself and council are resolved," Mr Cox said.
The Express has also been unsuccessful in talking to current council employees and councillors on the record about the ordeal, due to a blanket gag order placed over the organisation on the issue by Mr Mitchell in August.
An ex-building maintenance coordinator within Mr Cox's former department described the alleged harassment as "completely unsuitable".
"(The) only thing people will learn from this is, 'keep your mouth shut', but it should be the other way around. People should feel they are protected and safe, but it was the complete opposite."
The Express has agreed not to identify the employees involved in the original whistleblower complaints, however the former and acting CEOs have both confirmed disciplinary action was taken against those involved.
 email the journalist: lnelson@lvexpress.com.au
Age-old and respected clock-making tradition has it that a maker's name adorns the face of their timely creation.

It's a custom honoured by every public clock in Latrobe City.
The Morwell bus terminal clocks were crafted by 'Ingram', while the Rotary dial on Princes Drive is a 'Simplex' creation.
However, the monolithic clock tower on Moe's George Street breaks this convention: a Latrobe City logo now sits in place of the maker's name.
But this was not always the case – when the clock tower was first erected in January last year, the maker's name, 'Cox', was proudly embossed above the centre pivot.
It's no coincidence the timepiece was built by former Latrobe City employee Alan Cox, dismissed from council 13 months after blowing the whistle on allegations of corrupt hiring practices within the organisation.
Eyewitnesses recall council calling in the use of a cherry picker to remove the two 100 kilogram clock faces in late November.
It is alleged council workers were ordered by Mr Cox's former supervisor earlier this year to slap Latrobe City's logo over the Cox name, an act widely viewed within council as retribution against the whistleblower.
The incident has been described as "petty revenge" and symbolised an internal culture in which some employees thought they "could get away with anything they wanted".
Mr Cox has not commented on the incident, however those who know him say he had been "gutted" by it.
The Express has also seen a photo of a clock in the maintenance depot, where Mr Cox worked before his dismissal, on which the name 'Cox' had been crudely written in large black marker.
"That was a big 'f*** you' to Alan and a warning against anyone out there thinking about whistleblowing," one council worker spoke of the graffiti.
The cast bronze bodied clocks have become an iconic mainstay of the Moe central business district.
An article in the Moe News published in February, five months after his controversial sacking, detailed Mr Cox's pride for his creations.
"Latrobe City paid for the materials, and parts were billed to them, but I donated my time… working on it after work and on weekends," Mr Cox told the Moe News.
Complete with the "best motors in the world", Mr Cox said the clocks were designed to last for 100 years.
"You feel a sense of satisfaction, knowing you built them," he said.
Latrobe City mayor Sharon Gibson declined to comment on the renaming of the clocks, due to ongoing legal processes of Mr Cox's unfair dismissal at the time, except to say good work and craftsmanship deserved to be recognised.
"Credit, I believe, should go where credit is due – I believe anyone who goes out of their way to help the community should be recognised," Cr Gibson said.
As of yesterday, the embossed Cox name on Moe's rustic time keepers remained hidden underneath black Latrobe City logos.
When former Latrobe City employee Alan Cox was continually denied remote computer access from council's IT network, he knew something was amiss.
His attempts to find the root of the problem cost him his job.
According to an extract from a Fair Work Commission submission seen by The Express, Mr Cox approached the information technology department to learn someone had been repeatedly attempting to access his account from his own computer at the Morwell depot office.
While Mr Cox was supervising the construction of the Moe pool redevelopment – a 15-minute drive away – sources claim someone was exhausting the number of allowed password login attempts, thereby locking him out of his system.
"Concerned" about the manner in which his complaints were being handled as a whistleblower, Mr Cox is believed to have taken things into his own hands.
Acquiring a motion-activated camera from council's inventory – used to detect vandals of council infrastructure – Mr Cox concealed the camera at his desk, facing his chair, in an attempt to catch the alleged hacker wannabe.
It is unclear whether Mr Cox was ever able to identify the alleged computer intruder.
The surveillance cameras were soon found, and within the course of a week, Mr Cox's duties were suspended.
Within the fortnight, his employment had been terminated, due to unauthorised use of surveillance equipment and misuse of council property.
Neither Mr Cox nor Latrobe City Council's acting chief executive John Mitchell will comment on details of the termination. However the circumstances behind his dismissal have divided the workforce.
One member of the former council administration dismissed the claims of attempted computer hacking as a "conspiracy theory", while a separate well-placed source said he did not blame Mr Cox for taking things into his own hands.
"The man was crucified for being a whistleblower, so he had no choice. Over a long period of time he has just been put on the rotisserie, turning him and turning him above the fire and flames – he's just been roasted," the source said.
"How could he trust the same administration to treat (the alleged IT breaches) any differently?"
Latrobe City Council whistleblowers will have better protections under a revamped cultural approach to protected disclosure protocols, acting chief executive John Mitchell has assured.
The public invitation for employees to come forward with any concerns about internal conduct followed the conclusion of a high profile unfair dismissal case in which an ex-council employee claimed he was the victim of whistleblower harassment.
Former project officer Alan Cox claimed to have become the target of ongoing bullying and had his job security threatened after he complained about alleged corrupt hiring practices in the maintenance department in 2012. He was sacked in September.
During an extensive interview with The Express in late August, prior to last month's resolution of the unfair dismissal claim, Mr Mitchell criticised the previous administration's handling of the whistleblower complaint.
However, Mr Mitchell's comments have prompted a stiff rebuke from key players within the former council administration.
Previous chief executive Paul Buckley and ex- general manager community infrastructure Grantley Switzer have vigorously contested the acting CEO's version of events.
While Mr Mitchell declined to comment on the particulars of the unfair dismissal, due to ongoing legal negotiations at the time, he questioned how the situation was allowed to escalate to the Fair Work Commission – a process which was later sidelined when the Victorian Ombudsman became involved.
"I can't comment and I won't. We are busting our boilers to have this matter resolved and we've got to draw a line in the sand here on this issue," Mr Mitchell said.
"We didn't deal with the issue (properly) … we should've addressed the issues without having to be escalated to another jurisdiction.
"At the end of the day there was a view that the (whistleblower) procedures had been complied with, however it could have been dealt with better… I think the failure was in the way it was dealt with by the people in charge.
"In fact people were not operating in accordance with our stated values."
However, Mr Buckley, who left the organisation in December – three months after Mr Cox's sacking for unauthorised use of surveillance equipment – said he was "completely confident" the whistleblower complaint had been handled with integrity.
"I am completely confident that the processes followed in relation to the particular claims by a disgruntled employee have been absolutely appropriate," Mr Buckley said last week.
Mr Buckley also rejected any connection between the whistleblowing and Mr Cox's dismissal.
"The unfair dismissal claim and the whistleblowing need to be treated separately; after we received a complaint of a covert video recording in the workplace by Alan Cox, that claim was also investigated, and as a result of that investigation, that employee was dismissed," he said.
Mr Buckley said he was unaware of any alleged breaches to Mr Cox's confidentiality during the disclosure investigation and understood the complaint was handled "within a reasonable timeframe", resulting in disciplinary action against the accused parties.
Sought for a response, Mr Cox said he had "no intention of responding to the comments of a disgruntled ex-CEO".
Mr Buckley's comments have been staunchly backed by the general manager in charge of Mr Cox's former department – and original case manager of the complaints – Mr Switzer, with both men criticising the subsequent decision to privately resolve the case out of the public eye.
However, Mr Mitchell argued the case should not have escalated to the Fair Work Commission in the first place.
Mr Mitchell expressed his "own personal view" of "sympathy" for a number of individuals whose professional lives had been impacted by the ordeal.
"I won't hide the fact that one of the cases has had a profound effect on the organisation, and its effect was varied on different people in different ways," he said.
"Relationships between people within (council) have changed; in some ways the case has created polarisation between elements of the organisation, in other ways the vast majority of the organisation just wish it never happened and wish we could get over it.
"I feel sorry for all parties in all camps here; I can't change history, you've got to deal with it and ensure there is a responsible outcome.
"People have got to be empowered so the organisation can discuss the undiscussable."
New workplace paradigm

Mr Mitchell said an overhaul of workplace culture would foster improved adherence to council's 'protected disclosure' protocols, as part of the incoming administration's ongoing attempts to lay a "very solid foundation for reform".
Since his appointment in December, Mr Mitchell has overseen a major restructure within council, which included the full re-appointment of general managers, and merged its five departments into four.
In June it emerged the Victorian Ombudsman had launched a number of separate investigations into a range of alleged acts of corruption within council, however the outcomes of these investigations – believed to be near completion – may never be made public.
In August independent monitor Lyndon Webb was appointed by Local Government Minister Tim Bull to monitor Latrobe City's reform process, flagging governance, procurement, finance and councillor/council officer relations as points of interest.

Amid ongoing structural and procedural reforms, Mr Mitchell flagged a range of spending efficiency measures, the streamlining of council meetings and the implementation of strengthened "merit-based" recruitment processes.
"This is a very significant public entity and our government spends have got to be of the highest calibre, and they have to be actively pursued and we've got to be held rigorously accountable."
Mr Mitchell also made specific reference to improved database and IT system processes in response to criticism from a well-placed source council's protected disclosure policy – utilised by Mr Cox as part of a small group of whistleblowers – had become "watered down" over time.

"Clearly whistleblower protection is generically put in place for workers to blow the whistle on things they see aren't right," Mr Mitchell said.
"But what makes a good organisation great is not necessarily about how good the organisation operates, it's about how well it operates as a socio-entity. You've got to be candid, you've got to be trusted, you've got to have the ability to be criticised, and it should not be taken as disloyalty.
"We are putting in place a platform to allow the right culture and right processes so we don't find ourselves in this situation again.
"We need to make sure our human relations team is skilled enough to properly manage them. We need managers to be totally accountable and immediately accountable to issues which arise," Mr Mitchell said.

While reiterating his confidence appropriate whistle blower procedures were in place and followed, Mr Buckley welcomed any improvement where necessary.
"I would always support any opportunities to strengthen procedures where appropriate," Mr Buckley said.
Stamping down on bullying
During his August interview, Mr Mitchell extended his comments to reports of isolated bullying incidents within the organisation at the time, which had also progressed to involve the Fair Work Commission.
"We've got a few Fair Work issues we've dealt with and I contend the lot of them should never have been able to escalate to the level they had," Mr Mitchell said, declining to give further details on the cases.
Mr Mitchell said there had been three cases of bullying in recent months which required independent outside reviews to validate the claims of the impacted employees.
While Mr Mitchell called for accountability, diligence and respect, he also flagged concerns about the motives of certain individuals in the workforce.
"I think it's fair to say some people do want to create situations and take advantage of that, so we've got to actually be factual and have our conversation because some people do like to take advantage, but there are others who have genuine bullying problems," he said.
"In one case that I can recall there were areas in which the response could have been improved. We've got to have more emphasis in making people aware of what bullying is, and more emphasis on ensuring managers and supervisors know how to handle and respond to the situations."