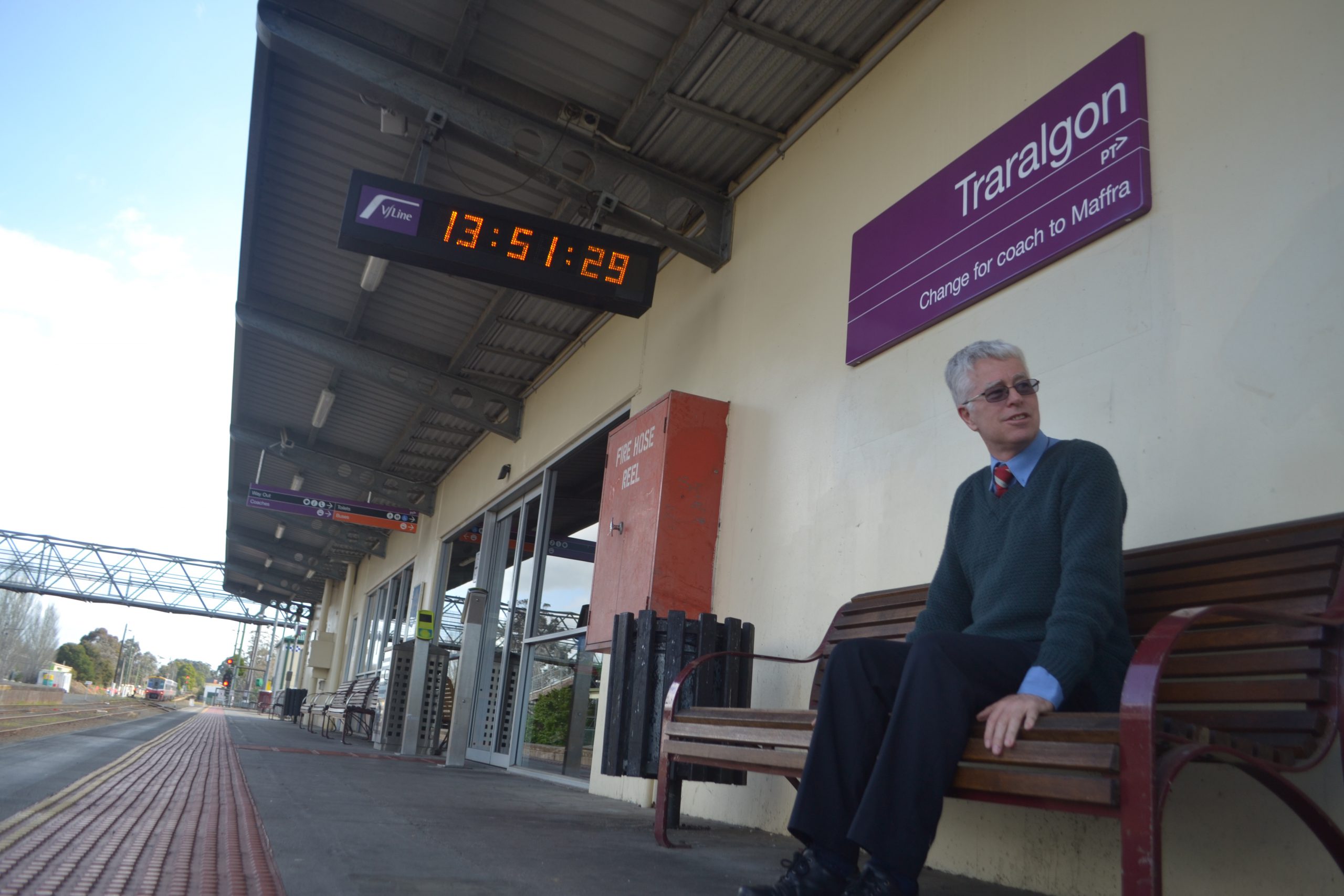 Gippsland commuters will be locked into 20 years of sub-par rail services if a "secretive" $2 billion rail announcement by the State Government earlier this year goes ahead.
That is the warning from Greens candidate for Morwell Dan Caffrey, who believes the project will only exacerbate delays for Latrobe Valley train users, on a line already plagued by punctuality issues. "Most train users don't even know about this plan, but once you start looking at what they are proposing to do, it's not hard to see it's a pretty bad decision for Gippslanders," Mr Caffrey.
Announced in April, the Cranbourne Pakenham Rail Corridor Project upgrade, projected to cost between $2 and $2.5 billion, would introduce 25 new high capacity metro trains into the system.
However with no overtaking points along the Pakenham rail corridor, Mr Caffrey said the introduction of extra suburban trains would only increase the chances of delays for V/Line services.
"Metro trains (will) have less than two minutes separation between successive trains from Dandenong into the City. V/Line trains will be forced to slow to the speed of the slowest Metro train ahead of it," Mr Caffrey said.
The project would be delivered through a consortium between the government and suburban rail operator Metro, however last month it emerged the State Government would not be able to sign construction contracts until mid-2015.
Transport Minister Terry Mulder said the project would need to go through a "rigorous evaluation process to ensure the project would deliver the best outcome for Victorian taxpayers".
Despite the project's limbo, with Labor remaining uncommitted to supporting the project if it wins the November election, Mr Caffrey said the plan still raised serious implications for Gippsland commuters.
"The planning for this upgrade is being done in secret," Mr Caffrey said.
"Will there be provision for the urgently needed track duplication between Dandenong and Caulfield and for double stacking of containers when level crossings are removed to cater for increased freight traffic?
"There's been no business case for it; we don't know if the consortium will be basically privatising that line, and how much control would the public have over that?"
Mr Caffrey referred to the government's recent public transport "propaganda" blitz, which hinted at a 2035 date before an extra track would be built on the Pakenham line.
In its initial online 'verdict' of the proposal published earlier this year, former Public Transport Users Association president Daniel Bowen labelled it a great upgrade "overall".
"The V/Line passengers may be unhappy that they'll still sit behind suburban trains for the metropolitan portion of their trip," Mr Bowen wrote.
"That's an annoyance, but they alone aren't reason enough for extra tracks.
"Certainly something needs to be done to improve travel times for regional passengers (and attract more of them off the road), but the immediate concern is suburban capacity."
The Cranbourne Pakenham Rail Corridor Project has been proposed to deliver:
-25 new high capacity metro trains exclusively to Cranbourne and Pakenham lines
-New modern signalling
-Level crossing removals at Koornang Road, Carniegie; Murrumbeena Road, Murumbeena; Clayton Road, Clayton; and Centre Road, Clayton
-Rebuilt stations at Clayton, Murrumbeena and Carnegie
-New train maintenance depot at Pakenham East
-Project completion expected in 2019
-Currently in limbo, with contracts yet to be signed