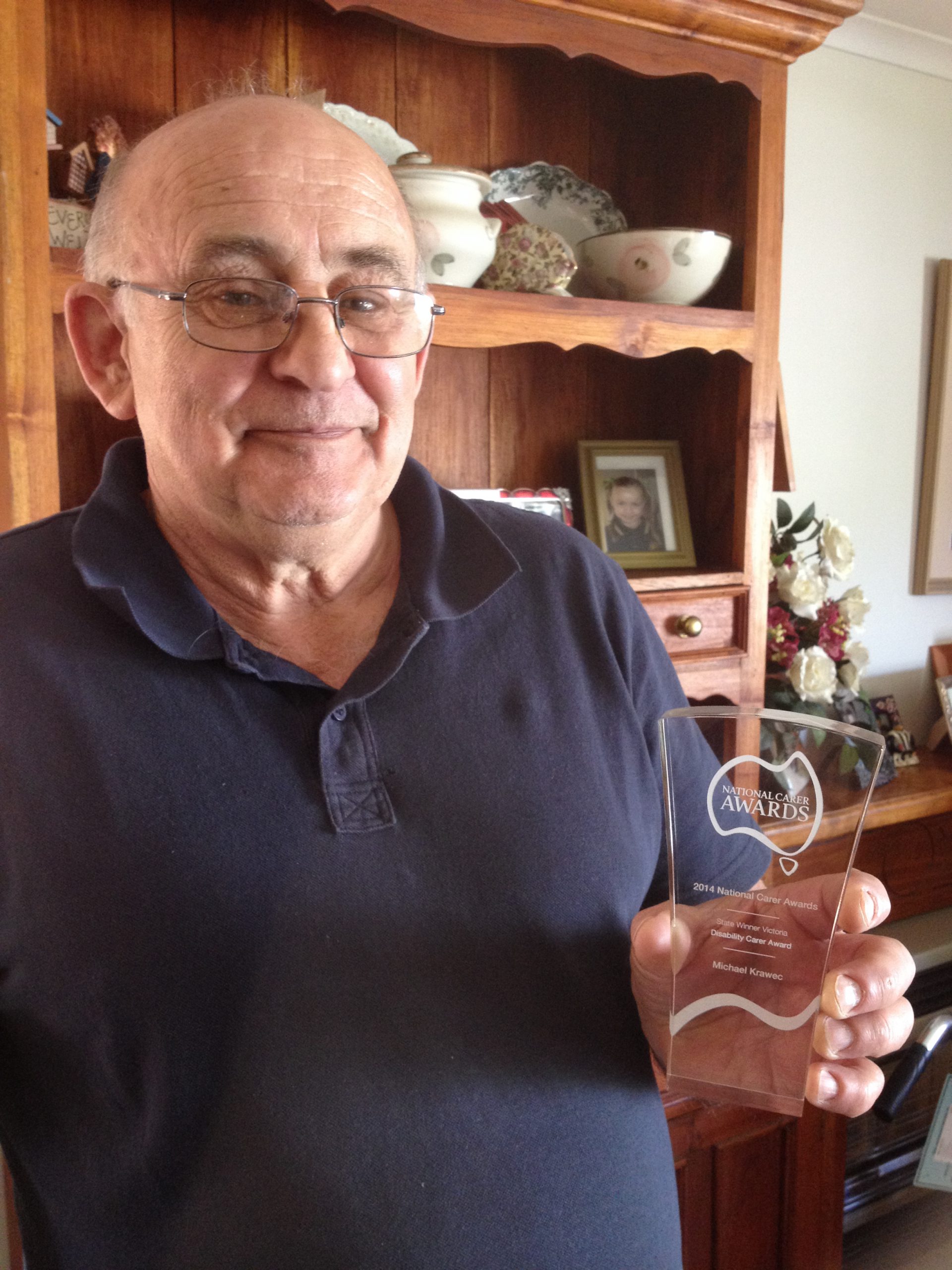 ​
FOURTEEN years have passed since Moe resident Michael Krawec quit his job and took full time care of his two sons and wife, who have a range of disabilities.
Last week the 67 year-old was among four carers in Victoria to be recognised at the inaugural National Carer Awards, and will this weekend travel to the Gold Coast for a chance at the national award.
"I think the public should recognise these people. Getting the award… I think every carer deserves recognition and an award. It's a hard job," Mr Krawec said.
The former Yallourn mine worker quit his job when his wife, Susan, became debilitated by Huntington's disease which left her unable to communicate or care for herself.
His sons were also in need of support. Wayne, 43, has Down Syndrome and Patrick, 27, is 'globally delayed'.
"It gets a bit tiring at times, but we keep going," Mr Krawec said.
"They're family and you love them, and you do it until you can't do it."
Mr Krawec said the job did not allow for much of a social life, but he had a respite carer come to the house for about four hours a week.
"I use those four hours a week for myself. I go see my friend and have lunch and ride my Harley Davidson," he said
"Once you're on one of those you forget all your troubles. That's my vice, my beautiful motorbike."
But despite his selfless efforts, Mr Krawec commented on media attention being "over the top" and could not see he was doing anything exceptional.
"I went down the street and someone said to me, 'Congratulations'. I thought, 'Oh my God, I'm going to have to shop somewhere else'," he said.
Ageing and Disability Services Minister John Ajaka said the National Carer Awards put a spotlight on the extraordinary contribution that carers make to society.
"These awards are a way for Australians to say thank you for the significant contribution carers have made not just to the lives of those they care for, but the nation as a whole," Mr Ajaka said.
Huntington's disease
Huntington's disease is a neurological (nervous system) condition caused by the inheritance of an altered gene. The death of cells in certain areas of the brain result in a gradual loss of cognitive thinking, physical and emotional function. The disease is complex, severely debilitating and without a cure.
Common symptoms include jerky movements of the arms and legs, known as 'chorea'. Chorea usually starts as mild twitching and gradually increases over the year. A person with Huntington's disease may also have difficulties with speech, swallowing and concentration.