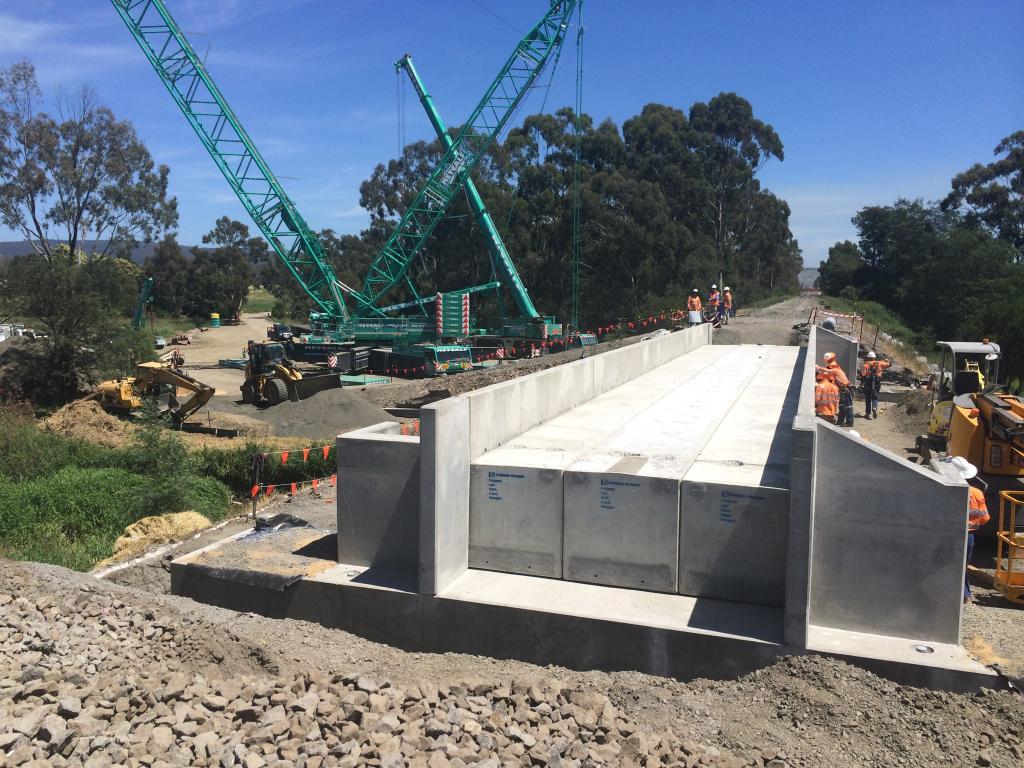 Update: V/Line train services between Moe and Traralgon are set to resume on Monday, in line with the scheduled completion of upgrades at the Morwell River crossing.

V/Line chief executive Theo Taifalos said with all critical components of the bridge installation project now finished, track work was due to be completed on Saturday, with testing and commissioning to follow on Sunday.

"Our crews and contractors worked really hard to manage any potential risks during the project and all the critical components have now been completed," Mr Taifalos said.

"The weather was definitely on our side and helped the project run to schedule."

Test trains will begin running along the new section of track late Sunday afternoon, ready for train services to resume on Monday morning when normal travel fees will apply.

Thursday: The swampy setting of the Morwell River floodplain has become a hive of construction activity this week.

V/Line has been busy installing a new concrete crossing over its ageing river bridge and the works have crossed the half way point.
With Victoria's largest mobile crane set up on site, engineers yesterday began slinging five 70 tonne concrete beams into position, slotting in over four 36 metre deep concrete piles laid earlier in the week.
The beams' installation will be a major milestone for the project, which has temporarily cancelled train services between Moe and Traralgon, forcing commuters onto replacement coaches between the towns.
While V/Line Gippsland regional manager Tim Pianta was not yet ready to publicly commit to a project completion date, he said a more accurate timeline would be known once the concrete spans were in place.
"We will keep the community updated and will be hoping for another stretch of good weather to ensure the upgrade is completed as soon as possible," Mr Pianta said.
A section of swamp was land packed down with landfill last week, enabling the installation of the 600 tonne crane on site.
Trucked down in separate pieces, including 35 semi-trailer loads worth of 10 tonne counterweights, the crane took two and a half days to assemble.
One engineer compared the operation to a home renovation painting job – "80 per cent preparation and 20 per cent actual painting".
Pre-cast in Bendigo and Epping respectively, the concrete beams and abutments were transported to the site earlier this week.