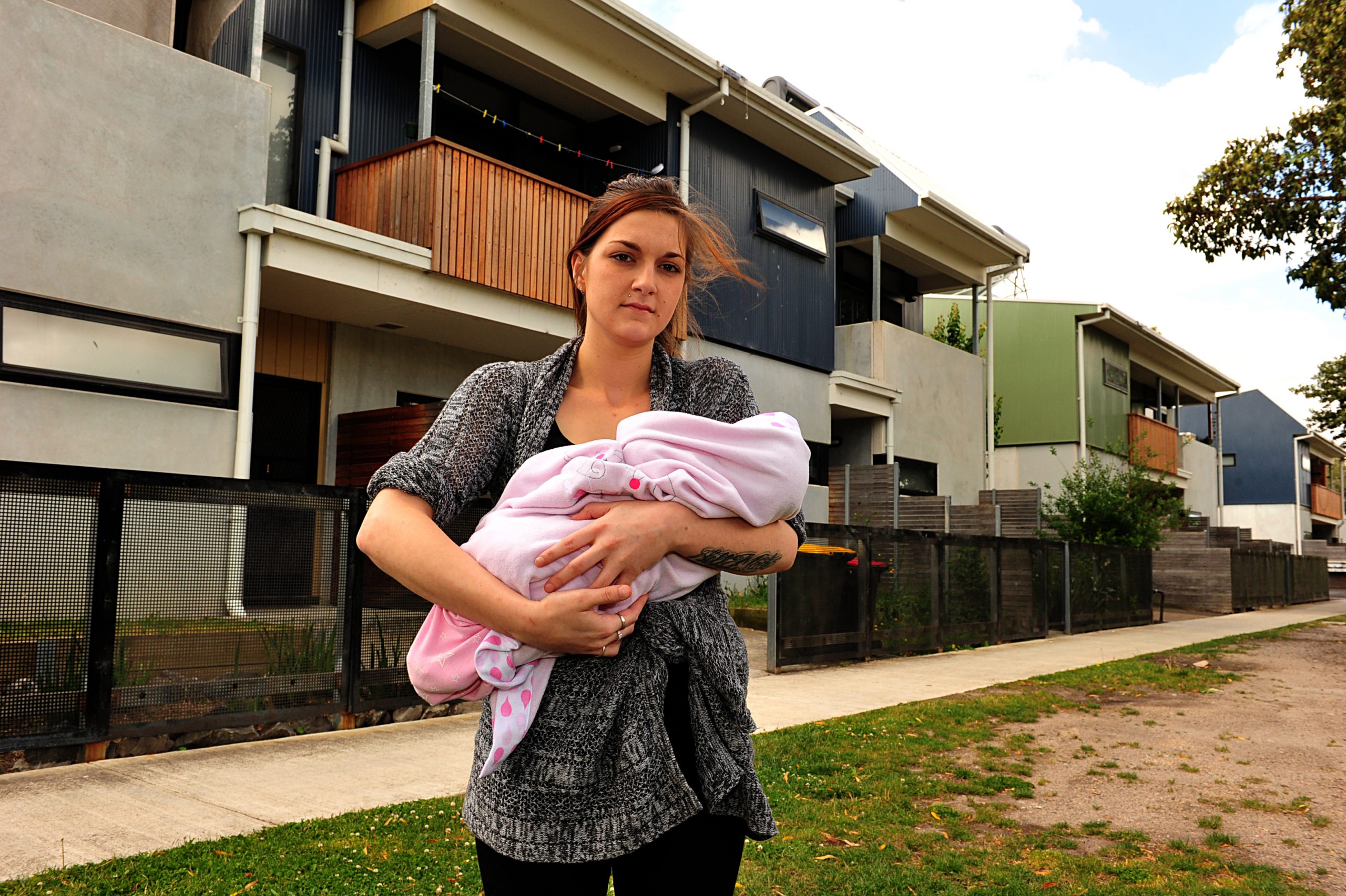 A young Traralgon woman fears for her safety in her assigned public housing unit and is desperate to relocate.
Twenty-one year-old Jenna Worthington was six months pregnant when she was moved from her unit in Morwell to the Gwalia Street public housing block in Traralgon.
After a water main burst in her Morwell flat, Ms Worthington was forced to relocate to what she thought was temporary accommodation.
Climbing up two flights of stairs when she was pregnant and later with a pram was not what she had in mind.
When The Express visited the units, loud music, swearing and dogs barking could be heard.
"I've got drug dealers around me, there are police and ambulances here every day," Ms Worthington said.
"I'm not safe here and my daughter isn't safe either."
When Ms Worthington was moved to the units, she expected her stay would be short-lived, until another, more suitable home was found for her.
"I would have been about six months pregnant when they moved me in here and I could hardly walk up the stairs
"They had to move the resident from underneath me (at the Morwell units to Gwalia Street) as well and they've moved her here and she's tried to commit suicide.
"I've had my door handle ripped off, I've come back and there have been people trying to get into my unit."
Ms Worthington said a week prior to her phoning The Express, a neighbour who had previously smashed Ms Worthington's car window, tried to burn her own unit down.
Nearby resident Anne Wright said, although she did not live directly in front of the units, her daughter did and could always hear noise from the complex.
"You hear foul language all the time, there was also a chap there that used to get out on his front verandah and he was dreadful," Ms Wright said.
Department of Human Services spokeswoman Ruth Ward said safety concerns in public housing are dealt with by the police.
"All tenants are expected to behave appropriately, however, there are times when concerns are raised and the department takes action to address these through a range of options, including eviction where necessary," Ms Ward said.
She said Ms Worthington would have inspected the Gwalia Street unit prior to moving in and declined an option to move back to her Morwell unit once upgrades were completed.
"The tenant has been provided with information about housing transfers and alternative options, including bond loans," Ms Ward said.
"We will continue to work with her to address her needs and concerns."