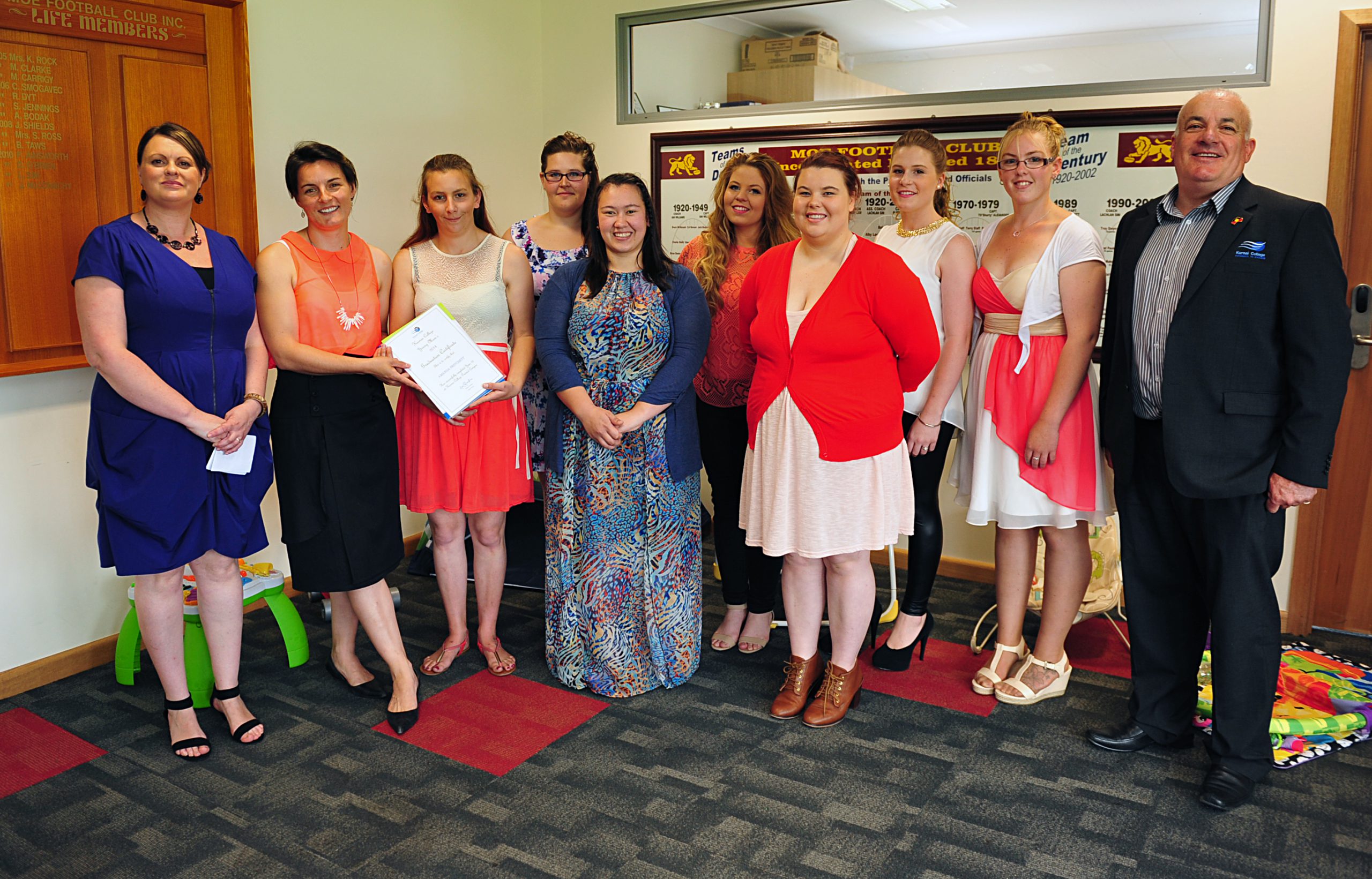 Seven young mums graduated from a Kurnai College's pilot program on Monday, with a celebration of the course's success in its inaugural year.
The Kurnai Young Mums Program was offered to girls aged under 21 years throughout the Latrobe Valley who had a child and had been unable to complete their schooling.
Teacher Eloise O'Brien said the equivalent intermediate Victorian Certificate of Applied Learning course was based on practical knowledge and equipped students with TAFE qualifications in safe food handling, coffee making, responsible service of alcohol and first aid.
The participants also took part in a community-based project, where they raised awareness and funds for 'Days for Girls', a charity helping girls across the world to access feminine hygiene products so they could attend school while they had their period – a feat that could otherwise be extremely difficult.
"We also looked at what it meant to be a woman in other cultures… it was an eye-opener for the girls," Ms O'Brien said.
She said this experience of helping others inspired five of the girls to study aged care and the other two graduates to study health sciences.
The teacher said seven of the students were absent for part of the year to have a another child, five of whom were continuing with the course next year.
She said the five students were among 20 girls who had already registered their interest in next year's course.
Program coordinator David Shields said the girls' enthusiasm for undertaking work experience and study was a matter of opportunity.
"I think they always had that enthusiasm (to work) there, they just needed a place to put it," Mr Shields said.
College principal Anthony Rodaughan said he was "very proud" of the graduates as well as everyone else involved in the Victorian first project.
"We've learned some lessons. We'll do it better, smarter (next year)," Mr Rodaughan said.
"We hope to be offering KYMP's Link next year, which would be a one-day-a-week thing for mums who weren't sure about going for four days."
"We'll continue to look for flexible ways these young mums can connect to the community."
Mr Rodaughan said the program had attracted interest from welfare groups and schools across the state and he was recently invited to speak about the course at a meeting of a welfare network in Mildura.
For more information about the Kurnai Young Mums Program, which is still accepting enrolments, phone 5132 3800.
Laine's second chance
When Laine Rennie had her son at 18 years of age, she never thought she could pursue a career in nursing.
Two years on and the Kurnai Young Mums Program graduate is excited about one day completing a nursing diploma, and following her dream to become an oncology nurse at the Royal Children's Hospital.
Laine said she considered herself in a way "doomed" when she fell pregnant with son Liam, but found the KYMP made "a lot of things possible".
The 20 year-old said she found the course easier and better than standard high school, which she had left when she was in year 11.
"It's really practical… most of it's around parenting," Laine said.
Laine said she was taking a year off while having her second child, but would then study a Certificate IV in Health Sciences before a Diploma of Nursing.