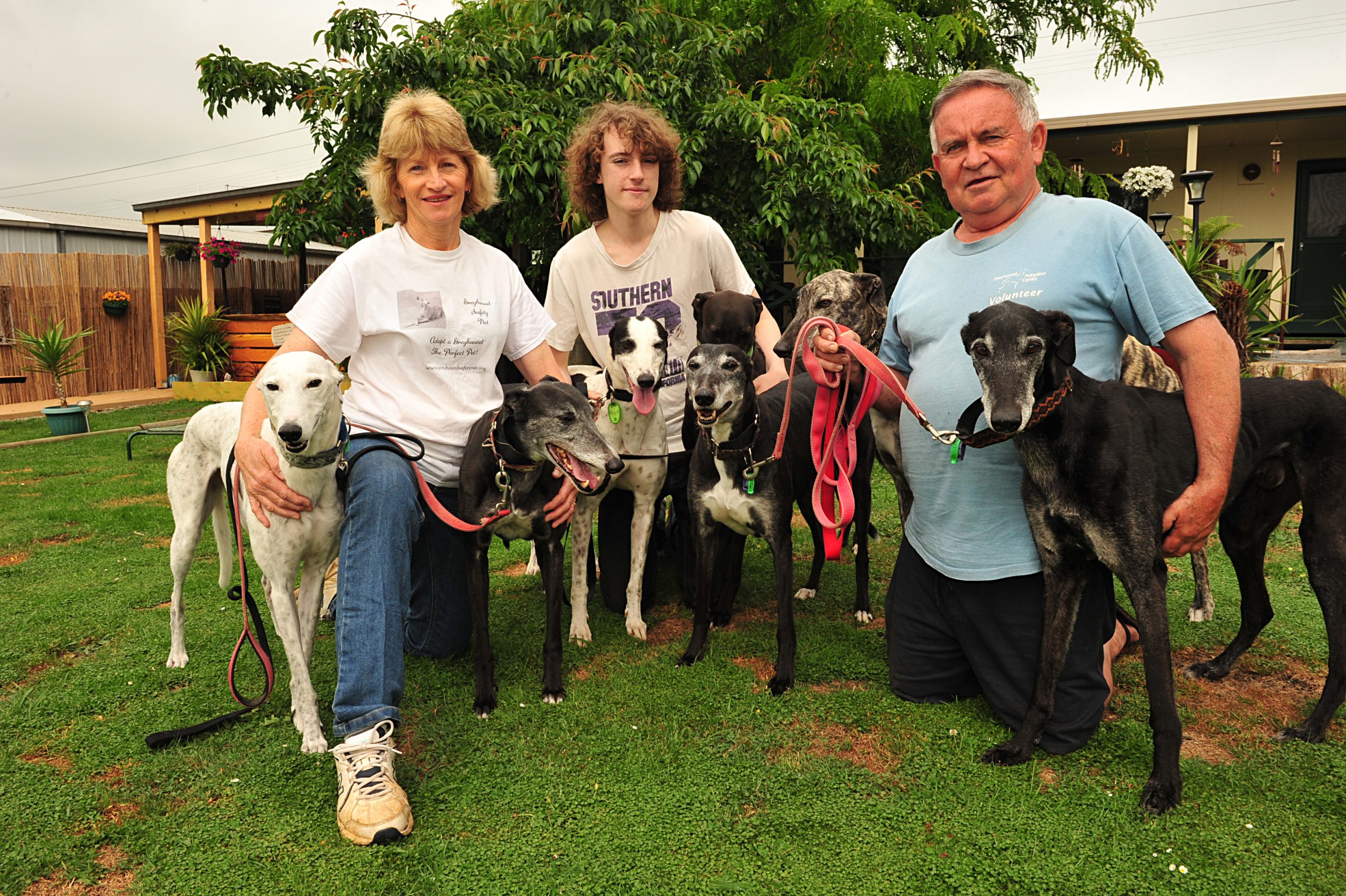 IT is still required by law that greyhounds wear a muzzle in a public place.
First introduced in 1927, it is understood muzzles were used on the race track to prevent animals from injuring themselves in excitement.
But many greyhound foster carers that look after the athletic creatures following a racing career or unwanted in the racing culture, are adamant they make loyal pets.
Boolarra resident Warwick Patience has been called an "adoption failure", known to provide full-time care to greyhounds after an initial temporary adoption placement.
Since 1997 he has fostered 80 dogs, despite never being connected with greyhound racing.
He currently owns five greyhounds: Kirk, Lilly, Kiss, Tiger, Zaya and is fostering, Deva.
"Because they have to wear a muzzle, it's a stigma," Mr Patience said.
"They're a very friendly lot and believe it or not, yes they race, but they're not a very active dog. They actually lie down the majority of the day."
Mr Patience said he had nothing against the racing industry and many greyhound trainers had a great appreciation for the breed.
He said he knew one owner with 70 greyhounds who built brick kennels complete with insulation at his Devon Meadows property to ensure they were warm in winter and cool in the summer.
However, he said tens of thousands of dogs were put down every year, through injury or indiscriminate breeding.
"We're talking about perfectly healthy dogs, not lacking in health or anything like that. It's just a business to these people and if they're not going to earn the money, that's it," Mr Patience said.
Friend and fellow greyhound lover Sue Graham of Moe said she had been fostering the breed through the Greyhounds Adoption Program for three years.
Ms Graham said she then started fostering through the Greyhounds Safety Network, after finding GAP had more foster carers than dogs.
She said she kept fostering to pass dogs to a beautiful home, knowing GSN go to a potential adopter's home and check if it was suitable.
"They're a great family dog. The more foster carers you have the more lives you save," Ms Graham said.
For more information about the Greyhound Adoption Program, visit gap.grv.org.au
Greyhounds racing into the artistic spotlight
THE relationship between former racing greyhounds and their adopters will feature in an upcoming photography exhibition at Latrobe Regional Gallery.
Australian photographer Josh Robenstone has captured the sleek creatures in intimate settings in a series of black and white images, ranging from a nursing home, living with a couple in a St Kilda apartment and even a Dhurringle prisoner.
The 'Every Greyhound Has a Story' exhibition is presented by Greyhounds Racing Victoria and the Greyhounds Adoption Program, in a bid to find greyhounds homes after their racing lives.
Last year the GAP program broke the record for greyhound adoption, with 536 greyhounds finding new homes in Victoria.
"Greyhounds can fit into any type of circumstance. All greyhounds that come through the adoption program have a unique story," GRV and GAP spokesperson Rick Durham said.
While the breed is characterised by their muscular build and speed on the racetrack, Mr Durham said greyhounds also made wonderful pets.
"Greyhounds are lazy and it's easy to take care of them. Their temperaments are fantastic and as soon as you meet them, you fall in love with them," Mr Durham said.
"They have a different aura about them, and are not like any other dog."
The exhibition opens on Friday and will run until 4 January.