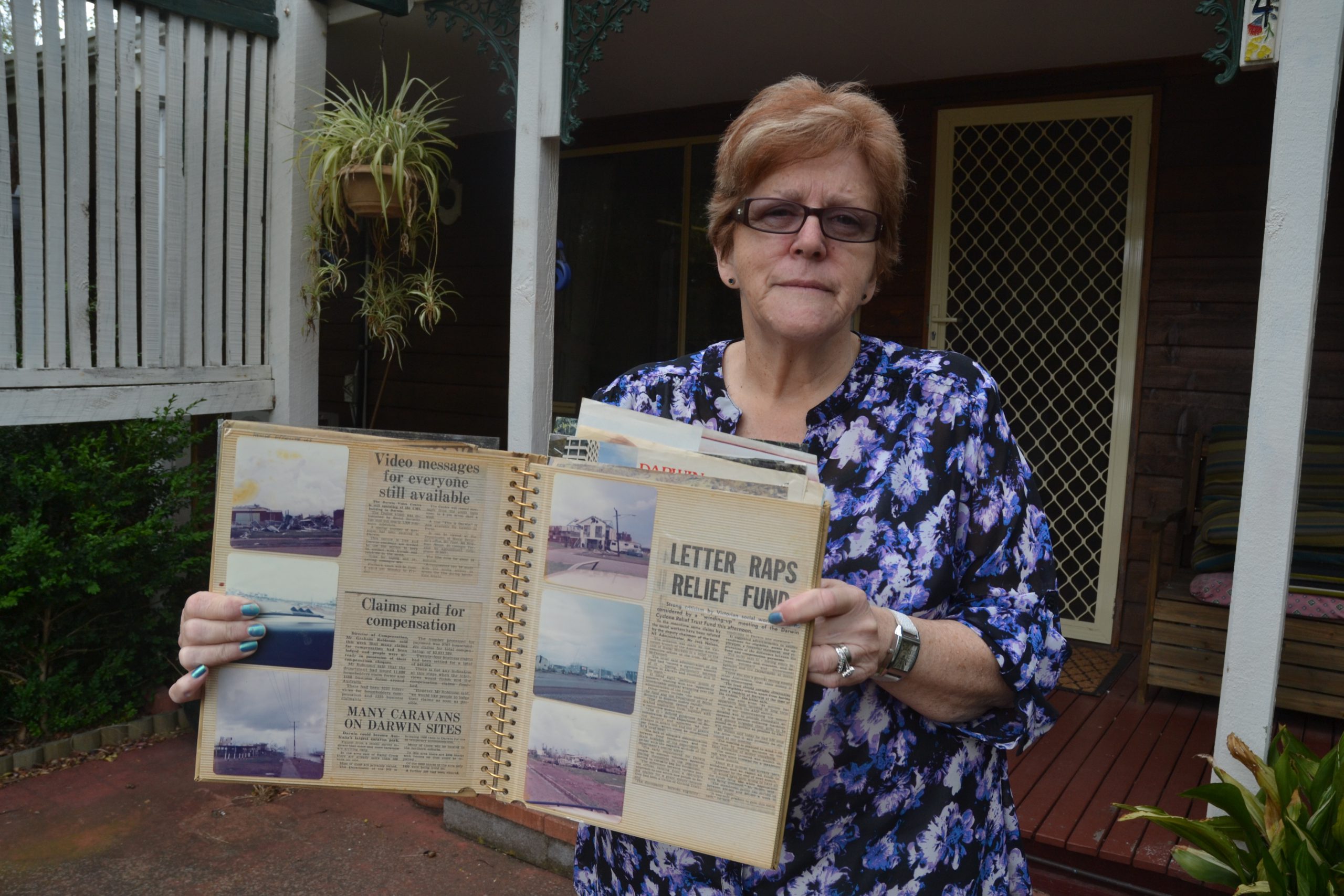 Christmas time can mean very different things for different people. In some cases, it is a merry chance to catch up with distant relatives, for others, a time of overwhelming pressure amid financial hardship or loneliness.

For tens of thousands of Australians across the country this Thursday marks the 40th anniversary of the devastating Cyclone Tracy, a tropical storm which converted Darwin into rubble overnight.
But survivor Sandra Edwards, who has lived in Churchill for the past 33 years, believes Tracy's memory may not be honoured as widely as it should.
She has held memories of the traumatic event away for the past four decades, and is only coming to grips with her experience this year.
"Survivors have been bottling it up all these years, building up anxiety and stress. It seems to be a coping tactic everyone has used," Sandra said.
But that's all about to change for Sandra this Christmas; having suppressed the memories for "too long", Sandra is on the lookout for other Valley-based survivors to share her gripping story of survival with.
"There could a Tracy survivor in the next street over from me for all I know. I want to find them," she said.
Sandra's new leaf comes after she discovered a Facebook page designed to connect survivors, through which she made an amazing reconnection to an experience that fateful 1974 night.
"For the general population, disasters happen everyday. People that weren't there move on. Tracy became yesterday's news pretty quickly," she said.
"But it's even more sad when the survivors themselves won't talk about it. It's time we changed that."
24 December 1974
Having moved to Darwin only three weeks earlier as a "wife of the Navy", Sandra and her former husband Chris were renting a house in the northern suburb of Moil. With Chris working Christmas Eve at Darwin naval base, Sandra was home alone when cyclonic winds picked up around midnight.
Before long, rain was pervading the louvres and drenching the carpets, as the first phase of the storm system outgrew the very worst of damage predictions.
"As the pressure built up, the roof exploded and then the wind had an easy job to blow out the walls," Sandra said.
With the roof and ceiling ripped clean off the house, the 20-minute eye of the storm passed over Moil, creating an eerie lull in which Sandra scrambled for better protection. Sandra found sanctuary after banging on the neighbour's still standing door, however it did not last long, as the second storm front descended, lashing the suburb beyond recognition with winds from the opposite direction.
"We all moved from room to room as each area blew down. We finally ended up standing in the hallway in ankle deep water for six hours until morning light," Sandra said.
As dawn broke, only four hours after the storm's passing, optimistic thoughts of thawing out over a warm cup of tea at a more fortunate neighbour's house were soon shattered.
"Looking out into the street we just saw total devastation. Every house was flattened," she said.
It was one of the biggest natural disaster to hit Australian shores.
The official death toll is recorded at 66, however Sandra believes the real toll was much, much higher.
"As there was no refrigeration, the police had no option but to take photos of the heads of victims and put the photos up in rows on the wall of the police station (for identification)," she said.
"It was seeing that then you realised the scale of the death toll. It's what made it real."
In the heat of a Darwin summer, decomposing bodies were not the only concern of authorities.
"It wasn't just the bodies – the fridges themselves were a real problem too. With all their doors ripped off, there was rotting food everywhere," she said.
Attention quickly turned to preventing the spread of disease among the hoards of displaced and injured subsisting in squalor across the city; evacuations were ordered en masse.
While able bodied men were asked to stay for the colossal clean-up task ahead, evacuations of women, children and the elderly began on Boxing Day.
Boarding one of the last evacuation flights "still in a state of shock" on 29 January, Sandra joined hundreds survivors on the cargo hull floor of a C-130 Hercules on a flight to Sydney.
"We were all seated in lines attached to cargo webbing. There was no sound proofing, no toilet, and no food," she said.
Sandra recalled one woman unravelling and pulling apart a tampon before sharing with other evacuees as ear protection against the high altitude rumblings of the Hercules propellers.
"The crew had put in a temporary toilet right down at the rear and strung up a tarp for modesty," she said.
"It worked, mostly, but no-one really cared. We were just so thankful to be alive. We were probably all in shock on that flight. Nobody really spoke much."
It's such rediscovered memories, both profound and intimate, which Sandra hopes to share with fellow survivors she "knows" are living across Gippsland.
"When we arrived in Melbourne people were just going about their everyday lives and we slipped into city life; we didn't get any counselling. But reading comments on the websites that have been set up, it certainly was needed," Sandra said.
For the survivor networking sites, search Facebook for 'Cyclone Tracy Darwin 1974', 'Cyclone Tracy 40th Anniversary Commemoration and Memories' and 'Cyclone Tracy Survivors'.
Sandra has urged any Valley-based survivors to email her on phillsandra@gmail.com