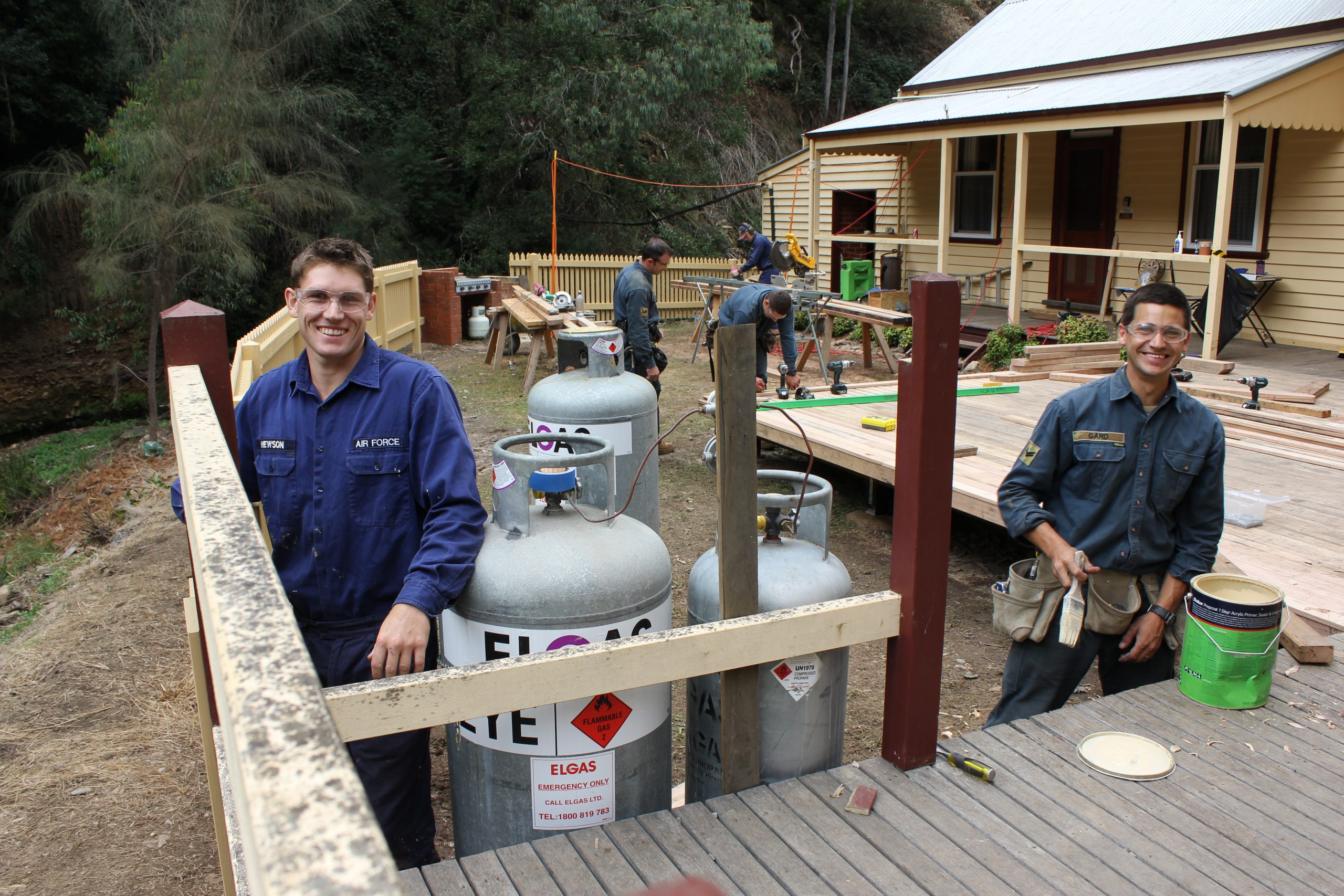 UNIFORMED young men working outside the Mechanical Institute in Walhalla are following in the footsteps of servicemen before them.
Officers, non-commissioned officers and army apprentices from Latchford Barracks, Bonegilla near Albury/Wodonga have been in the town restoring the heritage listed building.
A completely new deck has been built at the rear of the building and a picket fence has been constructed along the creek.
But this show of volunteerism is far from novel.
The original 1867 building that burnt to the ground twice, was rebuilt by the same Army Apprentice School between 1985 and 1988.
Warrant officer class-one Brendan Johnson, who was project managing the restoration last week, was among the original class of men that rebuilt the institute.
Mr Johnson said there was a lot of history between Walhalla and the Army Apprentice School, pointing to an 'honour wall' of photographs taken during the reconstruction.
When the Walhalla Board of Management requested another contingent of men come four months ago to do some maintenance work, he thought it would be a good opportunity to continue the long connection between the army and Walhalla.
He said all the construction materials had also been supplied by the local community in Moe and Bairnsdale.
"There have been a lot of questions. They see uniforms and are asking, 'what are the army doing down here?'," Mr Johnson said.
"A lot of locals didn't realise that the army actually built this facility. It just reinforces that we built it and have come back to maintain it 27 years down the track."
Lieutenant Joshua Vogel said the trainees' work aimed to replicate the heritage-style building, using hardwood timber, hand nails and high quality carpentry skills.
"It really is a different environment that they'll never work in again. It's a small 10-man team for a community of the same size," Mr Vogel said.
Sleeping in green military cots, and kept warm by brick fireplaces, the apprentices have also been regulars at the pub, gone swimming in the Thomson River and toured the long tunnel extended gold mine.
"The appreciation they can feel and the validation they get out of something like this from a small community is beyond words," he said.
Aircraftsmen Adrian Hewson said the town was "pretty picturesque" and could not complain about working in the setting.
"It's good to get off base and get experience in the real world," Mr Hewson said.
Walhalla Board of Management member Bob McKee joked the deck would last longer than the building, commenting on the high quality of work by the trainees under experienced carpenter Sergeant Nick Dawson.
"The boys are enjoying being out here and the town is reacting to that. They're enjoying having them here in the township," Mr McKee said.