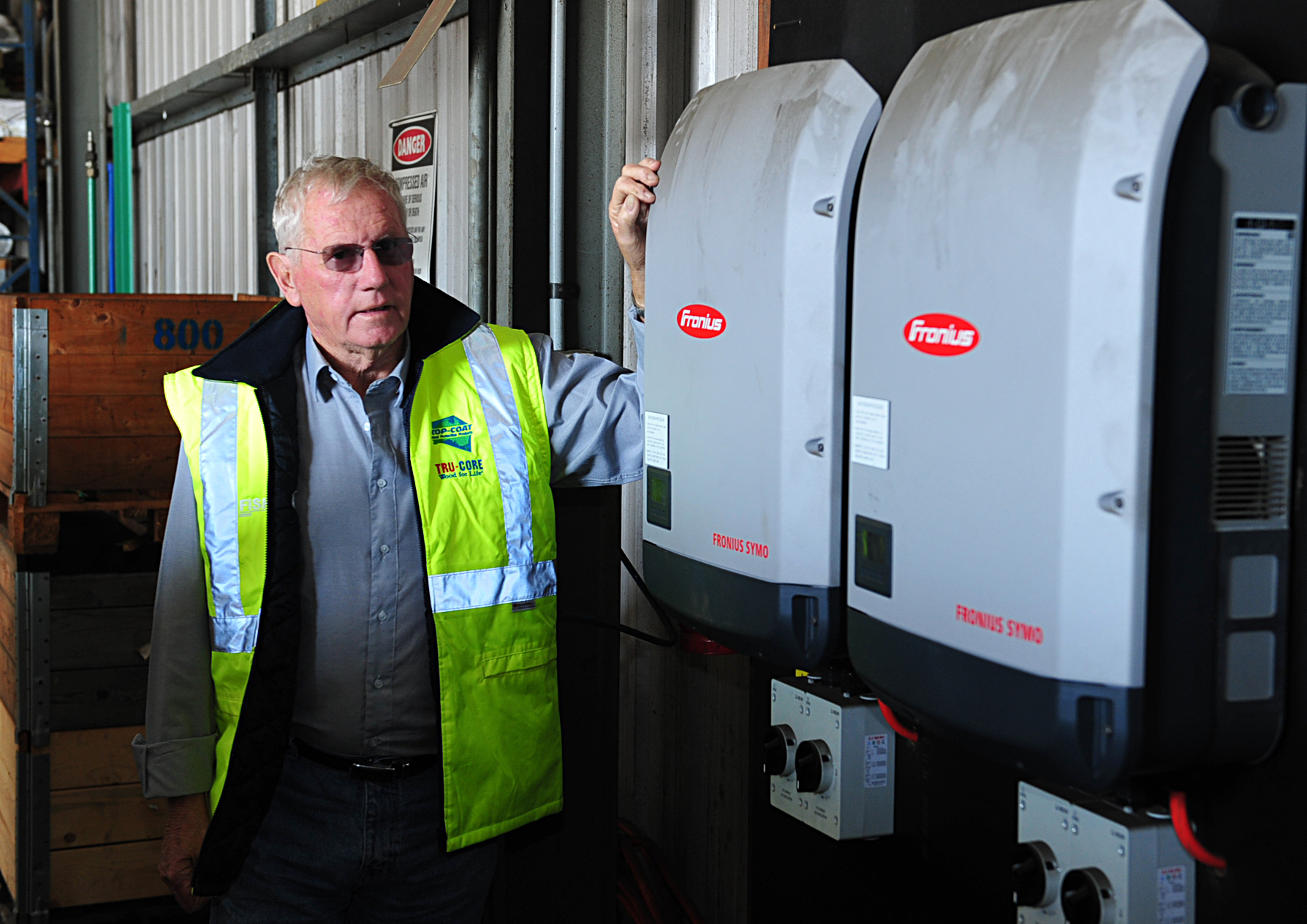 A MAJOR solar installation in Morwell's manufacturing precinct is hoped to charge up a much-hyped 'off-the-grid' transition for Latrobe Valley's commercial and industrial sectors.
Industrial pallet manufacturer and emerging wood treatment facility Fishers Pallets installed a 100 kilowatt solar system in December, comprising of 400 panels on the roof of its Swan Road premises.
"There's two separate solar installations here, the largest is powering all the pallet manufacturing equipment here for Australian Paper," Fisher Pallets managing director Lewis Fisher said.
"We are producing 12 to 14 semi-trailer loads of pallets every week, and we are also the national supplier for IKEA, so it's quite energy intensive here."
Mr Fisher said he hoped the new system would cover 80 per cent of the business' $7000 monthly power bill.
"At the moment we are using the energy at the right time; we start at six in the morning and close in the early evening, so it's all being used when the sun is shining," Mr Fisher said.
"On the weekends when we are closed we are feeding back into the grid, but that might not continue for too much longer if our wood treatment capabilities expand."
Having installed rain water catchment tanks and completed major electrical upgrades with State Government funding assistance, Mr Fisher said the solar upgrade was the latest 'environmental step' for the company.
"It was up and running just before Christmas so we are still entering our energy data into a spread sheet and making our calculations, but hopefully we'll come close to hitting that 80 per cent cost coverage mark," Mr Fisher said.
Installer Andrew McCarthy of Gippsland Solar said while it was hard to quantify, he believed it was among the biggest solar installations performed in the region.
The Fisher installation comes after Mr McCarthy installed a 96kW system at Mirboo North's Grand Ridge Brewery, somewhat of an industrial trial for the emerging business.
"The first one was really the pilot installation for us at that scale, but the Fishers setup was all done in three weeks," Mr McCarthy said.
At an installation cost of about $200,000, Mr McCarthy said Fishers was able to secure a Federal Government rebate of about $60,000.
"For years the solar panel industry has been about residential installations, but we really are on the verge of 100kW systems becoming the bread and butter item."
He said his company was currently in 100kW discussions with six separate businesses across Gippsland.
However, he said current government rebate rules, which change drastically at the 100kW system threshold, were stifling the take-up of larger systems in the region.
"Under the current system the entire rebate amount is paid back up front, but that's capped at the 100 kW mark. Any bigger than that we move to an entirely different rebate system which only releases the rebate over a slow drip feed for up to 15 years," Mr McCarthy said.
"Until that changes few medium scale businesses are going to be able to afford a 200kW system with so much capital required up front."
Latrobe Valley Sustain ability Group secretary Dan Caffrey said it was good business for energy intensive companies to supplement energy needs with solar panels.
"Peak electricity is from 7am to 11pm, and for a lot of that time you are getting a large whack of sunlight into your system, so it makes good economic sense for a commercial or industrial company to be taking this step," Mr Caffrey said.
"We will easily be able to phase out Hazelwood without affecting the grid, simply because going to get more and more of these types of installations.
"It just takes a bit of tweaking of government policy to fully encourage the potential of renewables, rather than strangling them."
Aggressive sales tactics by a flood of Melbourne-based solar installers have had a 'chilling effect' on residential solar installations in Gippsland, according to a Mirboo North-based installer.
Andrew McCarthy, of Gippsland Solar, said the spike in home installation rates over the past five years had begun to "peter out" over the past six months.
"It's definitely gone backwards as that competition has increased, companies have become very aggressive and selling cheap quality setups at only marginally above-cost prices, and it has scared people off," Mr McCarthy said.
He said nine of his solar competitors had closed shopfronts across Gippsland in the past year, unable to compete with "unscrupulous" Melbourne operators.
"It's interesting because we've done the Home and Leisure Expo at Morwell over the last three years, and it's gone from 10 solar exhibitors, to five, to one-and-a-half this year," he said.
"I've calculated there's going to be 2000 installed systems across Gippsland now with no direct avenues to have their systems serviced under warranty."
Despite the recent decline, total number of installations in Traralgon, Morwell and Moe have increased between 27 and 30 per cent since January 2014 according to the Federal Government's Clean Energy Regulator.
Meanwhile, Churchill and Moe have seen increases of 23.4 and 17 per cent respectively.