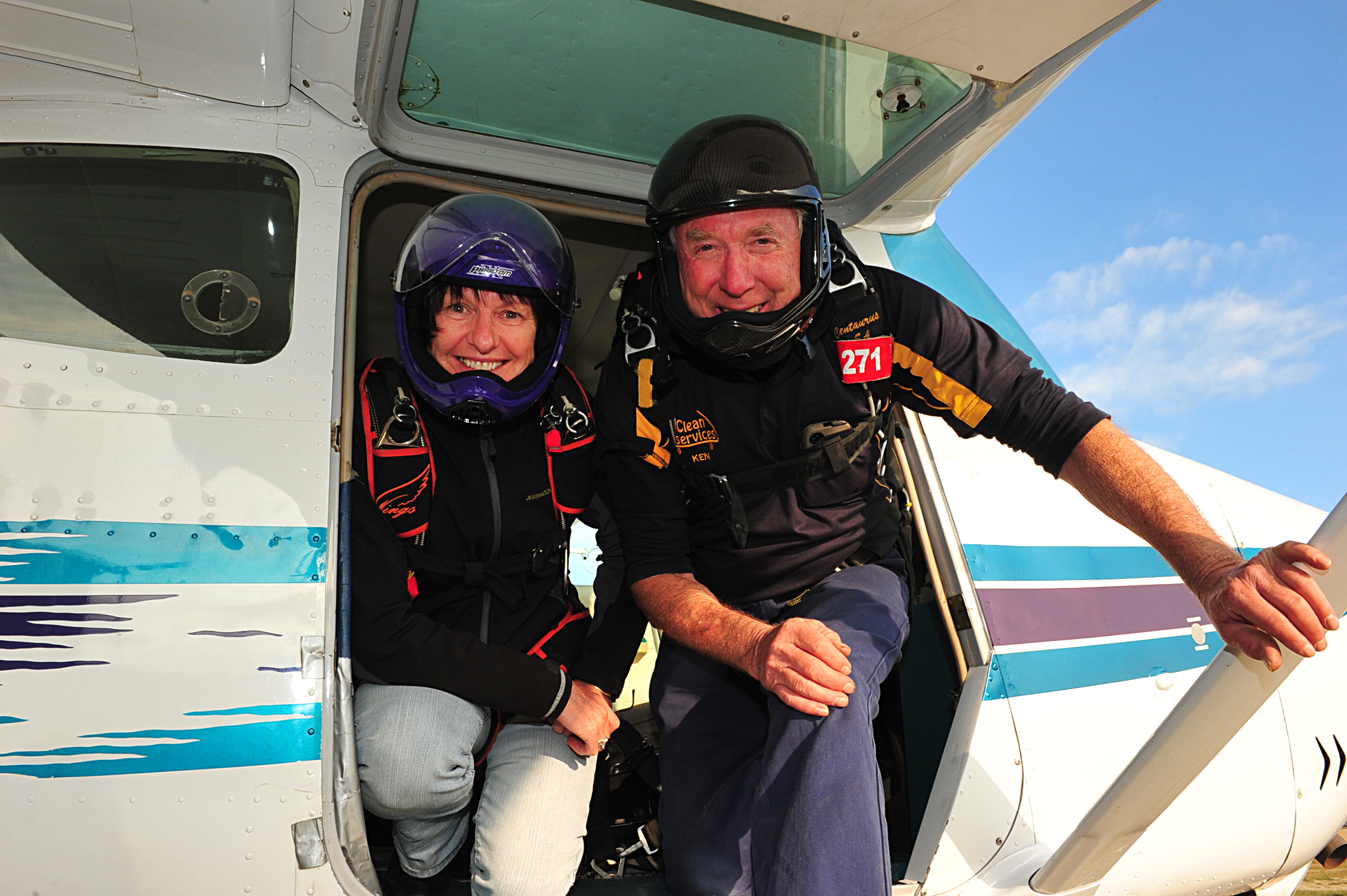 Hordes of bodies may not be the only thing plummeting through the sky next month, when a Churchill couple join an attempt to topple an Australian skydiving record in the United States.
With more than 75 years of combined skydiving experience, Janine Hayes and Ken Hills will train with more than 100 Aussies in California ahead of an attempt to break the Australian large formation skydiving record.
However, it will not be the couple's first plunge with notoriety at high velocity; the duo were part of the 81-strong team which broke Australia's large formation record in 1999, a high altitude feat which held until 2010.
Ahead of the record attempt Ms Hayes spoke casually about the training which would go into the "highly coordinated" manoeuvre.
From the moment the 120-strong team "pour like little ants out of four planes" at 18,000 feet, the divers will have about 45 seconds to complete the formation which must be held for three seconds, before breaking safely away for chute deployment.
"It's all very, very coordinated. We spend more time on the ground practising it in what we call 'dirt dives' on the ground; from where we are sitting in the planes to who you will be linking up with in the formation," Ms Hayes said.
"If you think of it like a pie chart, everyone's got their own sectors they fly into. You'll be flying behind a certain person and that's who you are going to be docking onto.
"It builds in waves from the middle, and when we are physically together in the air the formation will look like a big cup shape.
"Then different parts will leave at different times, and we all find our own safe piece of sky to break away into."
Ms Hayes' lifelong attraction to skydiving began at the age of 13, when she was overcome by the urge to write a poem about flying.
"I used to stare out the bedroom window at the sky wanting to jump out of a plane," Ms Hayes said.
During the course of a hobby which has spanned 34 years, Ms Hayes has worked as chief instructor at the now disbanded skydiving school at Latrobe Regional Airport, and seen the sport change dramatically since the days of training with surplus army gear and round parachutes.
"When Ken first learned to jump no-one thought you could actually touch each other in free fall," Ms Hayes said.
"There's things which are quite popular now that I'd never become competent at. They do dives now of 100 people in vertical formation going head-first."
Beyond the initial allure of thrill seeking, Ms Hayes, 55, said it was the community spirit within the sport which kept her coming back for more over the years.
"There's been times when thought I might give it away, but it's the people within that scene which have kept me there," Ms Hayes said.
"Besides, I've always equated skydiving with going back to the cashew jar; you always just want to have another one."