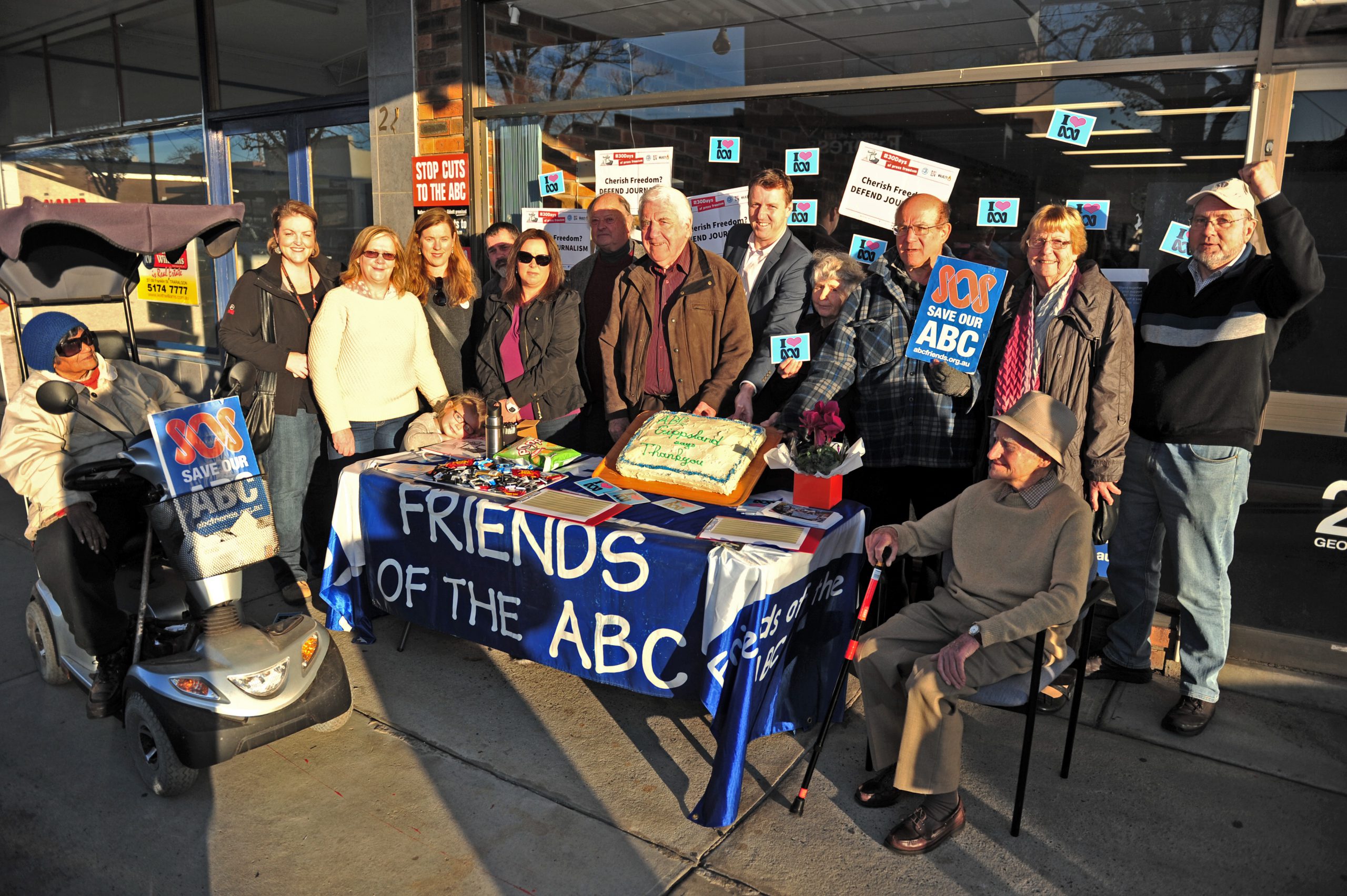 A faint outline of the ABC logo could be seen under a coat of grey paint at the broadcaster's Morwell office on Friday.

It was the first real sign of the studio's closure as part of the ABC's response to a $254 million Federal Government funding cut over the next five years.
A small group of community members gathered outside the George Street building for a 'closing ceremony', a final protest to the change.
Among them, former journalist Kevin Carmody, who established the Morwell office in 1997.
"I came down to the Valley in 1995, but I was in a shared office in Traralgon which wasn't very good," Mr Carmody said.
"I thought Morwell was more central to what was happening because we had the power industry here, the main courts and police were here, the city of Latrobe was in the start of moving down here and it gave me access to South Gippsland."
Mr Carmody said he was saddened by the closure.
"I used to walk up to Keith Hamilton's office or Brendan Jenkins' office and you'd be here and people would know you and people would walk in the door here," he said.
"Being seen in the community was important."
The Morwell-based journalist role will be moved to the ABC's Sale studios.
Federal Member for Gippsland Darren Chester hit out at the public broadcaster over its decision, saying its head offices had "become bloated" and the small amount of money saved by closing the Morwell office could have been found in other areas of its budget.
"ABC Gippsland provides an outstanding service to the Latrobe Valley and wider Gippsland region. I am sure this will continue and there will be no impact on local content and emergency broadcasting," Mr Chester said.
An ABC spokesperson said the broadcaster had to make "tough decisions" about how to best meet the government's budget cuts "while still ensuring we meet the expectations of our audiences and responsibilities to the ABC charter".
"The creation of the ABC's new regional division ensures that the ABC will continue to provide the best coverage of broadcast services to its audiences in rural and regional Australia," the spokesperson said.