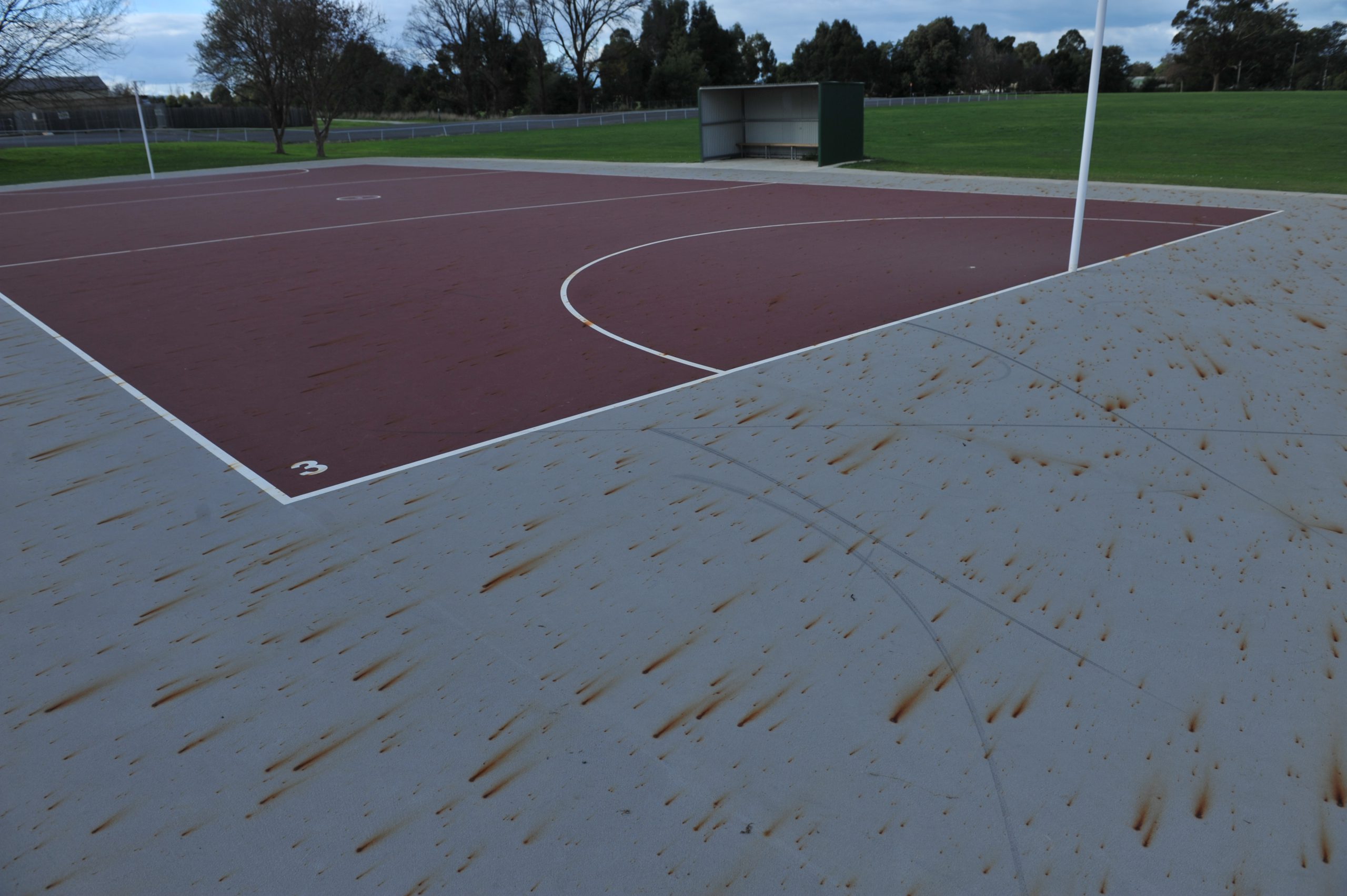 The long-awaited acrylic netball courts at Traralgon's Agnes Brereton Park are rapidly deteriorating, just a year on from their installation last season.
Traralgon Netball Association secretary Jenni Rohde said she feared if the situation was not addressed in the next six to 12 months, the courts would be unplayable.
She said the association first noticed a problem with the surface just a few weeks after it was laid, when rust-like stains appeared on the courts, later developing into holes.
"It's almost an acid eating of the acrylic surface," Ms Rohde said.
"I believe the whole facility may need to be replaced."
Ms Rohde said she had reported the matter to Latrobe City Council, who was investigating the situation and communicating with the association regularly.
She said checks were conducted every weekend to ensure the courts were safe to play on.
"It's safe at the moment, but I believe in six to 12 months' time that will be different," Ms Rohde said.
Latrobe City Council said the damage was due to stone contamination within the asphalt surface, which sits beneath the acrylic layer, and it was working with the contractor to determine treatment options.
Council's community infrastructure and recreation general manager Steven Piasente said council was currently trialing a sealing treatment in the corner of one of the courts to help determine the best solution.
"While this is not a common problem, it has occurred on some courts in other parts of Australia," Mr Piasente said.
"Without appropriate treatment, the surface will continue to experience similar problems."
He said it was not known how much the rectification would cost. It is not yet clear
whether this burden would fall to ratepayers or the contractor responsible for laying the surface.
East ward Councillor Kellie O'Callaghan said her personal expectation was that the surface be replaced and council be spared the cost.
"Council should not have to meet any of this cost and any rectification works should be completed by the contractor, either at their cost or at the liability of their insurance and these works be completed at a time that's agreeable to the Traralgon Netball Association," Cr O'Callaghan said.
The acrylic resurfacing of the park's 10 netball courts cost $400,000.
"We went without twilight season so it could be done. It really is a wonderful facility for the players," Ms Rohde said.