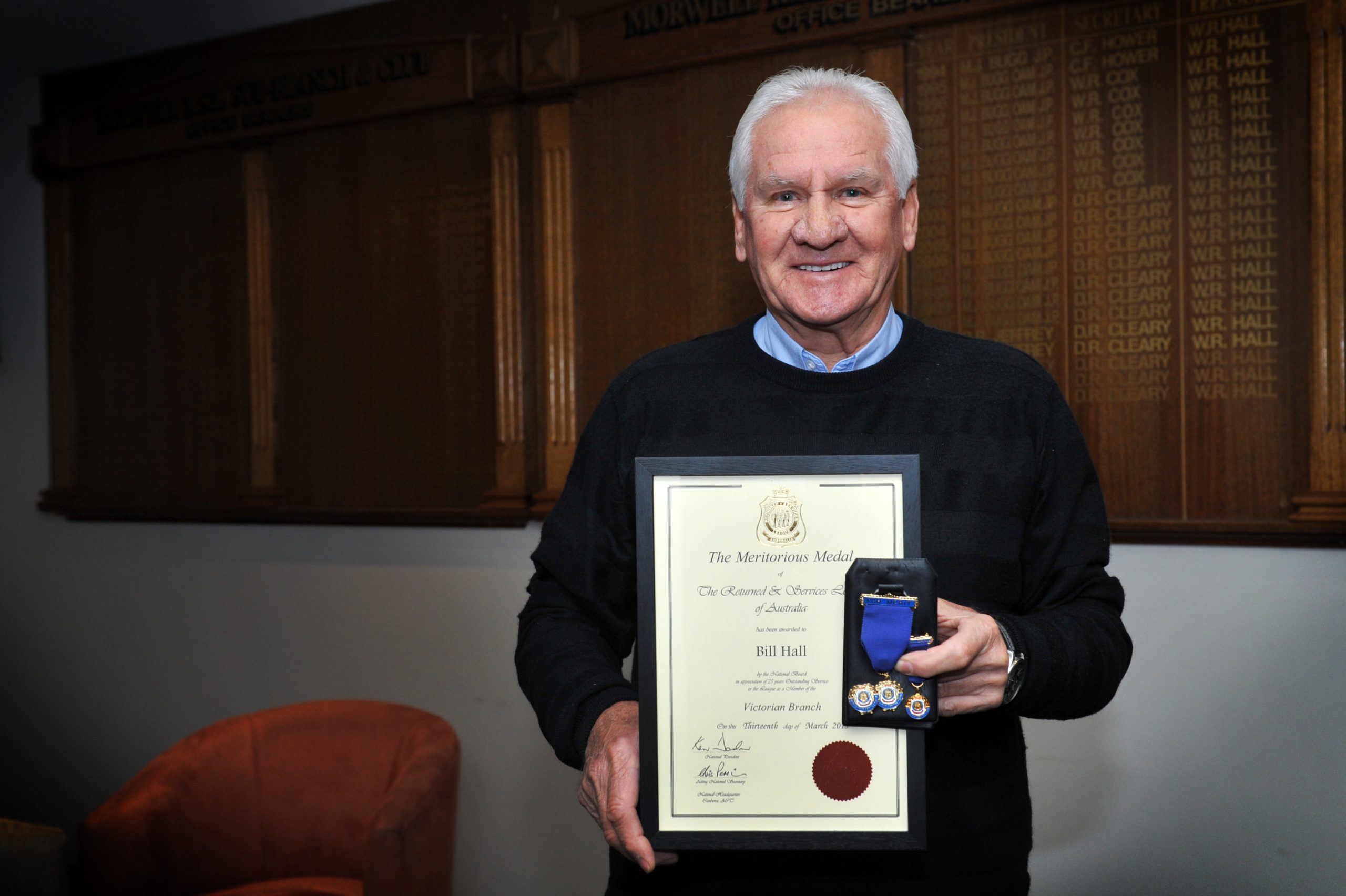 MORWELL RSL treasurer of 35 years Bill Hall has made it into the history books, becoming Morwell's third member to receive RSL's Meritorious Service Medal.
The prestigious medal adds to Mr Hall's collection of awards and is considered the highest honour, above life membership, to be awarded to league members.
He received life membership in 1991; life membership with a gold badge in 2004 and was inducted into the Victorian RSL's Hall of Fame in 2005.
Although he admits 35 years reflects "long and loyal" service, he has questioned what others regard as "outstanding".
"You're a bit humbled, because the award says it's for outstanding service," Mr Hall said.
"Well to me, I guess it depends on what people regard as outstanding service.
"I've been long and loyal service, you know, and you have to spend 25 years' minimum to be nominated.
"But I had trouble with the "outstanding" bit, but it is pretty humbling."
Morwell RSL president Bruce Jeffrey said although Mr Hall was a Collingwood supporter, he was a deserving recipient.
"He thoroughly deserves it, because he has done so much for the club," Mr Jeffrey said.
"(He's served) 35 years as treasurer plus he has been involved with Anzac House trying to help Traralgon, Sale and Loch Sport (and) he's been the MC at our Anzac services and dinners.
"We started in the '20s and we have only ever had three to ever receive it. He really did deserve it."
The 69 year-old signed up to the Army Reserve in 1963 and was called up to national service in 1965, but deferred for 12 months to study accountancy.
During that time, he injured his ankle playing football and was deemed medically unfit for service in September 1966.
He spent the following 11 years in the Army Reserve, completing administration work.
Mr Hall – who joined the Morwell RSL as treasurer and hasn't left his role – said there were too many stories to tell of committee meetings and past Anzac Day commemorations.
He has taken note of the four biggest changes in his time, though.
These range from the introduction of gaming machines in 1992 and the incorporation of the Victorian RSL branch, to the increasing awareness of Post Traumatic Stress Disorder.
"The other major thing is the broadening of the membership base," Mr Hall said.
"Once upon a time, I personally couldn't join the RSL as a member until 1974, because I wasn't from active service."
He said today any one of his relatives, including his nine grandchildren, could join the RSL as an affiliate member.
He hopes for a change in public perception about what the RSL truly represents – a league of community members who serve for the benefit and welfare of the country.
"Let's hope the conflicts don't continue, but I'd say in possibly 20 years, they'd be calling RSLs community clubs," he said.
"It is a community place where people can come, whereas a lot of people still think it's an old man's club.
"That culture we're trying to change, have been for many years, but it's certainly slowly turning around."
Mr Hall attended the Victorian RSL Branch's 100th State Annual Conference to receive the medal, presented by RSL State president David McLachlan and Veterans' Affairs Minister Michael Ronaldson.
He now joins the late Morwell RSL members, Col Hower and Mal Bugg, who received the medal in 1992 and 2006, respectively.