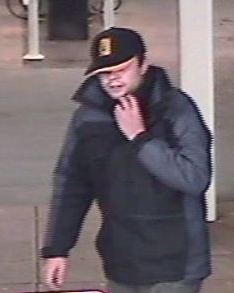 Police have released an image of a man in relation to a service station robbery in Morwell last month.
Investigators have been told a man entered the Princes Drive service station after midnight on Wednesday, 24 June before demanding cash from a staff member.
The man pulled his jacket over his face and stated he had a knife, however no weapon was ever produced.
The offender fled the store after an amount of cash was handed over and was last seen running north on McDonald Street.
The man is described as being aged in his mid 20s to early 30s, 175cm to 180cm tall, medium to solid build with brown eyes and short hair.
He was wearing a black jacket with grey sleeves, light brown pants and a black baseball cap with a yellow logo on the front.
Police urge anyone with information to phone Crime Stoppers on 1800 333 000 or submit a confidential report at www.crimestoppersvic.com.au
A Sunday morning motorcycle theft in Morwell earlier this month has police calling for extra witnesses, after an initial lead put the likely offender as a 17 year-old boy.
In the callout for assistance, Latrobe Police Senior Constable Tim Barlow said a yellow and blue Suzuki was taken from a Neville Street address about 8am on 5 July.
Snr Const Barlow said one witness to the event had since come forward, describing the offender as a young white male with black short hair, as he pushed the bike along Winifred Street towards Holmes Road.
"Apparently he was a little person struggling to hold up the bike, it would have been a pretty distinctive thing to have seen on a Sunday morning," Snr Const Barlow said.
Anyone with information about the theft should phone Snr Const Barlow at Morwell Police Station on 5131 5000 or Crime Stoppers on 1800 333 000.
A Traralgon man had his car impounded in Sale last week following a report to police of hoon driving.
A member of the public reported a blue Holden utility driving dangerously at the intersection of Raglan Street and Guthridge Parade in Sale on Friday morning.
The 20 year-old driver had his car impounded for 30 days and may receive a summons to appear in court to face charges of careless driving, dangerous driving and improper use of a motor vehicle.
Police would like to speak to the driver of a white vehicle that exited Ellen Way, Sale, about 8am Friday who may have witnessed the alleged hoon driving.
-The Gippsland Times