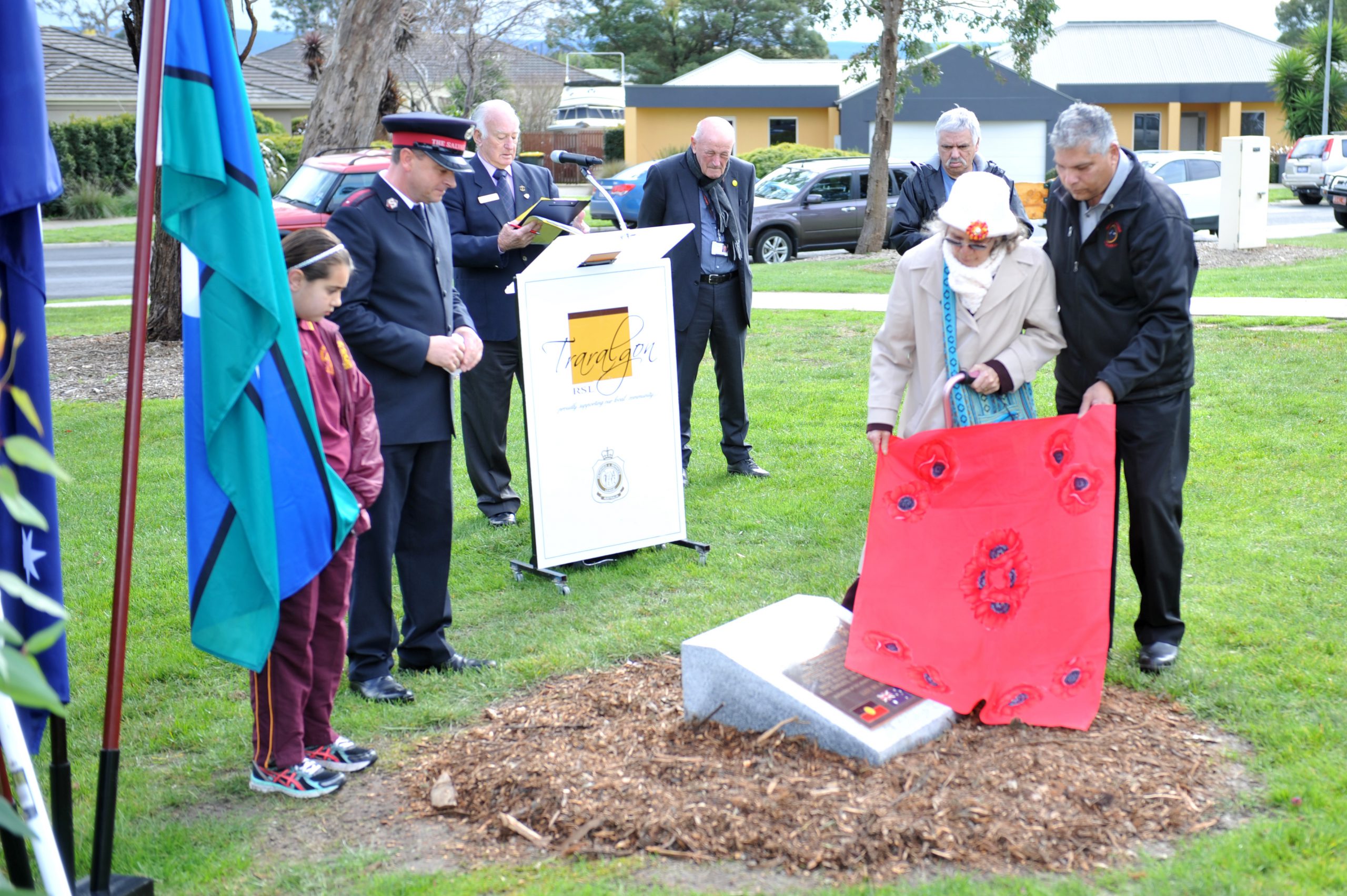 AFTER a long-awaited and detailed plan to recognise Australia's indigenous service men and women, the Morwell RSL has paid a permanent tribute.
Latrobe Valley's Aboriginal and Torres Strait Islander community gathered on Friday with Latrobe City councillors and local politicians to commemorate the nation's traditional landowners.
Morwell RSL president Bruce Jeffrey joined elders Aunty Jenny Solomon and Uncle Colin Thomas to unveil a plaque and plant a tree at Traralgon's Anzac Memorial Park.
Mr Jeffrey said the commemoration should have occurred much sooner, but was proud to be one of the few RSLs to recognise indigenous service people.
"The planting (was) to unveil the Aboriginal and Torres Strait Islander war memorial to all the service men and women, who have fought for Australia," Mr Jeffrey said.
"There is nothing in the area for the Aboriginal community.
"I think it would be nice if all RSLs did the same in recognition."
Ramahyuck District Aboriginal Corporation's Ray Naidu first approached Mr Jeffrey in September 2013 with the idea of producing a commemorative plaque in the area.
Although he acknowledged it had taken some time to bring all on board, Mr Naidu hopes for similar recognition at all Anzac cenotaphs and memorial walls across the Valley.
"The setting of the plaque will give the Koorie people in this area a place to go and a reason to go there (to) see the plaque as a memory of what has taken place in the past," Mr Naidu said.
"It should be accessed for both non-Indigenous and indigenous communities."
Federal Member for Gippsland Darren Chester helped the RSL to obtain a Saluting Their Service grant worth $2353, which went towards the commemoration.
It's recognition that Mr Thomas will hold close to his heart as he remembers the service of his father and grandfather.
"As the son and grandson of a few men who went to both world wars, I feel honoured," Mr Thomas said.
"I have no doubt other indigenous people feel the same.
"Now we can go there and reflect on it, maybe shed a tear in remembrance, and it's going to be there for all to see."
Mr Jeffrey encouraged the wider Latrobe Valley community to visit the memorial park along Traralgon's Ellavale Drive.