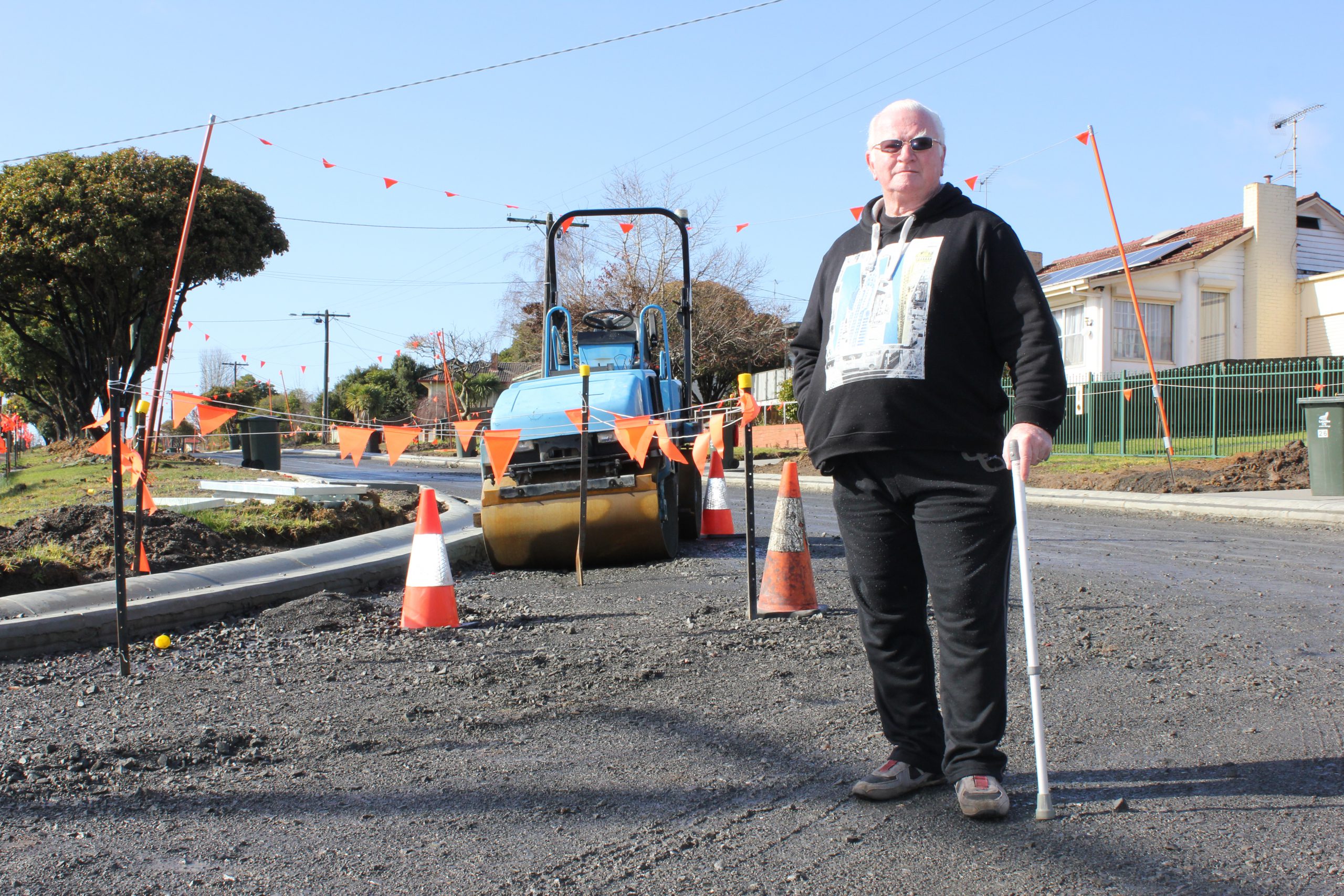 A MESS of wet asphalt and abandoned machinery have left Moe residents unable to access their street and driveways for weeks at a time.
Latrobe City Council said a "high level of works" was needed to rehabilitate Lincoln Street and install new drainage infrastructure, but residents are furious the estimated 10-week project has been left incomplete four months on.
Lincoln Street resident James Nolan said the road has been ripped-up and temporarily resealed twice, the street closed to through-traffic and residents' driveways blocked by the project contractor for weeks at a time.
Mr Nolan said he had filed four complaint letters to Latrobe City, one addressing a letter from the contractor notifying residents the road would be closed from 20 July for five days.
"This is not going to happen. What are people supposed to do with their shopping to access their property and how do people take small children out of their cars into their property?" he asked.
The 66 year-old, who lives with a disability, said residents were expected to park in nearby Baw Baw Street and walk to their homes, but the street was full of contractors' cars.
During the week, he said contractors had also done "next to nothing", only cleaning the nature strips of rubbish and had left a gap between the nature-strip and driveways unmarked.
"They're only doing a bit here and a bit there, and then they take them off the job and put them on other jobs," Mr Nolan said.
Neighbour Lisa Ramsey said it had been difficult to do her "school-run" and grocery shopping, with three children seven years-old and younger.
Ms Ramsey said she was due to take her car in for a service and was concerned about wear and tear on her vehicle from the temporary road surface.
"The curb is slippery and the kids have fallen down. We're constantly getting letters (from Latrobe City Council and the contractor)… we don't know if we can drive down the street or not," Ms Ramsey said.
Latrobe City Council community infrastructure and recreation manager Steve Piasente said a high level of works was needed to successfully bring back the road to an 'as new' condition in order to continue its useful life.
Mr Piasente said the work in Lincoln Street included installing new drainage infrastructure, residential property connections, new concrete kerb and channel and wider concrete driveway infills.
He said the road still needed to be strengthened further and a seal of asphalt overlay installed.
Nature strips will also be given topsoil and grass.
"These works generally require restricted access and unfortunately, do result in a level of inconvenience to residents," Mr Piasente said.
He said it was difficult to be accurate with a timeframe due to weather conditions, but hoped that the final asphalt overlay and the activity and impact to Lincoln Street residents would reduce as the weather improved.
"By undertaking these works the community will be able to travel safely on the road," Mr Piasente said.