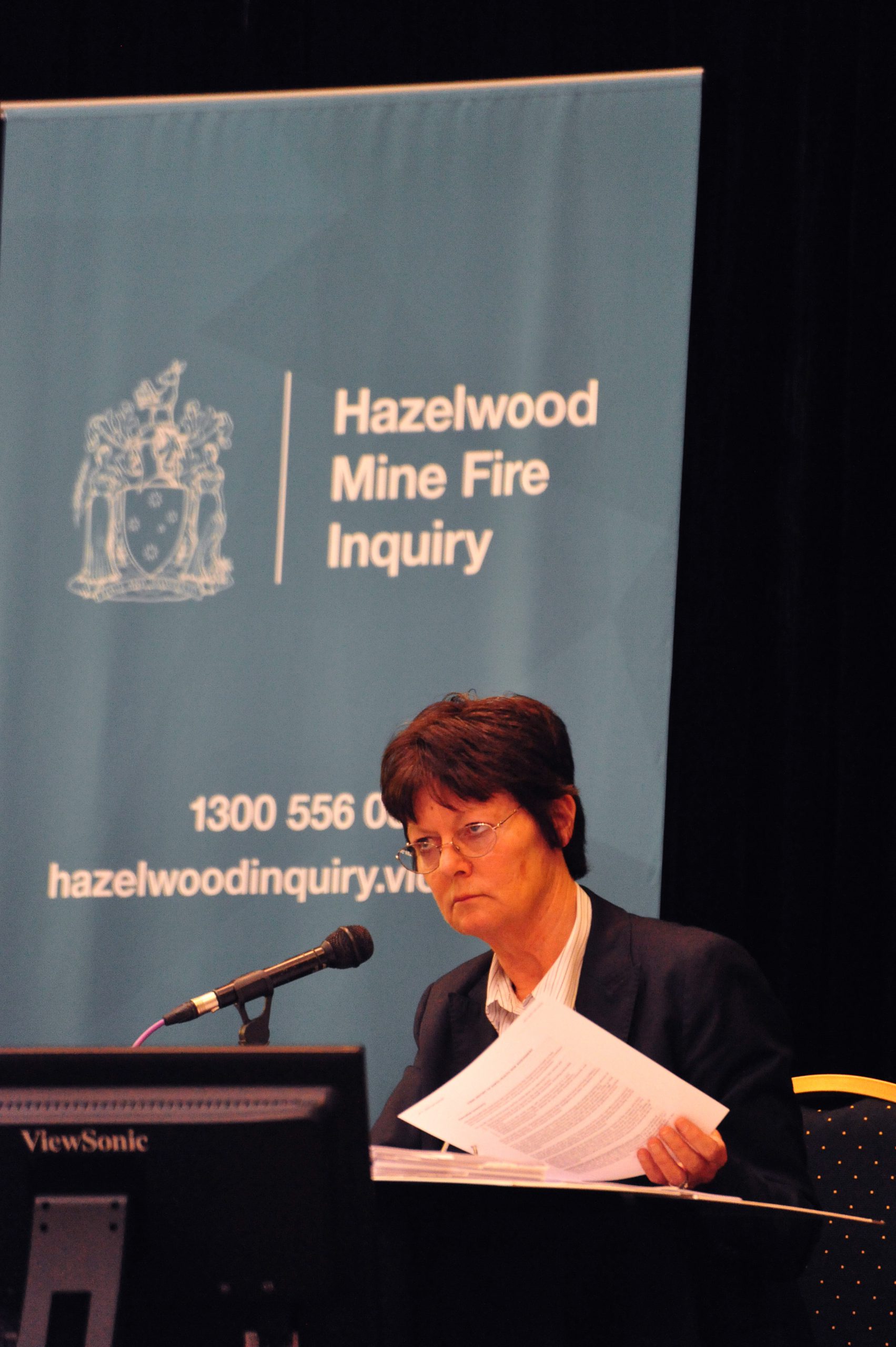 RELATED COVERAGE
No deaths to occur, report reveals
The true independence of a university's analysis of Latrobe Valley death data has been called into question.
Counsel assisting the reopened Hazelwood Mine Fire Inquiry suggested this week that the Department of Health and Human Services influenced Melbourne University's review of work by statistician, Associate Professor Adrian Barnett.
Associate Professor Barnett estimated an 89 per cent probability the death rate was 15 per cent higher during and since the fire in the postcode areas of Morwell, Churchill, Moe and Traralgon.
The inquiry heard DHHS commissioned Melbourne University's Centre for Epidemiology and Biostatistics to analyse the death data.
Former chief health officer Rosemary Lester contacted the head of the Department of Epidemiology, who then allocated the work to senior research fellow Louisa Flander, the inquiry heard yesterday. Referring to drafts of Dr Flander's work, counsel assisting the inquiry Peter Rozen asked Dr Lester whether she had provided any feedback.
Dr Lester said she did not provide written comments and could not recall any conversations with Dr Flander about conclusions or drafts. Mr Rozen pointed out differences between a first draft and final report, stating that the final report referred to the review of mortality data as showing "slightly more deaths occurred", where the former had said "an excess number of deaths occurred".
"Is that a change you asked her (Dr Flander) to make?," counsel assisting asked Dr Lester.
"I don't recall asking any change to be made," Dr Lester replied, saying she had no memory of telephone conversations with Dr Flander about this.
Counsel assisting argued the report had been refined to make it consistent with Dr Lester's view.
The inquiry was shown an email from Dr Lester to Dr Flander dated 24 September 2014, thanking her for providing the deaths data analysis and stating: "I would like to clarify a couple of points with you before we finalise this report… I have discussed with my colleagues in here and have the following additional requests…"
Dr Lester denied suggestions by Mr Rozen that the use of the word "we" suggested the report was a collaborative effort between she and Dr Flander.
However, she conceded that changes to the report could have been a response to comments she provided.
"I suggest what you wanted was not an objective analysis of the data, but an analysis that supported the department's position," Mr Rozen said.
Dr Lester denied this.
On Tuesday, Linda Cristine, director of DHHS' inquiry response team asked about the department's correspondence with Dr Flander, who produced three reports to DHHS between September 2014 and June 2015.
The inquiry heard Dr Lester identified DHHS senior medical advisor Danny Csutoros as Dr Flander's best point of contact before Dr Lester resigned.
A chain of emails between Dr Flander and Dr Csutoros was tendered as evidence.
The chain concerned Dr Flander's draft analysis of Professor Barnett's work, to which Dr Csutoros sent a list of detailed comments. Mr Rozen questioned whether it was accepted practice to comment on independent reports, pointing to a particular statement by Dr Csutoros that referred to the plausibility of Professor Barnett's hypothesis.
"Is it possible the conclusion could be drawn instead, that the data presented does not suggest strong evidence for the author's hypothesis that the fire had an effect on mortality," Dr Csutoros wrote.
The inquiry heard Dr Flander responded within 40 minutes, thanking Dr Csutoros for his comments.
"We will incorporate all the suggestions and return the report to you by Wednesday," Dr Flander wrote.
Dr Csutoros replied, "just for the record, they are comments given to prompt discussions and thinking… we will leave final judgement of inclusion completely to yourself".
Mr Rozen then compared the two drafts, where the term 'plausible hypothesis' had been replaced by 'a supposition worthy of investigation'.
"It weakens the (Professor Barnett's) report, does it not?" Mr Rozen asked.
"I do not know if it makes it stronger or weaker," Ms Cristine said.
In her testimony yesterday, Dr Flander confirmed DHHS had communicated to her its view about the data on more than one occasion, however she denied being influenced by the department.
"As far as being guided or being asked to produce a report that was consistent with their perspective, I don't think we took that on," Dr Flander said.
She said the team went to great lengths to show the strengths of Professor Barnett's analysis, however it responded in good faith to "very accurate" suggestions by DHHS to "avoid language of causation".
In reference to her prompt email response to Dr Csutoros, Dr Flander said she hoped to take on board all of the comments, "not to do a copy and paste".
Mr Rozen said based on the number of drafts submitted and comments made by the department, many of which were incorporated in the final report, that it was open for the board to conclude: "rather than work to be seen as truly independent, it was more a collaborative piece of work between you and the department". Dr Flander rejected this. The inquiry heard Dr Flander was not a statistician and her expertise was in epidemiology. She said she had earlier rejected a request to evaluate Dr Barnett's work because she felt she was not qualified, however the brief from the department changed and she was required to do a more comprehensive analysis, enlisting a "much broader pool of experts" including statisticians. The inquiry continues.