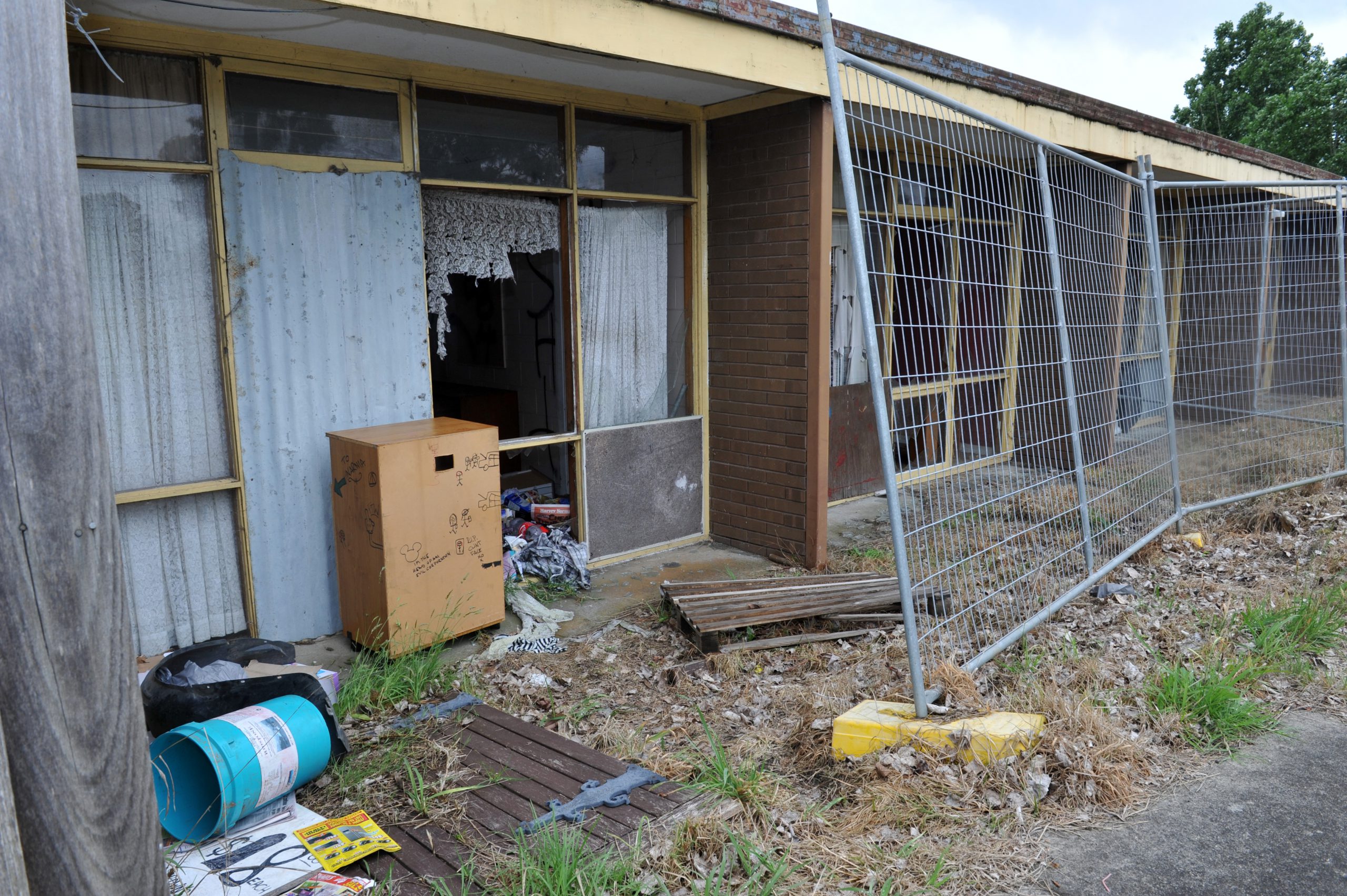 THE owners of the old Baw Baw Hotel/Motel site in Moe must secure and block the eyesore from public view this week, or they face possible prosecution by Latrobe City Council under its new dilapidated building law.
On Friday council issued a seven-day notice to comply last Friday ordering that fencing around the site be made more secure, screening be attached to the security fence, unconstrained rubbish be removed and grass be cut at the site.
"Should the above works not be completed within the specified timeframe council will take further action which may include infringement or prosecution," Latrobe City Council general manager city development Phil Stone said.
The site's owner, BMG Property Developments, has confirmed works will be undertaken to clean it up.
Moe community groups and residents have called for the site to be cleaned up in recent weeks, describing it as an "abomination" and a "disgrace".
Nearby residents told The Express the old Baw Baw Hotel had been taken over by vandals and squatters and called for it to be demolished.
"You get all sorts of noises," one resident, who did not want to be named, said.
"A few weeks ago my wife rang me, I was at work, it was the middle of night.
"She could hear all this noise coming from over there, so there was a heap of 'yahoos' over there smashing glass.
"Things like that go on all the time, there's always kids running around in there smashing things, I've rousted a few kids in there a couple of times because they're smashing the glass.
"It's dangerous to them and it's dangerous to everybody else. Just knock it down and turn it into grassland for the time being, that would be great so there's no eyesore."
They agreed that a screen around the site would help.
"That's better than what it is, it's the first thing people see when they come into Moe," another resident said.
A visit to the site on Friday revealed a large gap in the fencing around the buildings and squatters appeared to have taken up residence in old motel rooms.
Community groups Make Moe Glow and Moe Development Group wrote to The Express last week repeating their requests for a clean-up of the old hotel.
Latrobe City Council identified the site as a dilapidated building under Local Law 2 in August and requested "self-compliance" from the owners.
A notice to comply was issued in September after a second inspection, meaning the owners must meet Local Law 2 requirements to secure the building from unauthorised access, prevent it from becoming a haven for antisocial behaviour and ensure the building is maintained in a "state of good repair and appearance".
"At this point the owner made contact with council staff and gave an undertaking to carry out works to improve the safety and image of the site," Mr Stone said in a statement last week.
BMG Property Developments did not wish to comment but said the council order would be complied with.