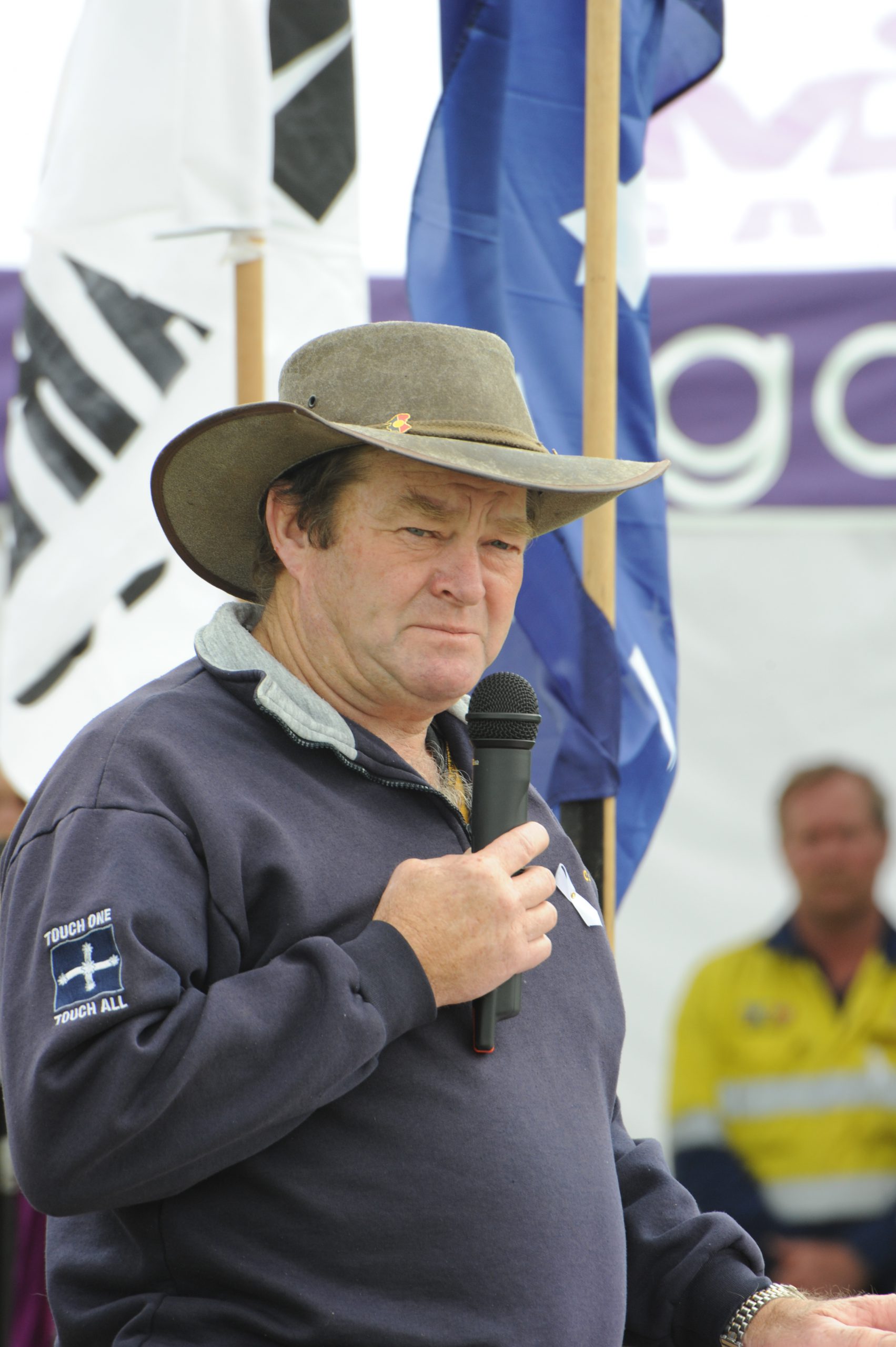 The man who would help anyone who asked for it.

That's how Gippslanders are remembering trade unionist and community activist, John Parker.
Since his death on Saturday, those close to him have reflected on a humble man whose sense of humour did not wane in the face of illness.
He has been remembered as a patient man, a visionary and, in later life, a creative type.
John was diagnosed with motor neurone disease in 2013 and aggressive brain tumours were discovered from 2014.
He died aged 66.
A prominent voice in the Latrobe Valley, John was best known locally for his work with the Gippsland Trades and Labour Council, the group he helped re-establish in the early 2000s after it was disbanded following the privatisation of the electricity industry. He served as secretary from 2002 to 2014.
GTLC president Val Prokopiv said John viewed the group as the community arm of the union movement.
"He always thought the worker was part of the community and so if you wanted to support workers, you had to support the community," she said.
"He was just a real visionary thinker. You'd face a problem and he'd look at it from a completely different angle."
GTLC secretary Steve Dodd described John as a realist, who knew sooner or later, the coal-fired power industry would downscale and he called for a just transition.
"He wanted a plan so workers don't get left out on a limb when the economy starts turning," Steve said.
"John was more or less like a father of the community. He had concerns for disadvantaged groups in the region. He was always doing something, besides his union work.
"His view would be: he wanted the GTLC to be a voice for the community and try and take up social issues."
John's community advocacy extended across Gippsland, the various projects he was a part of too numerous to list.
Among them was supporting the business community in its campaign to save Korumburra's Coal Creek Community Park from closure; and working with Gippsland Asbestos Related Diseases Support group to develop the asbestos in the Home Removal Kit.
"He was a giant among men," GARDS secretary Vicki Hamilton said.
"I feel privileged and honoured to have known him."
Behind the public advocacy was a devotion to his family: wife Alison, children Tony, Pam, Steven and Christine and seven grandchildren.
"I think from outsiders looking at mum and dad's relationship, it has just always been devotion to each other and humour. Just endless devotion," Pam said.
"Someone said it to me, it's like they're each other's fan club. Which has been an inspiration to everyone."
Alison recalled the night she met John on 6 April 1968 at a Springvale Town Hall dance.
"He asked me to dance and we've been in step pretty much most of the way," Alison said.
"We learnt about life and grew at the same time."
The pair married on 1 February 1969.
Pam said John encouraged she and her siblings to go in any direction they wanted, as long as it made them happy.
"For me, the best gift he's given me is the relationship with my kids and the example he's set for them as young men," she said.
"All the things he's done and the example for the next generation."
Born in the town of Maidenhead in Berkshire, England, John came to Australia with his dairy farming family as a two year-old and grew up in Gippsland.
The family returned to England for a year when John was about 12 years old, and it was on the journey back to Australia he met a man he described to his family as one of his greatest influences, a London academic who introduced John to the teachings of Mahatma Gandhi.
Pam said talk of social justice was always part of the Parker household, but John did not force views on his children.
"It was always just incidental learning or teachings," Pam said.
"It wasn't ever lectures about things."
A carpenter by trade, it was during his early working life that John came to understand the importance of worker safety, after injuring his hand on a work site, and seeing a fellow worker's head injury.
"That was one of the pinnacle points that dad was influenced by the safety of workers and their families," Pam said.
John also worked selling insurance, and became a union organiser in 1980 with the Amalgamated Society of Carpenters and Joiners.
He later worked for the Construction, Forestry, Mining and Energy Union in various roles across Victoria until last year.
Alison paid tribute to John's fighting spirit, saying he would "rile up for those who needed it".
In the 2013 federal election, John stood as an independent candidate for the seat of McMillan, describing himself in an interview with The Express as a 'scrapper'.
"A scrapper is what they need in parliament; too many people have just been playing political games with this region – I'm not interested in politics, I'm just interested in making the important issues happen, instead of just talking abstractly about them," John said in 2013.
For all his tough activism, John had an incredibly artistic side, enjoying wood carving, painting and lapidary in recent years.
"For a really tough man from the CFMEU, he could knit and he could sew and he did embroidery too," Vicki said.
Alison said distance was no boundary for John, who would not hesitate in travelling to help just one person.
"He always put that time in to go that extra bit further for anyone who asked for it," she said. John's generosity has extended beyond his life. He has donated his brain and spinal cord for medical research.
A celebration of John's life will be held next Wednesday at Danny's, Logan Park/Warragul Show Grounds, Howitt Street (South Road), Warragul at 2pm.
The family asks in lieu of flowers, donation be made to the Motor Neurone Disease Association at www.mycause.com.au/payment/charity/15