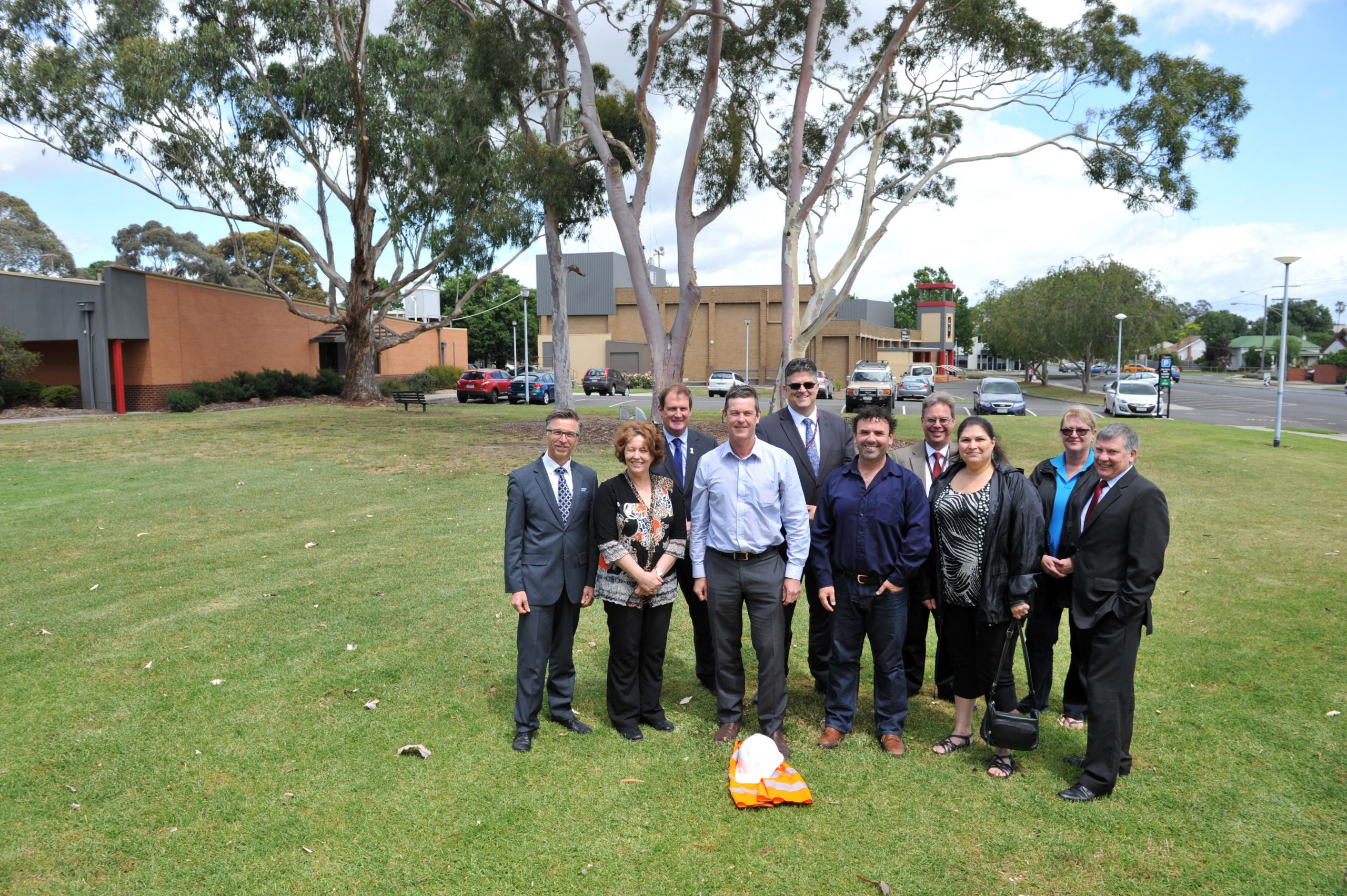 After more than two decades of debate for a Latrobe Performing Arts Centre, an advocacy group is calling on the community to pitch in.
The newly formed 'Get it Built – from the ground up' group met with Latrobe City Council representatives yesterday in a bid to support the construction of a new Performing Arts Centre in Traralgon.
It remains unclear how much the performing arts advocates aim to raise, but spokesperson and independent theatre producer Dan Clancey said it was time to raise the profile and need for the facility.
The proposed site at the corner of Grey and Church streets would replace Traralgon's Little Theatre.
"It's important that the community shows the state and federal governments that we're serious about this by raising money, raising awareness and making some noise," Mr Clancey said.
He said Latrobe City Council was seeking government funding for the PAC's construction and the advocacy group would offer assistance.
"If we're serious about having a future and for people to invest in the area, we need to have a vibrant arts community and to start that we need to have a facility," he said.
Latrobe City Council city development manager Phil Stone said anything the community could raise would be welcomed and would offset costs to the general ratepayer.
"It shows strong momentum and wide community support which will help us secure funding," Mr Stone said.
"Even if they raised $1 million, that would offset the cost of course.
"It wouldn't make all the world of difference, but it does send those strong messages."
Mr Stone said council would propose a three-way split funding model between council, State Government and Federal Government to the Nationally Stronger Regions Fund.
The council has already resolved to set a business case and engage a specialist theatre designer for a functional concept design.
A tender will be awarded to a specialist consultant builder in the coming weeks.
Mr Stone said council would consult the working group to develop design specifications.
"They'll do some specific community projects to generate momentum about getting this thing built," he said. "We've both got the same agenda."
The community fundraising model for regional performing arts centres is not new.
Last month, Baw Baw Shire Council endorsed a community fundraising campaign for the West Gippsland Arts Centre redevelopment alongside an application for state and federal government funding.
A community fundraising campaign and a philanthropic contribution from John Leslie also contributed to the construction of the Wellington Entertainment Centre in Sale about a decade ago.
The naming rights for the theatre, the John Leslie Theatre, were given to him as thanks.
Baw Baw Shire Council arts, culture and events manager Rob Robson said it would secure State Government funding before initiating a $1 million community fundraising campaign to redevelop the arts centre.
Mr Robson said it was an ambitious but reasonable target considering the community raised $500,000 for the Warragul facility when first constructed in 1983.
"It's important that the community has a sense of ownership and it commemorates people who contributed to the first version of the building," he said.
Latrobe City councillor Dale Harriman said the community wanted the PAC built 10 years ago and council was partially responsible for slowing the project down by putting up different options and changing the site location.
"It shows the state and federal governments that the community are behind it," Cr Harriman said.