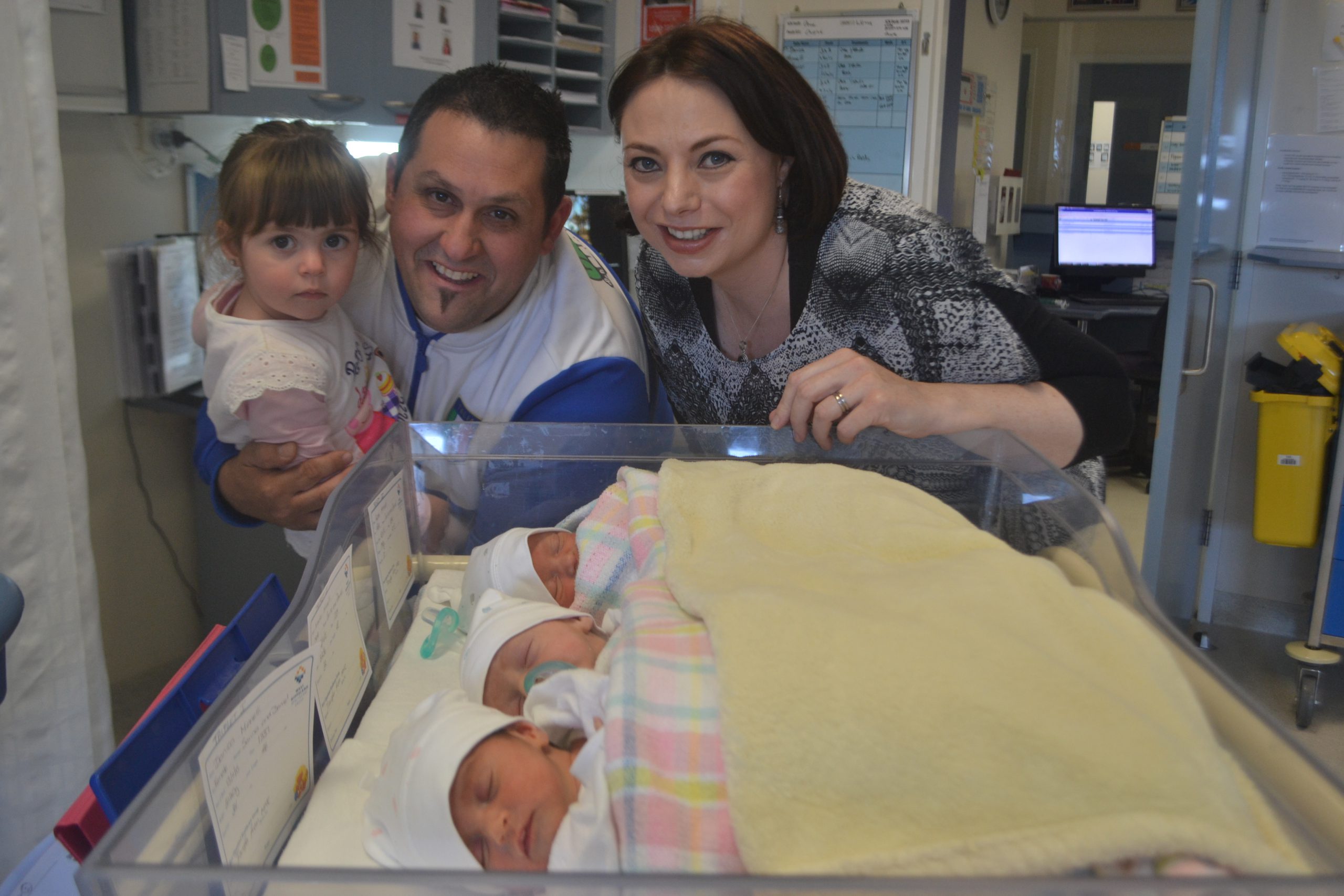 From a super-sized pram, to four car seats and the car to fit them, Daniel and Sarina Minnelli are preparing for a homecoming on a big scale.

The Morwell couple welcomed fraternal triplets Danica, Xavier and Ryder to the world on 13 November.
With proud older sister Talia, the Minnellis are getting a sense of what it means to be the parents of four children under two years old.
"You just don't know what to do first," Sarina said of times the infants were unsettled.
"Hopefully we can get our heads around looking after the babies."
Born through caesarean section at 35 weeks at Monash Medical Centre, the triplets are currently at West Gippsland Hospital's special care nursery and due to arrive home soon.
"I'm nervous. But I know that Daniel's going to be home and he's been there every step of the way," Sarina said.
While Daniel will take a short time off work, and extended family will be able to provide some help, the day-to-day parenting will largely fall to Sarina.
The pair has turned to The Multiple Birth Volunteer Support Foundation, which is working to recruit an army of volunteers to help the family out.
"The main issue is sleep deprivation," Multiple Birth Volunteer Support Foundation founder and program manager Lynne Dunoon said.
"With triplets, who often have to be fed every three hours, there is no hour left in the day or night to do anything else, particularly when there are other siblings who also need attention," Ms Dunoon said.
The foundation trains local volunteers in caring for infants and coordinates shifts for them to assist multiple birth families.
"We find people who are offering their time are generally mothers or grandmothers, they might be students in the field such as nurses or midwives," Ms Dunoon said.
"(However) we don't rule out people who haven't had experience with babies, in which case they might want to carry out other tasks like shopping for the family."
It's the first time the foundation has worked in the Latrobe Valley and Ms Dunoon is hoping to build a bank of self-sufficient volunteers in the region who can serve more families in the future.
A four-hour training session will be held on Saturday, 12 December in Traralgon for those interested in helping the Minnelli family.
Volunteers need to have a working with children check and a whooping cough vaccination.
"Training will talk about duties, mainly helping with babies and baby-related chores and the maternal and child health nurse will talk on up-to-date care with babies," Ms Dunoon said.
Volunteers are generally asked to contribute four hours a week, however, the family is grateful for any time people can give.
"There are some lovely people in the community," Sarina said.
Anybody interested in volunteering to help the Minnelli family can email coordinator Tanya Doig at tanyaandglen@bigpond.com or attend the training day at Traralgon Maternal and Child Health Centre, cnr Kay and Breed Streets, Traralgon on 12 December from 9.30am to 1.30pm.