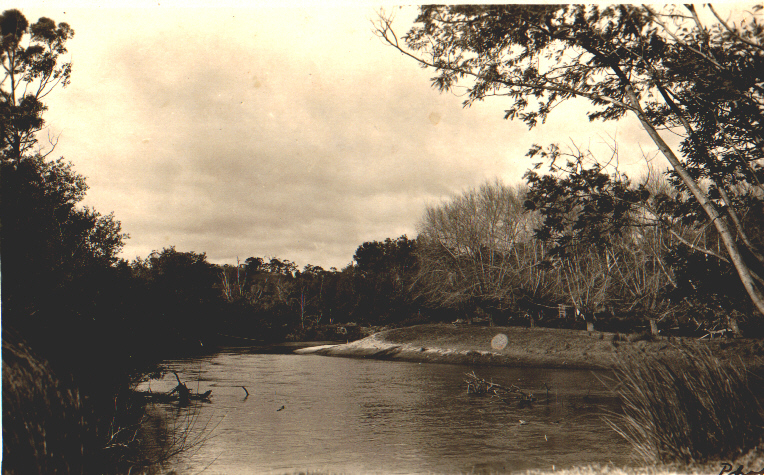 Decade-old native and exotic European trees still stand on what used to be Traralgon's most popular picnic and recreation holiday spot in the 1900s.
The trees included the largest known example of an English Elm in the state, with a spread of 24.1 metres and a height of 31 metres, according to data from the Latrobe City Heritage Study.
While records did not show exactly when Sandbank Reserve along Traralgon-Tyers Road was established, it appeared it was the Traralgon community that advocated for it.
Traralgon and District Historical Society president Barbara Johnson said in 1908 there were records of the shire responding to public clamour to have "something for picnics and where Sunday schools can go that's close to Traralgon".
Ms Johnson said various fundraising activities were held in the community to build facilities at the reserve and make it user friendly.
In 1909 a tender for a men's bathing box and seats was announced in the local newspaper, The Traralgon Record, by H O Cornell, secretary of the Sandbank Reserve committee tasked to manage the reserve.
A bylaw was also developed by the committee, which first tested the reserve's usability by holding a picnic on Easter Monday in 1909.
A number of residents also volunteered their time to prepare the area.
"Voluntary workers from the community, like T A Williams, the local blacksmith, spent many hours of their time beautifying the reserve," Ms Johnson said.
"Even before (it) had been proclaimed as a public reserve working bees were being organised so the area could be used in the summer of 1908."
Community fundraising activities between 1910 and 1915 were able to build needed facilities like bathing boxes or change rooms for men and women, and toilets.
The Tyers Mechanics Hall Grand Concert was held on 23 June 1910 and the proceeds went to the Sandbank Reserve improvement.
Churches also held picnics and special events at the reserve including the Methodist Sunday school which celebrated the new year in 1919.
Use of the reserve continued until World War I with the Annual Employer's Picnic held in 1921.
Ms Johnson said interest in the reserve somehow dwindled as a public meeting to replace two committee management members was "poorly attended".
However, interest was quickly revived as the Traralgon Athletic Club organised a carnival at the Sandbank on Boxing Day in 1929 to raise money for the Distressed Digger's Fund, according to Ms Johnson.
It was the 1934 floods that eventually spelt the death of activities at the Sandbank Reserve with everything wiped out except the trees that remain to this day.