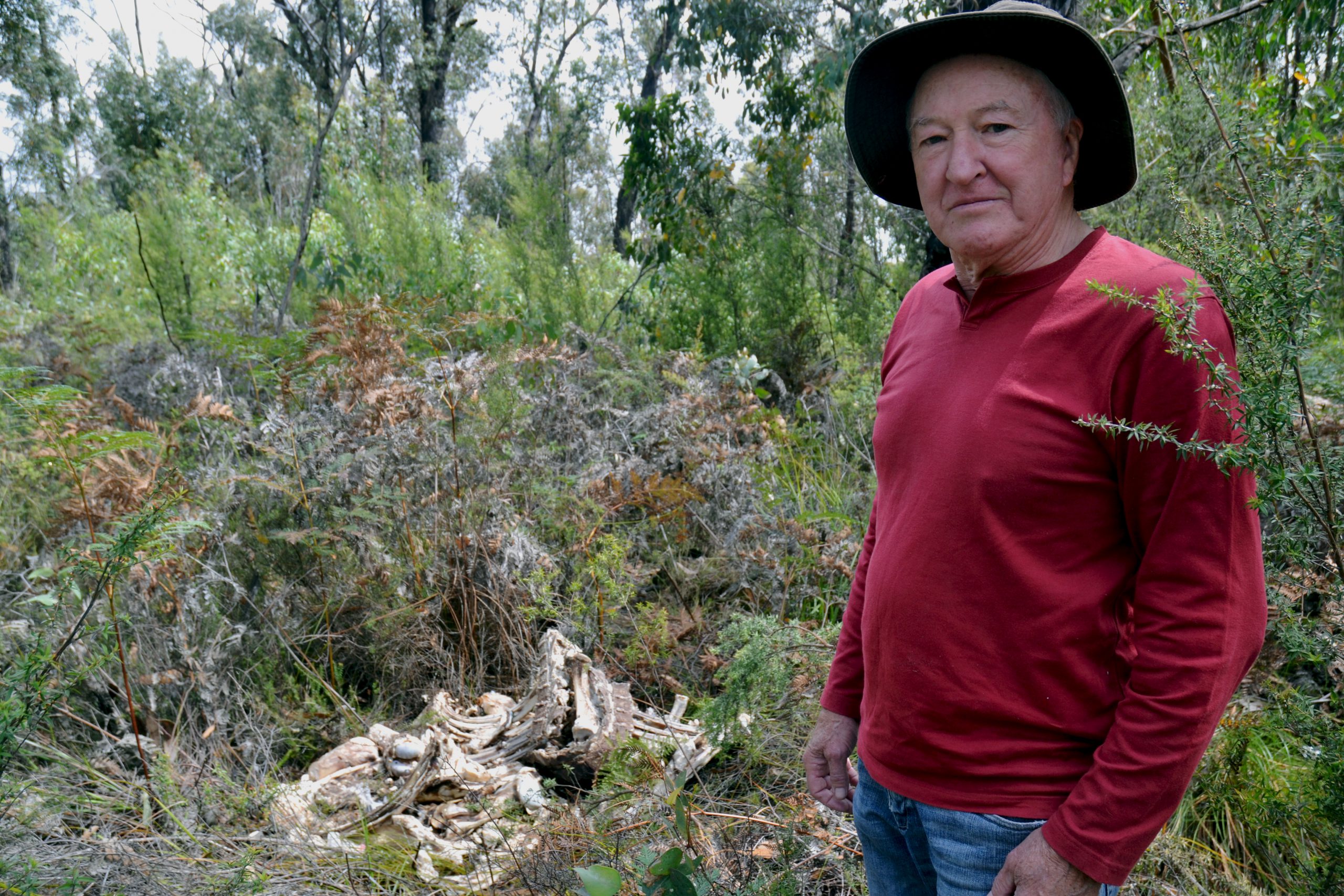 Hazelwood South resident Ross Ollquist would like whoever is dumping animal carcasses in a nearby state recreation reserve to "bugger off".
The former pharmacy operator in Churchill, who has called Hazelwood South home for more than 40 years, says dumping animal remains on government land has been an ongoing issue.
Mid last year he found a deer body in the Jeeralang North Education Area and in the past three weeks has discovered two cow carcasses abandoned on Jill's Track.
"(I think) it's somebody doing their home slaughtering and just dumping the remnants here, which has been the bones and the offal," Mr Ollquist said.
Mr Ollquist cycles daily through the recreation reserve in the company of his two pet dogs.
Not only does he hold concerns for his pets who are attracted to the carcasses' "perfume", but also wild animals who are likely to "feast" on the remains.
"There are foxes in the area and any dogs or feral cats; they're all going to feast on it," he said.
"And also the native fauna – it gives them a chance… to kill more native fauna.
"Bugger off. Please don't do it."
Parks Victoria is the authority that manages the Jeeralang North Education Area, which spans about 160 hectares in the Hazelwood South region.
Established in the 1980s, it boasts several walking and cycling tracks popular among nearby residents.
Government departments have confirmed carcass dumping is not uncommon, but unless individuals are caught in the act, authorities can take little action.
Parks Victoria became aware of the most recent incident when The Express contacted the authority this week, and will remove the remaining carcass in due course. Parks Victoria regional marketing and communications officer for the eastern region Karen Raabe encouraged those with information to contact the authority.
"If anyone has information about the people who did this, Parks Victoria would like to hear from them as soon as possible," Ms Raabe said.
"The key message from us is that if you see something, say something.:
Describing the area as a "beaut resource for recreation", which a lot of people use, Mr Ollquist reiterated Ms Raabe's comments.
"I'd like the culprit to do the right thing," Mr Ollquist said.
"And I'd like anybody that knows anything about it to please contact Crime Stoppers, Parks Victoria… and they can investigate further."
Report environmental crime to Parks Victoria on 13 19 63, to Crime Stoppers on 1800 333 000 or to your local Parks Victoria office or police station.
*Under guidelines set out by the Environment Protection Authority Victoria, dead stock should be sent to a knackery or rendering plant, or an appropriately licensed landfill.
Where this is not possible, farmers can bury their dead stock on their property providing this is with appropriate approval, and does not harm land, surface or ground water or set off an odour. Penalties apply for those caught committing an environmental crime.