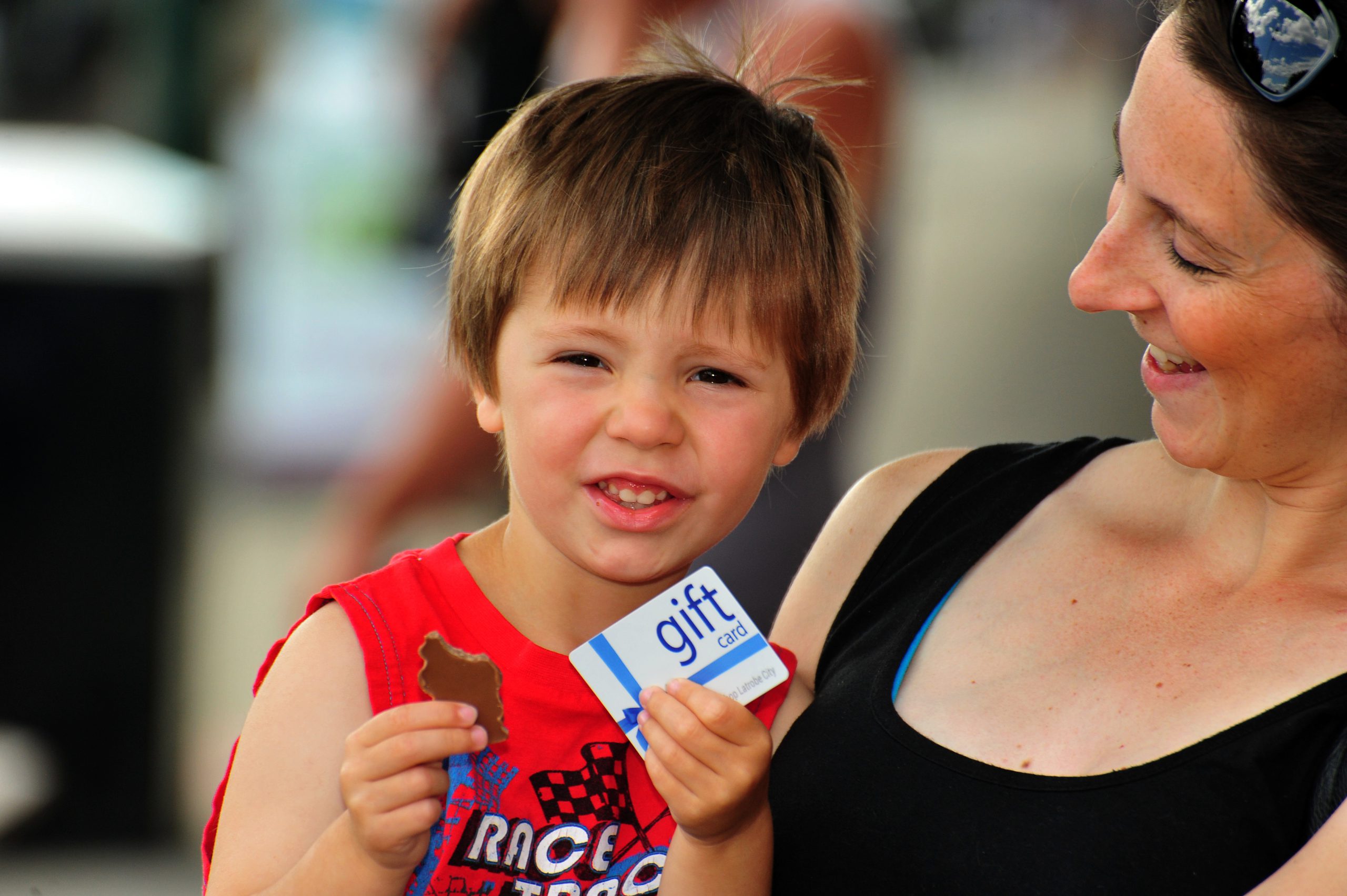 Key business groups are behind a campaign to keep shoppers' money in the Latrobe Valley with the launch of a new gift card that can be used at 80 different stores across the region.
The Latrobe City Gift Card, which has been available for a month, comes preloaded with the purchased amount and allows shoppers to redeem it at any participating store.
Project manager Debbie Grist yesterday presented a Latrobe City Gift Card to Morwell toddler Seth Tindall, who was featured in The Express last week after his father was given a Dick Smith voucher as a Christmas gift, later deemed worthless when the company went into voluntary administration.
Ms Grist said retailer groups were concerned people would be "put off" buying gift cards in the wake of the Dick Smith collapse.
"We want to encourage people to not be frightened of gift cards just because of one situation," she said.
"We want people to understand that there are cards that you can purchase as a gift that are safe. It's not possible for a card that's been preloaded with the money to go under because the money's on the card (not tied to a particular business).
"As long as you don't lose the card you've got the money for a 12-month period."
Independent Senator Nick Xenophon this week called for changes to legislation to protect customers with gift cards.
The Latrobe City Gift Card concept was piloted for 12 months by the Traralgon Chamber of Commerce and Industry, and now has the support of Advance Morwell, Moe Traders Association and Latrobe City Business Tourism Association.
It can be redeemed at 80 stores across the Latrobe Valley and Ms Grist expects more businesses to jump on board the initiative.
"The whole idea is to keep the money in the Latrobe Valley and give the flexibility to people to be able to purchase that gift card when they just don't know what to get someone," she said.
"Often people don't want to be locked into one particular store when they buy something, so they don't know what to get someone.
"It's all very well when you know someone likes gardening and you can go and get them a gardening gift card, but if you don't know what someone wants, this allows them to shop anywhere."
The wide variety of stores participating in the Latrobe City Gift Card project include hairdressers, day spas, garden supplies, fashion stores, jewellers, florists, gift stores, newsagencies and furniture stores.
Traralgon Chamber of Commerce and Industry assistant secretary Ty Morsink said the 12-month pilot had been a "hands-down" success and many retailers had given positive feedback.
The Latrobe City Gift Card is available to buy at Furniture, Beds and More in Moe, Morwell Newspower Centre and Seymour Street Newsagency in Traralgon.
For a list of participating stores or to register as a business, visit latrobecitygiftcard.com.au