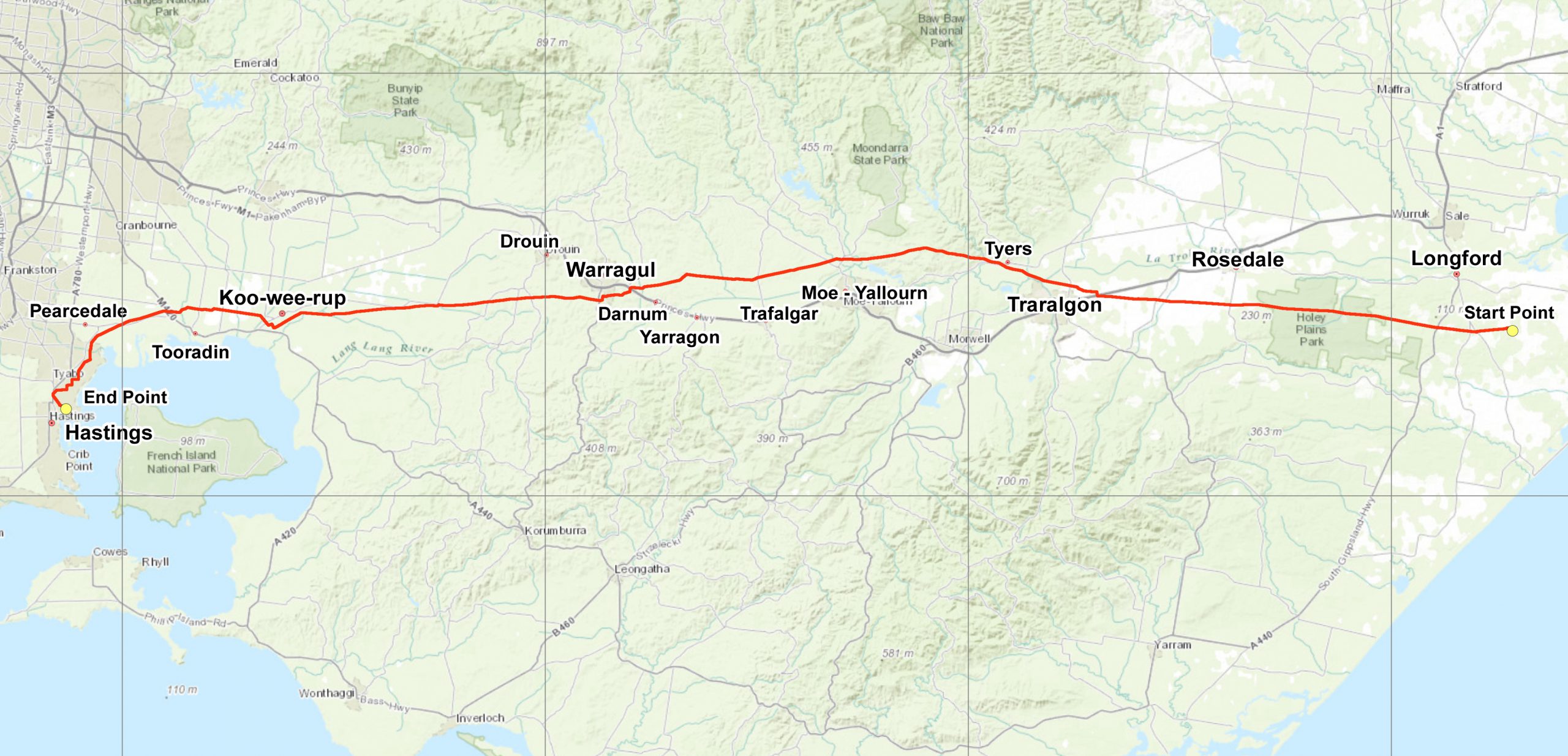 ESSO Australia is set to lay a new 187 kilometre pipeline in a two-year $400 million project which it says will generate 500 jobs at its peak.
The pipleine will pass through parts of the Latrobe Valley.
Construction will begin soon on the new pipeline which will transport crude oil and condensate between its facilities at Longford and Long Island Point, replacing an ageing pipeline laid in 1969 which underwent a partial replacement in 1980.
The pipeline replacement has received full project funding from Esso Australia Resources and Gippsland Basin Joint Venture partner BHP Billiton.
Some preparatory works have already begun and pipeline construction is expected to begin in February. The contract to build it has been awarded to Nacap Australia.
Esso expects the work will benefit local businesses, saying personnel will work along the pipeline route, using accommodation, hospitality and other services throughout the region.
Asked about whether Esso had agreements in place with its contractor regarding the use of local labour, spokesperson Jessica Bodon said Esso had a strong track record of supporting local contractors and suppliers.
"While the construction contractor, Nacap, will decide what resources are needed to carry out construction, we anticipate Nacap will source the people, equipment and services from within Victoria and Australia where possible," she said.
The old 700 millimetre pipeline is approaching the end of its operational life and Ms Bodon said a new 350m pipeline would replace it, the diameter reduction the result of less crude oil and condensate from Gippsland operations.
The replacement pipeline will be built alongside Esso's existing crude oil and condensate and LPG pipelines and the company says construction work will mainly be on private land and should not cause significant community disruption.
"The pipeline will allow the continued delivery of crude oil and condensate, and will also ensure that natural gas from our offshore Gippsland operations continues to flow to Australian households and businesses," Esso has stated.
After the completion of the construction work, Esso plans to clean and leave the existing pipeline in-situ,to "reduce the need to disrupt landowners, occupiers and the broader community".
Construction of the new pipeline can only take place during drier months, and Esso expects that the first season of construction will finish some time during winter this year, beginning again in spring. Works will predominantly occur in an east to west direction, beginning about 30km from Longford.
Esso says it has been consulting extensively with private, public, traditional and Crown landowners and occupiers along the existing pipeline route who are affected by the project.
It says a dedicated land liaison officer has been talking with landowners and occupiers and discussions have focused on property access and impacts to land. It says where practicable, the new pipeline will be laid within the existing easement, but where additional areas are needed, new easements have been negotiated with landowners.
Victorian Farmers' Federation land management committee spokesman Alex Arbuthnot said the VFF had been well briefed on the pipeline, its route and Esso's communication program with farmers.
Mr Arbuthnot said it was important farmers consulted with the VFF regarding any questions over payments.
"(The company) should pay for the right to enter the property, to use the assets (even if there is an easement) and in my opinion they should also pay for the time it takes for discussions with them."
Affected farmers with queries about issues surrounding the pipeline should phone Emily Waters at the VFF on 9207 5526 or ExxonMobil on 1800 724 723.