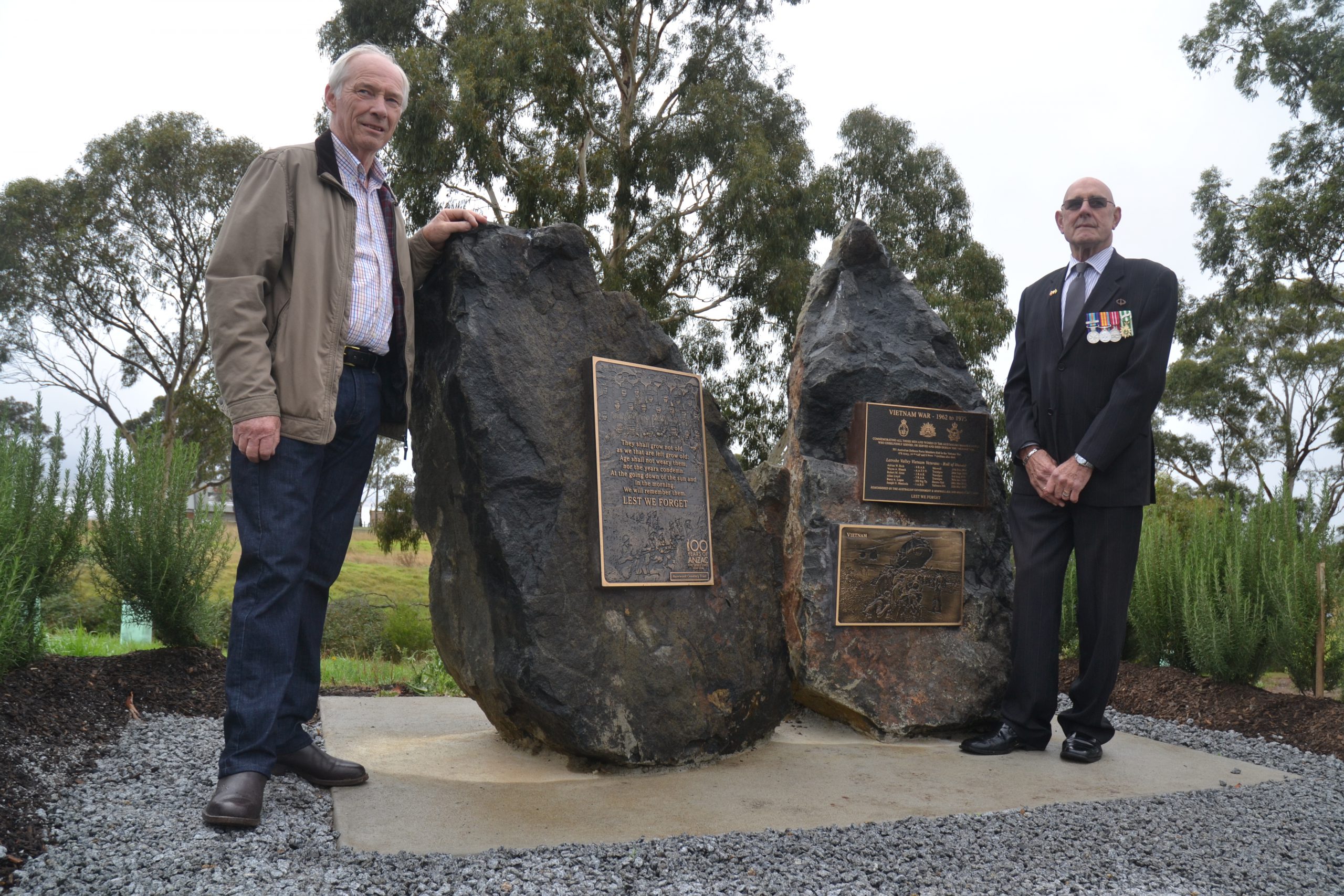 THE six Latrobe Valley veterans who died during active service in the Vietnam War will be remembered as part of a moving simultaneous vigil this Sunday at gravesites across Victoria.
Vietnam Veterans, family and friends will gather to remember Wayne Blanck, Robert Grist and Allan Lloyd from Traralgon, Barry Logan from Hernes Oak, Joseph Manicola from Yallourn North and Adrian Rich from Morwell, beginning a year of activities to commemorate the 50th anniversary of the Battle of Long Tan.
The simultaneous service at noon on Sunday, at 98 gravesites in 35 cemeteries state-wide, will be the first of its kind.
Yesterday, 49 years to the day since his friend Adrian Rich was killed in Operation Bribie, veteran Lyndon Giles said the service would bring mixed emotions.
The two friends enlisted together and fought in Operation Bribie with the 6th Batallion (6RAR), a battle in which eight Australians were killed.
"Two local boys go to war, one comes home and one doesn't… it's one of those things veterans live with," Mr Giles said.
"It's a little bit of guilt, you think to yourself, 'why Adrian and not me?'.
"It's going to be mixed emotions (on Sunday) because you've got the sadness and reflection, then you've got the guilt.
"But at the end of it all it is a com memoration and you feel proud that you've done your bit. Whether you agree or not with the war, it's a part of Australia's history."
Mr Giles said while Vietnam Veterans were shunned for some time after returning home to Australia, they had since gained respect in the community.
Veterans are ensuring younger generations learn about Australia's military history by speaking at schools, as well as at commemorative events.
"Your feelings on the Vietnam War may be positive or negative but it's still part of Australia's history and that's what we try to get out to people," Mr Giles said.
"They're still soldiers that served their country and, rightly so, they need the respect they deserve."
The Valley's six soldiers who died are now buried at Traralgon, Hazelwood, Yallourn and Springvale cemeteries.
On Sunday, buglers will play at the cemeteries, while Australian flags and poppies will be placed.
Victorian Vietnam Veterans Gippsland sub branch president Geoff Hopkins said veterans could honour their mates' service and sacrifice.
"Most of them died very young; they never had the chance to marry, to have a family, to enjoy their grandchildren and to grow old as we have, so we will assemble at their resting places, conduct a simple service and then carry their spirit with us throughout 2016."
Morwell RSL president Bruce Jeffrey, himself a Vietnam Veteran, invited members of the public to pay their respects on Sunday.
"I just encourage the people to attend and not forget what they (those who died due to the Vietnam war) did," he said.
A service will also be held at the new Anzac Memorial at Hazelwood Cemetery, which contains an honour roll for the six Latrobe Valley men.
The memorial recognises the Anzac Centenary on one stone and the Vietnam War on the other.
Hazelwood Cemetery Trust chair Leo Billington said members took up the opportunity "with great respect" to honour the six on the memorial.
"It's certainly one for the community and we'll keep developing that, that's a given," Mr Billington said.