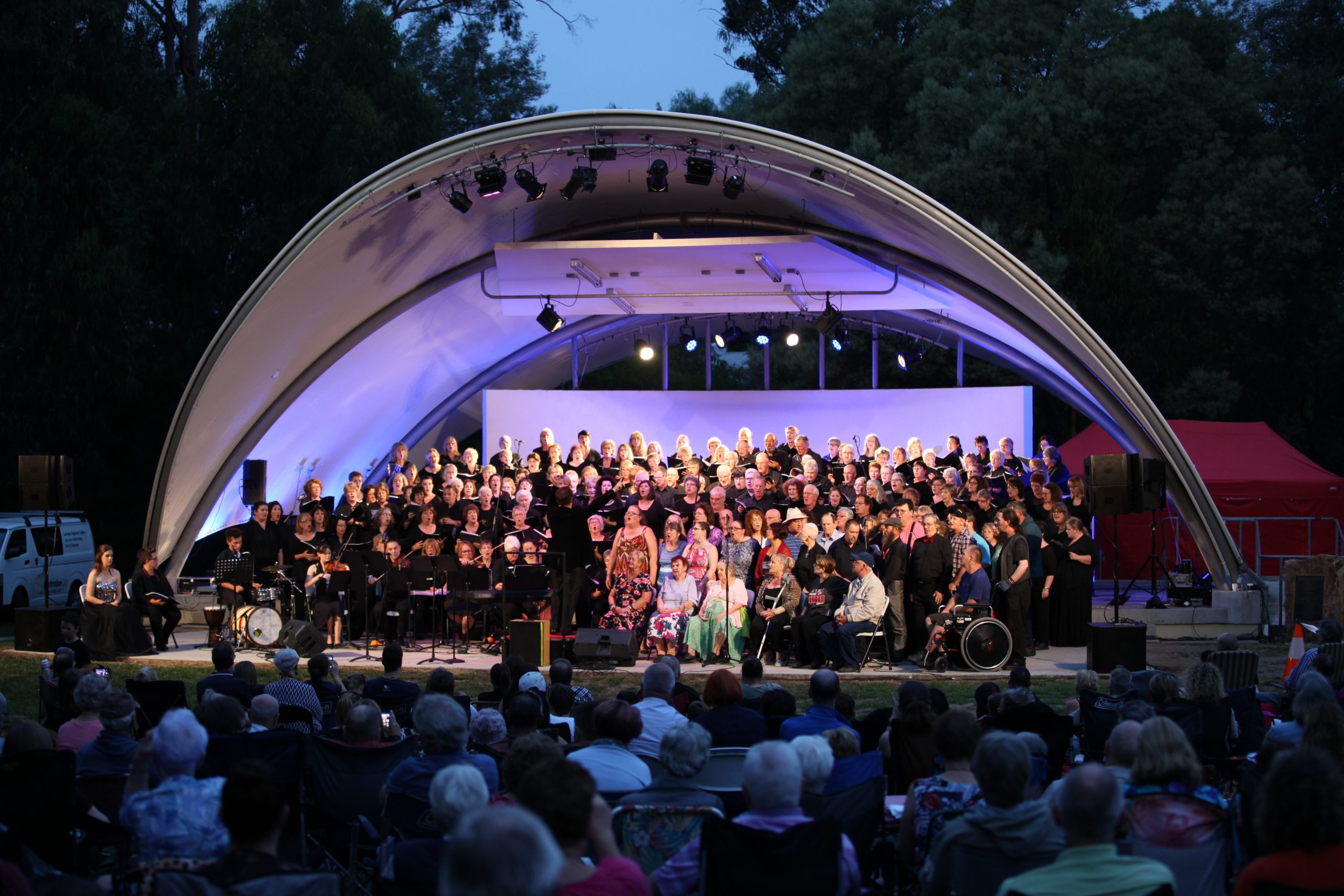 A collaboration of choirs culminated in a spectacular night of music at Traralgon's Victory Park on Saturday.
About 2000 people attended the Latrobe Valley Street Requiem, the first of its kind in the region, to remember those who have died as a result of street violence.
The 200-strong choir had been rehearsing with School of Hard Knocks creators, Dr Jonathon Welsh AM and Dr Kathleen McGuire, since November for the event.
The singers' hard work paid off, with a flood of community praise for the event.
"Community support has been overwhelming," event organiser Tineke Westwood said.
"All the comments… I'm still getting so many messages of support."
The free twilight concert aimed to bring a sense of peace, remembrance and hope to communities struggling to come to terms with street violence.
However, it also provided a sense of community and belonging for Valley residents.
"The whole atmosphere was so smooth and welcoming, the audience was silent the whole time – they really got into the music," Ms Westwood said.
"The participation between the audience and the choir participants was amazing, everyone got involved."
Uniting community members of all ages from across the region's three major towns was also a focus of the event.
"This is not a Traralgon event – it's a Latrobe Valley event," Ms Westwood said.
"We had our workshops at Moe Town Hall and the performance at Traralgon's Sound Shell.
"It's brought everyone together which is fantastic.
"I'm proud of where we live, I love living in the Latrobe Valley and everyone else should to."
Along with the display of local musical talent, Koko the Clown was on hand to entertain the crowd, while Newman Park Miniature Railway offered rides during the afternoon.
The event concluded with a screening of Beyond Hard Knocks – a behind the scenes documentary of the Choir of Hard Knocks.
The night's success has Ms Westwood already thinking of a second event.
"With the community response and support, we will definitely be back next year," she said.