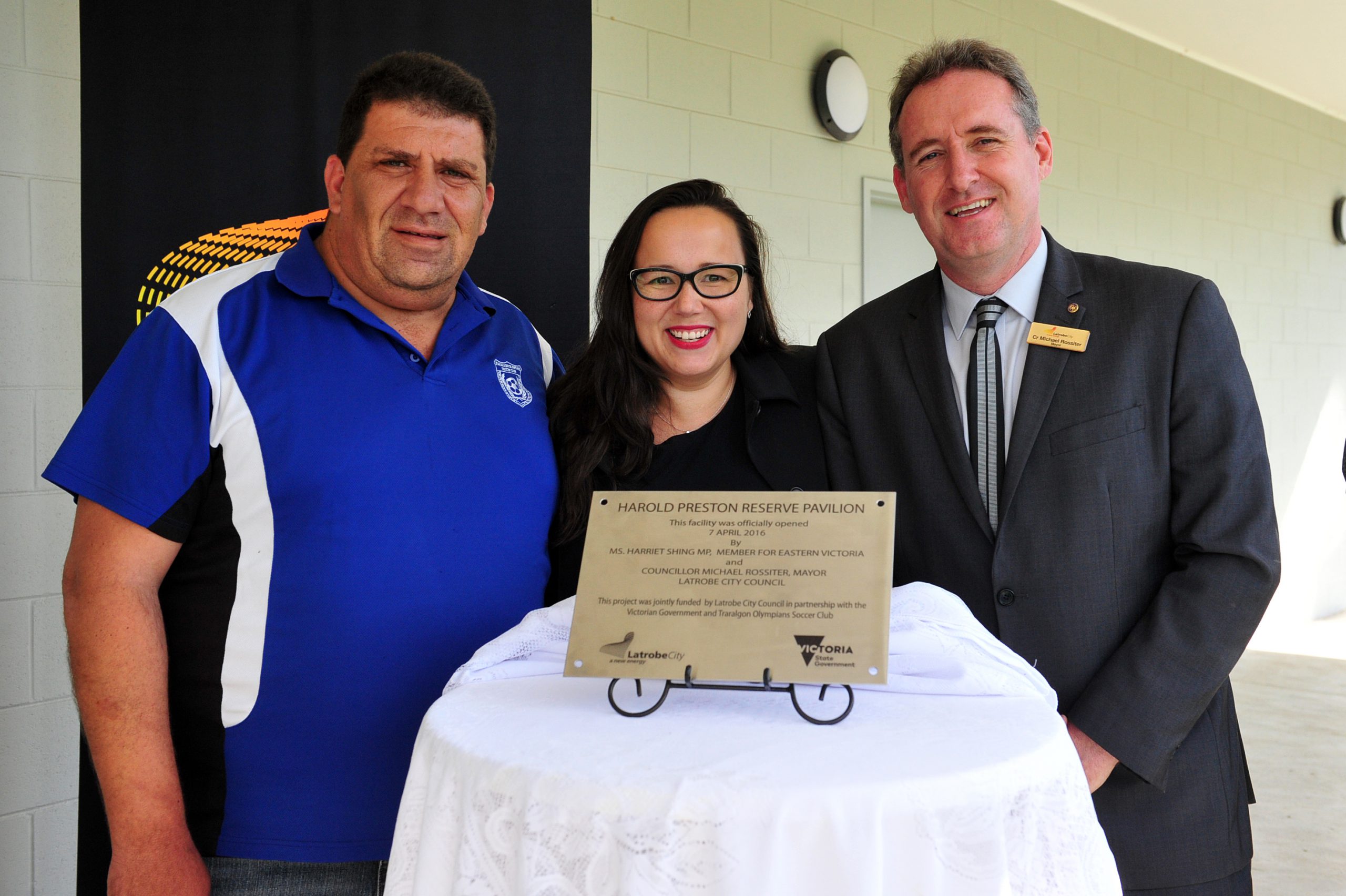 Traralgon soccer players are among Latrobe Valley sportswomen benefiting from an investment into female-friendly sporting facilities across the region.
One of four gender inclusive sporting upgrades targeted for the Valley, the Traralgon Olympians Soccer Club officially opened its refurbished pavilion at Harold Preston Reserve on Thursday.
The $410,000 project, complete with female change rooms, toilets and showers, will allow the club to facilitate more players, in particular women.
"For us, these change rooms go a long way to increased female participation in our sport, which is fantastic," Olympians club president Con Kattos said.
"We have a senior women's side and a couple of junior sides now and it's because of the change rooms."
Latrobe City mayor Michael Rossiter said the new pavilion offered improved amenities for all users, regardless of age or gender.
"The construction of the new pavilion includes accessible, ambulant and baby change facilities, change rooms for home and away teams, unisex umpires' rooms, a dedicated first aid room and storage room," Cr Rossiter said.
"This pavilion now offers family-friendly convenience and will be a source of pride for the clubs that use it, and the local community."
The redevelopment was funded through $340,000 from council, $50,000 from the former Victorian Coalition Government through its Community Facility Funding Program and $20,000 from Traralgon Olympians.
Member for Eastern Victoria Harriet Shing officiated the opening of the facility.
Announcing three other Latrobe Valley sporting projects set to receive grants through the Community Sports Infrastructure Fund, Ms Shing said the pavilion signified a significant state and local investment in increasing female sporting participation.
"Female facilities make all the difference in participation in sport and through facilities like this we have taken away the embarrassment for players. It's only fair and about time that happened," Ms Shing said.
-The Joe Tabuteau Reserve in Moe will be upgraded in partnership with council through a $70,000 grant.
-Clubrooms at Traralgon's Stoddart Oval will also be extended, with a focus on change, toilet and shower facilities through a $50,000 Cricket Facilities grant.
-The netball and tennis pavilion at Glengarry Recreation Reserve will receive a $100,000 female-friendly facilities grant to provide change rooms for more that 100 netballers.