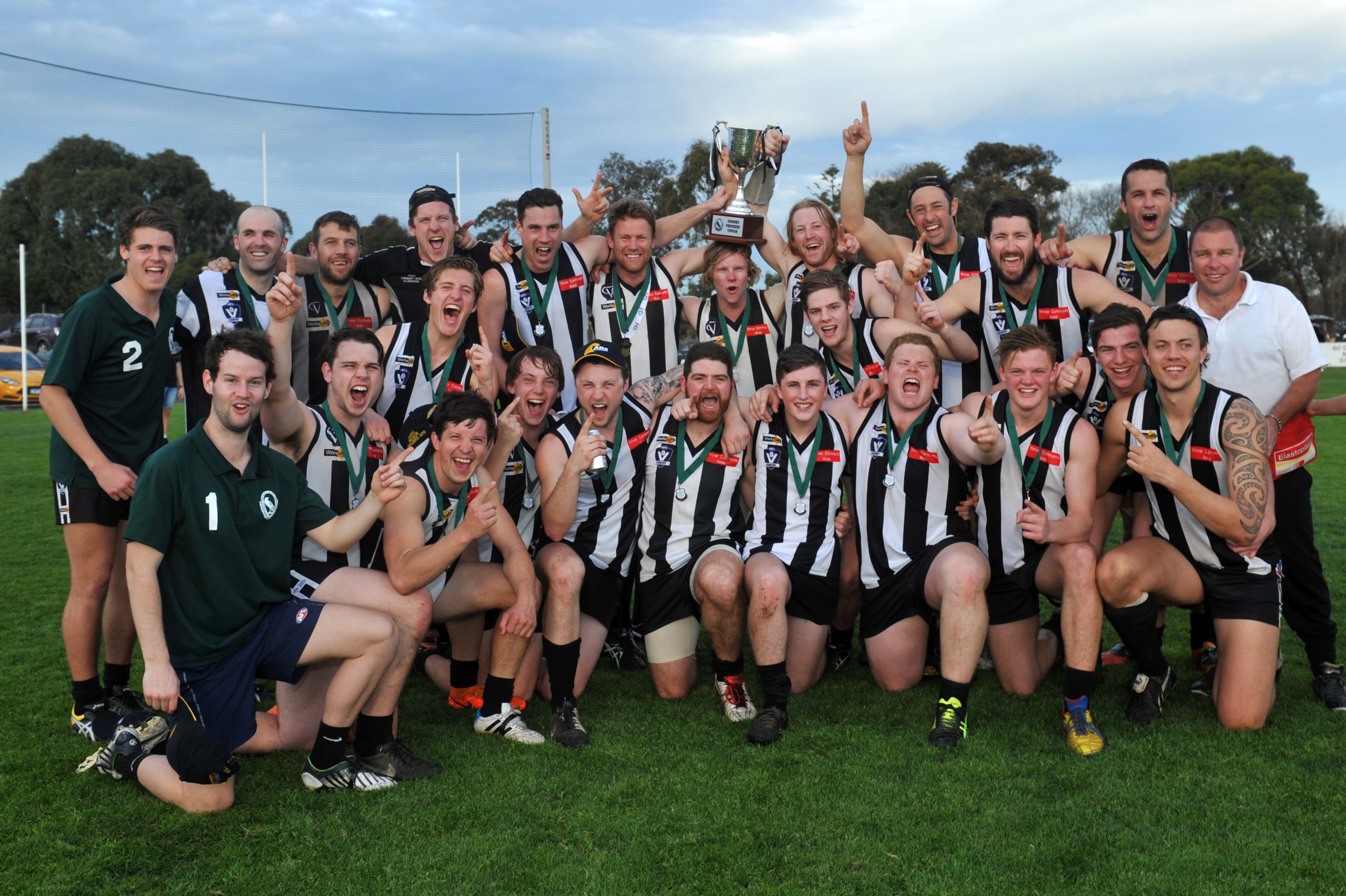 Coach: Julian Blackford (new)
Last season: (Premiers 2015) – Finished Second
Won 14 Lost 3 Drawn 1
IN: Ken Hutchinson (Churchill)
OUT: Jesse Bowe (Nepean), Brendan Chapman (TTU), Rowan Dodds (Boolarra), James Dowling (Southern FL), Allesandro Fossetti (Morwell East), Tyler Hillier (Morwell), Lucas Monacella (Warragul), Max Renwick (Peel WA), Mark Stolk (TTU), Sam Mills (retired)
Prediction: Third
Can Yinnar continue on its premiership way?
The Magpies have a new coach in Julian Blackford, who came to the club in 2015 from Morwell.
He has the job of maintaining the premier's reputation and keeping them on the right track for another flag.
So far they have lost a few players with Tyler Hillier expected to leave with a pending clearance and ruckman Jesse Bowe has been lost to a club in the Nepean FL.
Brendan Chapman is set upon Traralgon Tyers United as his new club and Sam Mills is looking at retirement.
League superstar James Dowling is expected to be playing in the SEFL in another potentially disastrous loss.
Keith Hutchinson is coming from Churchill but defender Mark Stolk could be playing in the NGFL.
Last year's coach Sam McCulloch is destined to play but there are doubts regarding Tim Aitken, their leading goal scorer last season.
Coach: Adam Bailey (2nd Year)
Last season: (Runners-up 2015) – Minor Premier
Won 16 Lost 1 Drawn 1
IN: Nick Campbell (Churchill), Luke Jenkinson (TTU), Josh Keyhoe (Newborough), Dean MacDonald (Morwell), Dylan McIvor (Hill End), Andrew Nicholson (Philip Island), Cody Palmer (GFL), John Read (Morwell), Dylan Smith (Morwell), Jake Swanson (Morwell East)
OUT: Johnny Bainbridge (Yarragon), Dylan Bath (Moe), Calvin Fry (Moe), Aden Kelly (Northern FL), Mitchell Luck (Moe), Daniel Martin (Morwell), Chris Mathe (Moe), David May (Western FL), Ryan Plunkett (TTU)
Prediction: First
Plenty of rumours are abound about who is going to play with the Bombers this season, but they will keep the core of last year's team under coach Adam Bailey who did a fantastic job of moulding the team from cellar-dwellers to finalists.
Josh Keyhoe from Newborough is a good addition but others have yet to be cleared.
Nick Campbell has been cleared from Churchill.
No known players have left but there could be a bevy of ex-thirds boys going elsewhere as they won't find room for them in the higher grades due to the influx of new players.
Coach: Clancy Bennett (new)
Last season: Finished third
Won 11 Lost 6 Drawn 1
IN: James Allan (Churchill), Tim Davis (DWWWW), Jesse Giardina (Boolarra), Salvatore Giardina (Boolarra), Hudson Kerr (Leongatha), Zac Kilgower (TTU), Cameron Le Page (Stoney Creek), Justin Pelicano (Leongatha)
OUT: Marcus Bartlett (MDU), David Cole (Stoney Creek), Drew Gardiner (Metro), Paul Hinkley (Tarwin), Tim Keenan (AFL Superules), Karl Kusko (Southern FL), James McDuffie (AFL Canberra), Tim O'Loughlin (Alberton), Josh Piper (Morwell).
Prediction: Second
Mirboo North reached the preliminary final last season and is hoping to get a bit higher this season coming off a double premiership in 2013-2014.
Clancy Bennett is the new coach – a former player returning from Horsham and South Australia.
New players currently cleared include Tim Davis and James Allen from Alberton FL but those leaving include Drew Gardiner and coach Troy Hamilton.
Coach: Dean Caldow (2nd year)
Last season: Finished 4th
Won 11 Lost 7
IN: Josh Clerks (Moe), Tom Hallinan (Ellinbank), Jakob McGrath (Moe), Evan Price (NNG), Ben Richards (Hill End), Matt Slattery (NNG), Lachlan Westhorpe (Hill End)
OUT: Josh Keyhoe (YYN), James Mander (Yarram)
Prediction: Fourth
Newborough has retained Dean Caldow as coach and another strong year is expected for the Bulldogs.
They may have lost experienced Josh Keyhoe to neighbours YYN but should retain most of the 2015 team plus a handful of inclusions.
James Mander is expected to go to Yarram.
Newborough is always a strong team but must now step up further to have a chance of the flag.
Ex-Latrobe City Energy premiership winning basketball coach Les Stothard returns to footy with the Dogs to coach the reserves in a coup at the kennel.
Coach: Dale Burridge (new)
Last season: Finished 5th
Won 10 Lost 8
IN: Peter Bartlett (GFL), Jayden Dawson (AFL Capricornia), Doug Kelly (Hill End), John Kelly (Hill End), Dillon Leys (NGFL)
OUT: Chris Kyriacou (Tarwin), Jace Butler (Tarwin), Haydn Farrell (Tarwin), Blake Slater (Tarwin) Mitch Gorman (Thorpdale), Dylan Farrell (Buln Buln), Damien Mann (Yarragon), Chris Berquez (Moe), Joel Bragagnolo (Moe), Klay Butler (Moe), Michael Farrell (Moe)
Prediction: Sixth
Dale Burridge will be in charge of the Bloods this season but will be searching for experienced players after many exits from the club.
Cleared players to Tarwin include former club and interleague coach Chris Kyriacou, who was appointed Tarwin coach, Jace Butler, Hadyn Farrell and Blake Slater.
Also gone are Mitch Gorman to Thorpdale and Dylan Farrell to Buln Buln.
Damian Mann has switched to Yarragon, Chris Berquez to Moe and former coach Jason Macfarlane has gone back to Morwell.
The only inclusions so far are the Kelly brothers, Doug and John, from Hill End.
Coach: Nick Brown (new)
Last season: Finished 6th
Won 9 Lost 8 Drawn 1
IN: Scott Clark (Ellinbank FL), Matt Eccles (EFL), Nick Fairbrook (EFL), Mitch Gorman (Trafalgar), Matt Howard (Stoney Creek), Ashley Meade (Alberton), Tim Potter (Yarragon), Damien Presti (Nepean FL), Kynon Woodman (Vic Amat)
OUT: Deen Allan (Drouin), Kris Bedford (Bunyip), Wayne Carmody (TTU), Corey Celima (Morwell), Lachlan Dowling (Southern FL), Rhy Gieschen (Central Highlands FL), John Koopmans (Morwell East), Tim Lappin (Eastern FL), Ben Mackie (Warragul), Kayde O'Connell (Moe), Ilan Osman (SEFL), Nathan Scurrah (Morwell), Jack Yelland (Essendon DFL)
Prediction: Eighth
Thorpdale had an up and down season in 2015 but will be looking to new coach Nick Brown to lift the Blues after coming agonisingly close to a finals berth.
The job has been made more difficult with good players leaving, such as Corey Celima to Morwell and Kade O'Connell to Moe.
Jack Yelland appears to be returning to Melbourne and key forward Ilan Osman looks set to return to the Ellinbank FL after a star cameo.
Deen Allen wants to try out at Moe and Kris Bedford is back at Bunyip.
Tim Lappin is headed to the Eastern FL while Ben Mackie and last year's coach Nathan Scurrah are going back to Morwell.
Coach: Colin King (2nd Year)
Last season: Finished 7th
Won 6 Lost 12
IN: Brayden Darby-Lock (Morwell), Allesandro Fossetti (Yinnar), John Koopmans (Thorpdale), Marcus Pilgrim (NGFL), Brian Waters (Mirboo Nth), Lachlan White (TTU)
OUT: Dean Brooks (Traralgon), Jayden Cargill (Woodside), Jamie Donohue (Gormandale), Kyle Hearn (NGFL), Brad Soutar (Morwell), Jake Swanson (YYN), Lucas Towns (Churchill), Joey Whykes (Churchill)
Prediction: Seventh
Under the coaching of Colin King again the Hawks are looking set to beat last year's poor showing of 6/12.
The East are recruiting strongly but the loss of spritely Joey Whykes back to Churchill and Lucas Towns will be a big blow.
Coach: Shayne Paynter (new)
Last Season: Finished 8th
Won 6 Lost 12
IN: Rowan Dodds (Yinnar), Wellsby Jenkins (Yarram), Michael McKee (Golden Rivers FL), Shayne Paynter (Trafalgar), Matt Sheridan (Yarram)
OUT: Michael Bloss (Cowwarr), Scott Boddy (Yarram), Andrew Ellis (Cowwarr), Jesse Giardina (Mirboo Nth), Salvatore Giardina (Mirboo Nth), James Holmes (NTFL), Daniel Loprese (Traralgon), Sam Mazou (Churchill), Stanley Morley (Gormandale), Daniel Wilson (NTFL)
Prediction: Fifth
Under new coach Shayne Paynter Boolarra is showing good numbers at training but needs to build up a good senior panel to achieve desired results this season.
The loss of forwards Jesse Giardina to Mirboo North and Sam Mazou (Churchill) will be a big blow to the Demons.
Although there is nothing official yet but the club is expecting some good arrivals before the first game.
Coach: Stewart Edwards (2nd year)
Last season: Finished 9th
Won 4 Lost 14
IN: Johnny Bainbridge (YYN), Robert Cahill (Glengarry), Brian Cook (Nepean FL), Ben Egan (Warragul), Josh Lambert (EFL), Craig McDonald (EFL), Damien Mann (Trafalgar), Todd Mann (Cowwarr), Brock Rowson (Glengarry), Oliver Watt (Nilma-Darnum), Billy Webster (Buln Buln), Kent Baker (Buln Buln)
OUT: Trent Baker (Buln Buln), David Bates (Bunyip), Josh Bourke (Longwarry), Lachlan Crowie (Nilma-Darnum), Daniel Earl (Moe), Troy Lehman (Longwarry), Shannon Little (Bunyip),
Tim Potter (Thorpdale), Dylan Smith (Alberton), Brad Thomas (EFL), Scott Wood (Bunyip), Luke Woolan (Murray FL).
Prediction: Ninth
Yarragon made a late run last season after a poor start to finish 4/14 and coach Stuart Edwards has a big task ahead of him to lift the Panthers this season.
Not playing at "home" this year will be a struggle for the club but they will pull through okay.
The lack of juniors could be a downer for the club.
David Bates is returning to Bunyip but the club has gained Damian Mann from rivals Trafalgar.
Other pending loss of players include goal sneak Troy Lehmann to Longwarry.
Coach: Paul Smit (new)
Last season: Finished 10th
Won 1 Lost 17
IN: Kristian Harper (Chelsea Football Club), Josh Bennet (Chelsea Heights), Luke Williams (Newborough), Jakob Cassar (Newborough)
OUT: Kris Ayton (AFL QLD), Matt Coutts (Sale), Simon Fairbairn (Warragul), Richard Horton (Moe), Ben Noy (Morwell)
Prediction: 10th
Hill End was wooden spooner last season and prospects are not looking too bright after losing good players such as Kris Ayton to Queensland, Matt Coutts to Sale, Simon Fairbairn and the Kelly boys to Trafalgar.
New coach Paul Smit has a big task to lift the Hillmen off the bottom but has enlisted some size in Kristian Harper and Josh Bennet at 6'4 and 6'5 respectively.
Promising juniors coming through will boost the ranks.
Clubs are still struggling with their juniors this season.
Yarragon have pulled their thirds and fourths while Hill End won't be fielding fourths.
Strong clubs such as Morwell East and Yinnar are having troubles attracting players for their junior ranks but are confident of fielding teams in both age groups.
Boolarra is uncertain as to its junior contingent so far.