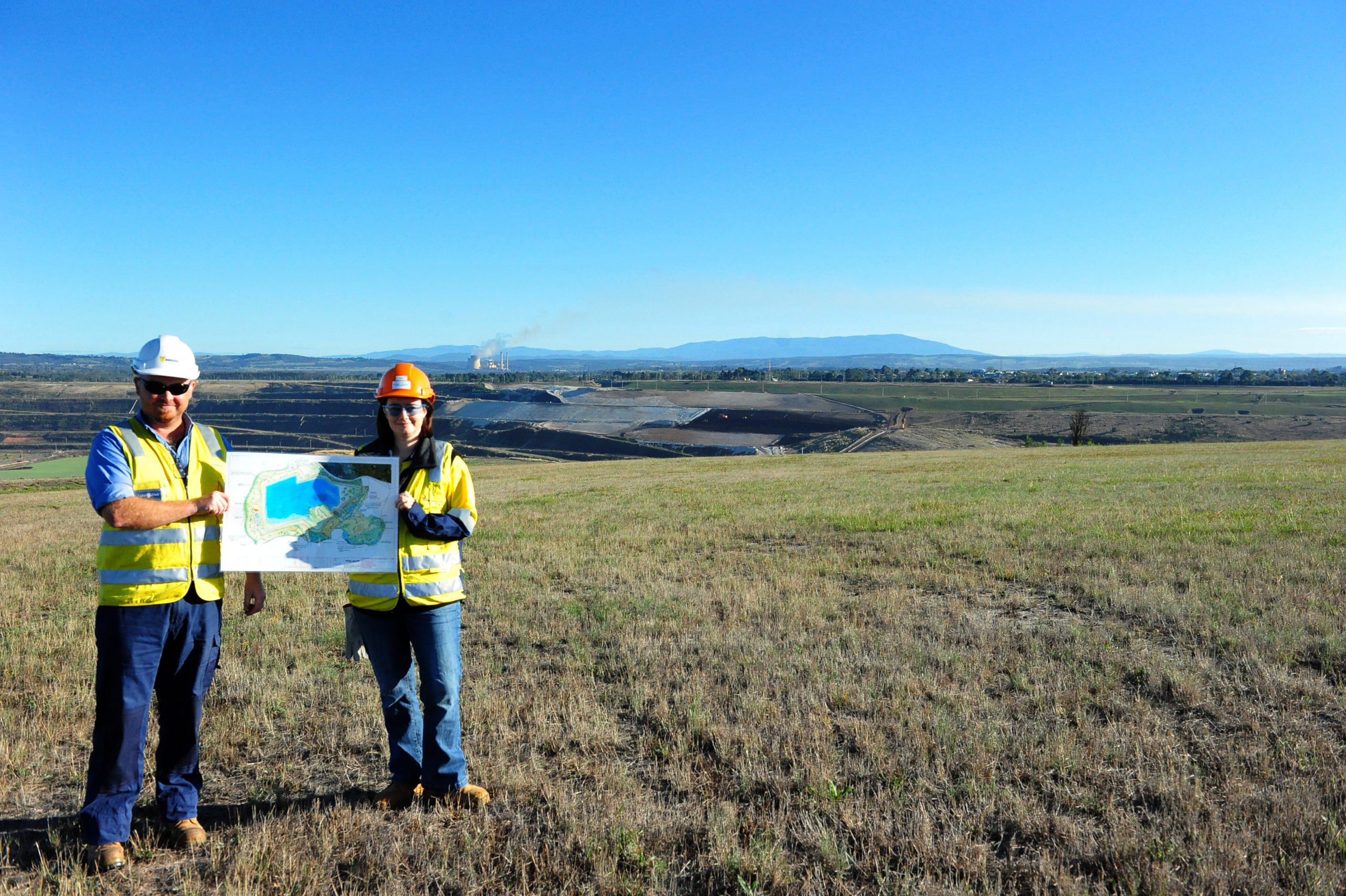 Driving along the Princes Highway near Morwell motorists would have little knowledge of rehabilitation work in the Hazelwood mine.
However from an opposite vantage point, the northern coal batters are unrecognisable from the photographs of burning coal emblazoned in the community's memory.
It is something Hazelwood power station and mine operators ENGIE, formerly GDF SUEZ, want the public to see following a community consultation session last month that proved few of us know about their rehabilitation efforts.
"It might look like there's not much getting done around, but there's actually a lot getting done that you physically just can't see," Hazelwood mine technical services manager James Faithful said.
About 13 hectares of the northern batters, an area of the mine's early development and where the mine fire took root is set to be completed this month.
It follows a total of 41 hectares of rehabilitation in the disused mine section since 2008.
Steep 45 to 60 degree walls of coal have been cut back to an 18 degree gradient, allowing for overburden, top soil and new vegetation.
The mine operator is also trialling using native grasses instead of traditional pasture grasses, as an alternative for the clay-based soil.
"It's a two for one – it's good for the environment and it helps stabilise our slopes as well," Hazelwood mine environmental officer Mel Schenkel said.
Progressive rehabilitation undertaken during active mining operations falls under a mining licence and workplan approved by the State Government and other external parties.
Final rehabilitation is set to be achieved at the end of coal production at Hazelwood in 2023.
The proposed concept since privatisation in 1994 is to convert the mine into a lake with accessible public areas, an idea assessed at the reopened Hazelwood Mine Fire Inquiry last year.
With an estimated mine depth of 120 metres, the mine intends to create a pit lake that would come to 22 metres below sea level. This means rehabilitation works will be concentrated on the parts of the pit which remain "exposed" above the water line.
"We're rehabilitating down to these water lines and we'll progressively do that around the edge of the mine and areas below it aren't dug out because they're covered in water," Mr Faithful said.
He called rehabilitation a "complex" activity with many drivers determining rehabilitation including proximity to the highway, the town of Morwell and infrastructure, as well as hydrogeological and geotechnical considerations.
He said rehabilitation was also not as "easy as it seems", or just a matter of knocking some coal down and pushing some overburden over the top.
"There were panel of experts at the last inquiry, and they haven't got all the answers, but plenty of views," Mr Faithful said of hydrogeological and geotechnical experts at the reopened inquiry.
He said coal was light compared to water and had the propensity to push the coal out.
"Those slopes are adequately drained as part of the planning and we do a lot of work before starting on activity," Mr Faithful said.
He said Latrobe Valley mines were so abundant with coal there was also little overburden for rehabilitation – a noted difference to his work with other mines across Australia.
Hazelwood intends to submit an updated work plan in the first half of this year, including an extension of the north field.
The Hazelwood Mine Fire Inquiry report into mine rehabilitation will be tabled today.
Mr Faithful said progressive rehabilitation in the northern batters was not driven by the inquiry report, but mining operations.