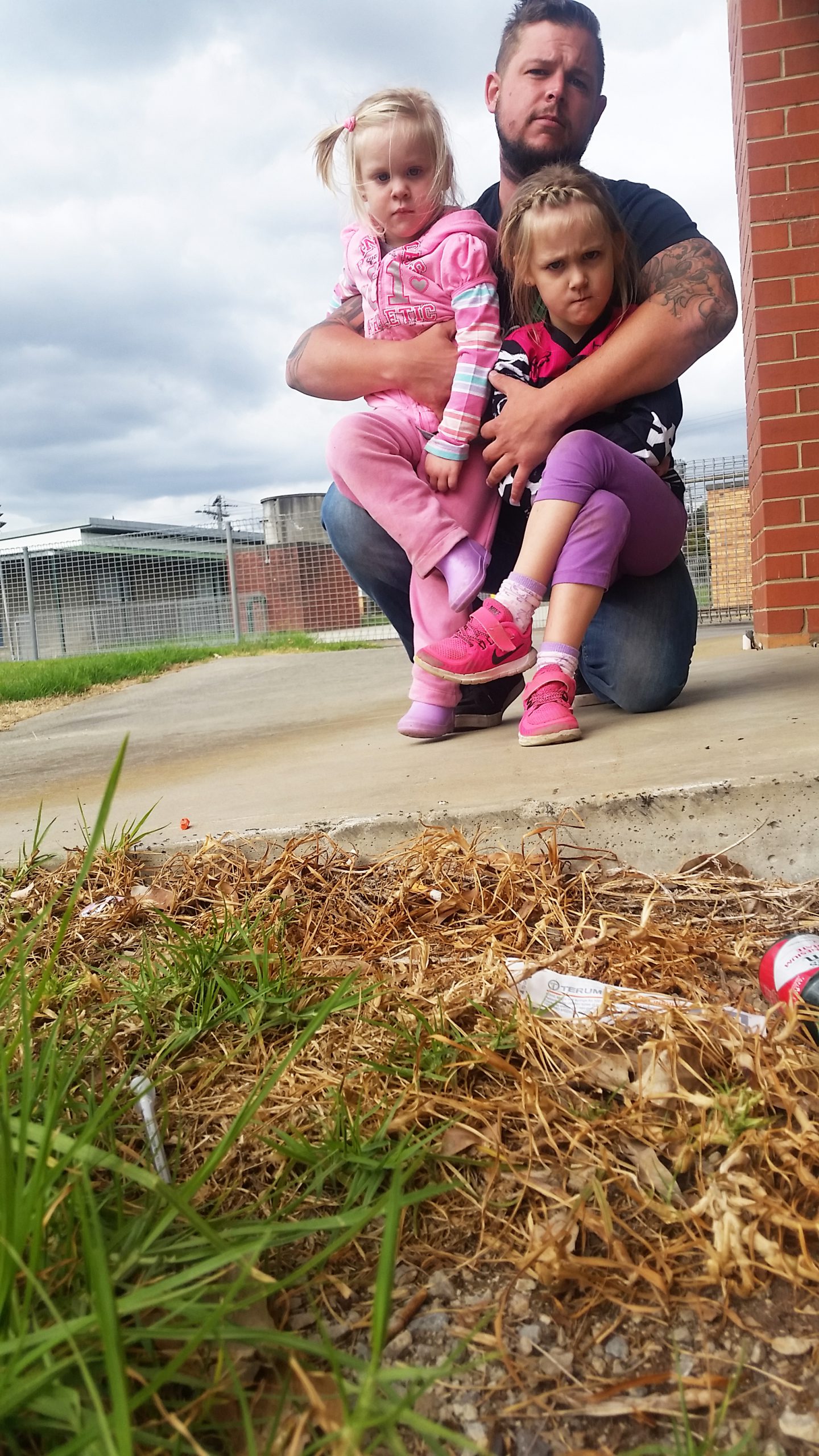 A picnic at the park almost turned into a parent's worst nightmare after a three year-old narrowly avoided a needle-stick injury.

Jenna Vogelsang, her two daughters – six year-old Taylah and three year-old Leah – and their father Luke Lieshout were having a picnic at Maryvale Recreation Reserve in Morwell when the family stumbled upon a syringe, a vitamin bottle and a medication blister pack.
"My three year-old picked up the vitamin bottle, which her father told her to put down and that's when he noticed the syringe and other items," Ms Vogelsang told The Express.
Concerned about leaving the items unattended, Mr Lieshout called Morwell police while the family waited for assistance.
"The police officer said they would have someone there shortly," Ms Vogelsang said.
"He (Mr Lieshout) told the police officer we would wait and keep watch as young families frequent the area."
The family asked a friend to phone the police again after waiting for more than an hour.
Ms Vogelsang said a different officer had answered but stated the previous officer advised Mr Lieshout to dispose of the items safely as they would not be attending.
Unsure how to do so, the pair contacted Latrobe City Council who sent an officer about an hour later to remove the items.
Ms Vogelsang said she later discovered the blister pack contained MS Mono, which contains Morphine used to treat moderate to severe pain.
"We were just sitting out the front just watching and waiting for assistance… we didn't know how to safely get rid of the items," she said.
"Young families frequent the rec reserve; we didn't want anyone else to come across them.
"We didn't want anyone to get hurt."
Morwell police Acting Sergeant Dean Zweytzer said while police attempted to attend such calls in a timely manner this was not always feasible.
"The best course of action is for the public to remove it and make it safe for the community," Act Sgt Zweytzer said.
Council provides permanently fixed sharps containers at public toilets throughout the region.
However, Maryvale Recreation Reserve does not have toilets or syringe disposal facilities.
Instead, those who notice a discarded syringe should phone council's syringe disposal service on 1300 367 700 during office hours, or 0408 512 953 outside of hours.
Council also provides large capacity bright orange disposal bins, located outside the entrance of each of the Latrobe Community Health service centres, accessible all day.
The bins can be found at 42-44 Fowler Street, Moe, 81-85 Buckley Street, Morwell and 7-9 Seymour Street, Traralgon.
Information on how to dispose of syringes, where professional removal is not possible, can be found on council's website, www.latrobe.vic.gov.au under the 'Our services' tab.