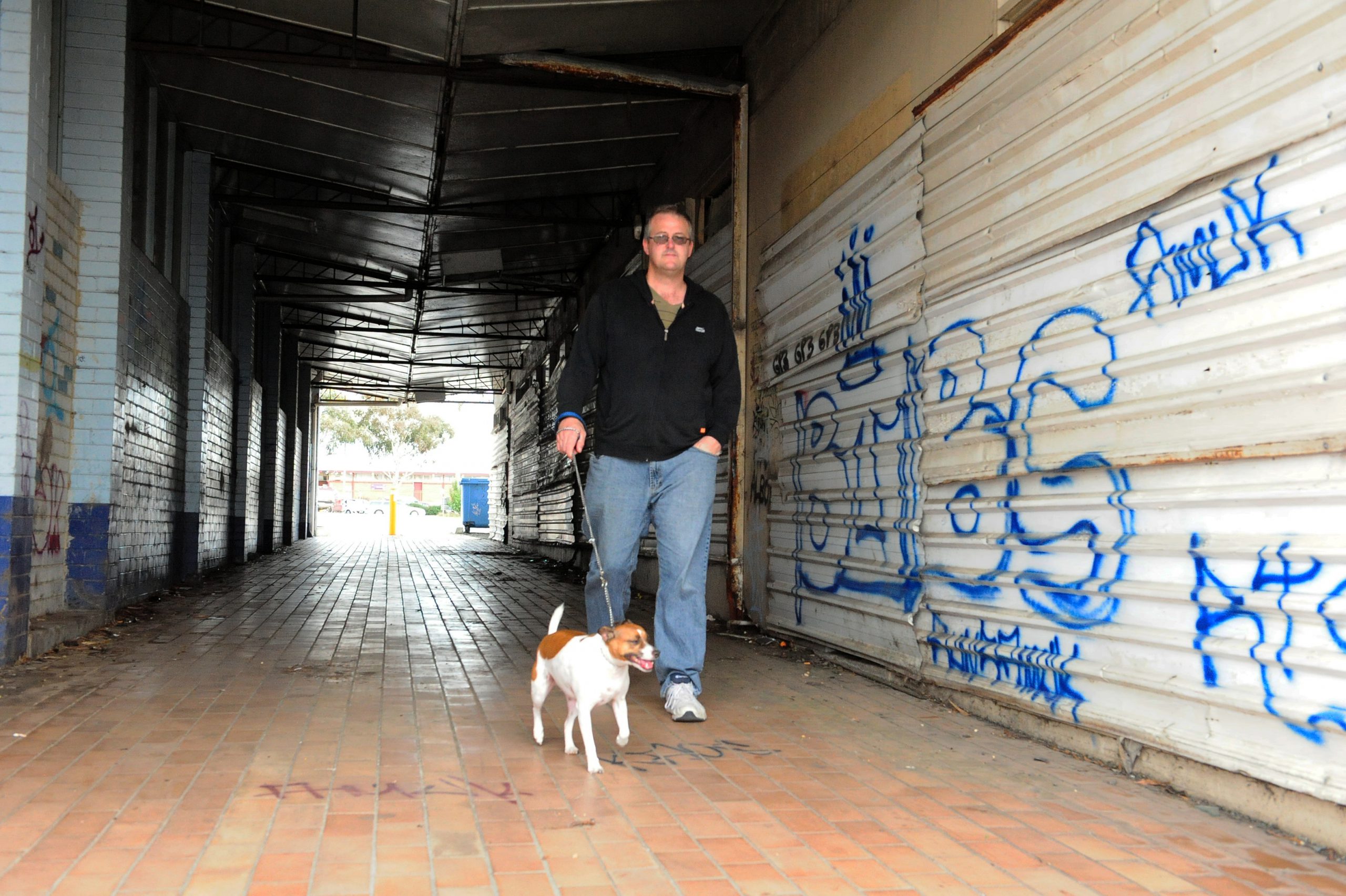 A Buckley Street building in Morwell has been labelled an 'eyesore' in need of local government intervention.

Resident David Hollis said the building at 52 Buckley Street, adjacent to the former Gudes Arcade, was ruining the amenity of the town.
The building with a 'For Sale' sign is covered in steel sheeting and graffiti and has visible signs of fire damage.
It is among a number of rundown buildings in the street.
"I live around the corner at Latrobe Road and my kids walk past here on their way to school," Mr Hollis said.
"It ruins the amenity of the town."
The Morwell resident said he contacted Latrobe City Council about six months ago to address the building under a Local Law 2 amendment.
The policy gives the local government the power to fine owners and occupiers up to about $3000 for allowing buildings to deteriorate.
Owners of 'eyesore' buildings must prove they are taking all reasonable steps to secure the building from trespassers; undertake temporary repairs and prevent the site from becoming a haven for antisocial behaviour and remove graffiti.
Failure to instigate changes is considered a new offence for every month their breach continues.
Latrobe City Council general manager of city development Phil Stone said since the building was listed on the dilapidated buildings register in June last year, the owner had been working with council to ensure directional notices were complied with.
Mr Stone said this included taking action to stop the building from becoming further dilapidated, boarding up and securing the building to prevent unlawful access.
"However, the property is still subject to ongoing criminal damage," Mr Stone said.
Mr Hollis said it was disappointing the force of council was needed to make people clean up their properties and noted his concern for the building's structural integrity.
"It really could fall down at any point," Mr Hollis said.
Latrobe City councillor Sharon Gibson, who initiated the 'Dilapidated Buildings' amendment, said the vast majority of the community had pride in their homes and businesses.
"But some don't, and it's dragging down our area," Cr Gibson said.
"We're really keen to have more investment and when you have places like this, it doesn't help."
Council's local laws team has re-inspected the building and issued a Notice to Comply directing the property owner to remove graffiti from the exterior of the building.