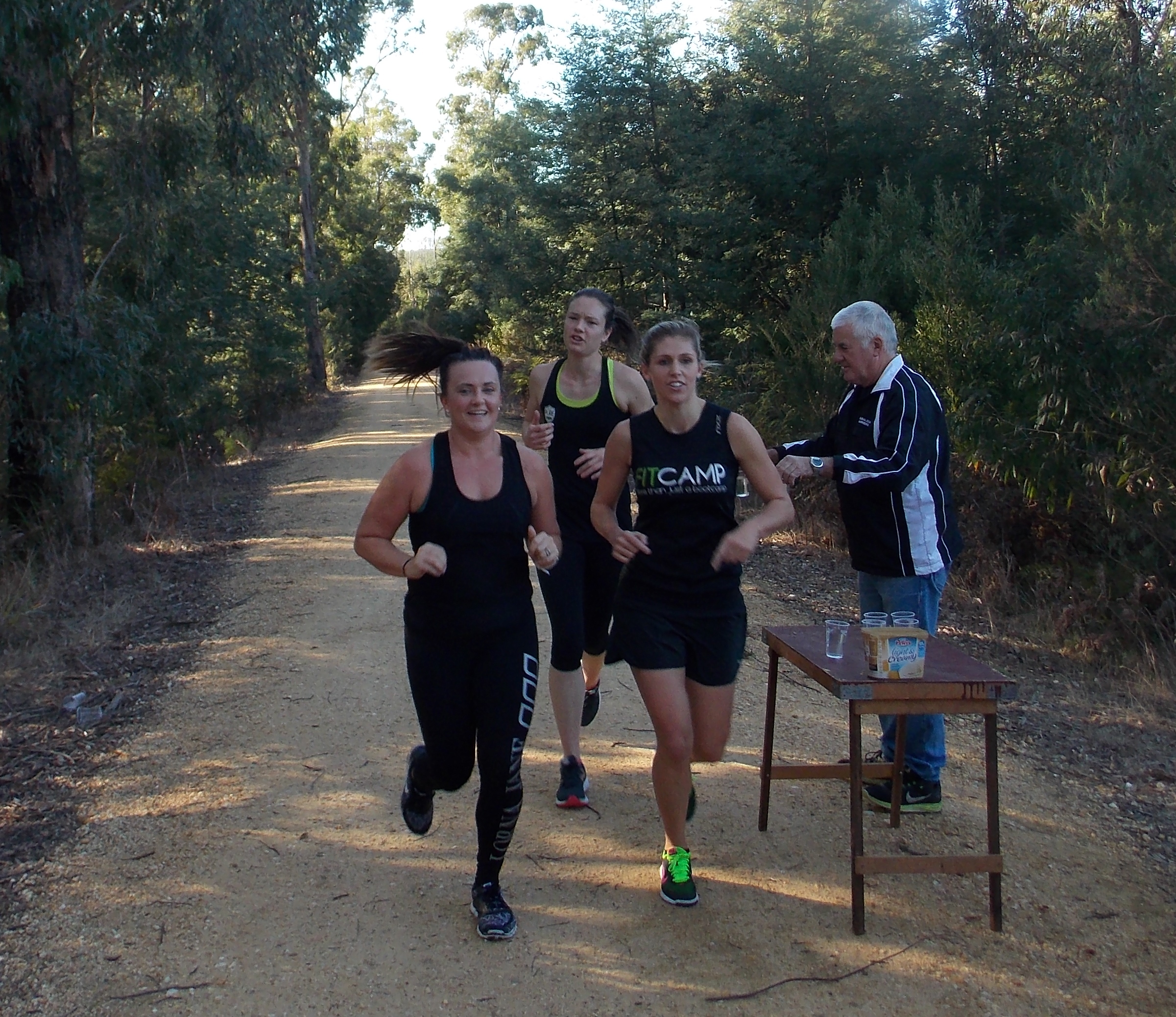 It was four wins on the trot for Ryan Wissmer and a first for Alexandra Bull, who took out the 25-kilometre Martin Thompson Memorial championship yesterday.

The Boolarra-Mirboo North Rail Trail was the scene for the 25km and 10km events, with about 65 runners participating.
Kim Harold was the number one men's runner in the 10km event in a time of 37 minutes and 31 seconds and first in the women's category was Karen Graham in a time of 44:23.
"Traralgon Harriers Athletics Club is again most appreciative of the work by Margaret and Bruce Salisbury and their team of helpers who have organised an excellent event," a Harriers spokesperson said.
"Margaret and Bruce are life members and do a brilliant job, but they were also assisted by Belinda Heafield, Shannon Bailey, Rick Mann and the website crew who promoted the event."
Participants use the event as their final tune up before the Traralgon Marathon and Running Festival on 5 June.
The awarding of the Martin Thompson Championship will be held at the club's August presentation night.
RESULTS
Martin Thompson 25km Championship Results 2016
No Time Full Name (Last, First) Event M/F Place
1 1:29:17 Wissmer, Ryan 25km M 1st Open Male
2 1:40:05 Claxton, Joel 25km M 2nd Open Male
3 1:48:00 Cornthwaite, Ian 25km M 1st Veteran Male
4 1:49:04 Grattan, Mick 25km M 3rd Open Male
5 1:50:09 Hore, Steve 25km M 4th Open Male
6 1:50:29 Mallia, Shaun 25km M 5th Open Male
7 1:52:02 Bull, Alexandra 25km F 1st Open Female
8 1:52:28 Cake, Bryan 25km M 6th Open Male
9 1:52:46 GRAHAM, GLENN 25km M 2nd Veteran Male
10 1:54:41 Barry, Bill 25km M 7th Open Male
11 1:55:07 Mcleod, Stephen 25km M 3rd Veteran Male
12 1:56:38 Van der Meulen, Mark 25km M 4th Veteran Male
13 1:57:12 Rossiter, Mark 25km M 5th Veteran Male
14 1:58:00 Preston, Kathryn 25km F 2nd Open Female
15 1:58:17 Callinan, Gerard 25km M 6th Veteran Male
16 1:58:55 Arrowsmith, Anthony 25km M 7th Veteran Male
17 2:06:02 Morris, Brent 25km M 8th Veteran Male
18 2:07:59 Northe, Jenny 25km F 1st Veteran Female
19 2:11:33 Forbes, Simone 25km F 3rd Open Female
20 2:13:39 Thomas, Lance 25km M 9th Veteran Male
21 2:13:53 Kenney, Elizabeth 25km F 2nd Veteran Female
22 2:15:46 Bugeja, Matt 25km M 10th Veteran Male
23 2:17:04 Cross, Darrel 25km M 11th Veteran Male
24 2:42:01 Livingstone, Kaye 25km F 3rd Veteran Female
25 2:58:54 Briggs, Matthew 25km M 8th Open Male
26 2:58:56 Matthews, Becky 25km F 4th Open Female
27 3:33:17 Ruff, Belinda 25km F 5th Open Female
28 3:33:20 Naismith, Lea 25km F 6th Open Female
Martin Thompson 25km Championship Results 2016
No Time Full Name Event M/F Place
1 37:31:00 Harrold, Kim 10km M 1st Open Male
2 37:58:00 Quirk, Steven 10km M 1st Veteran Male
3 40:19:00 Clavarino, Richard 10km M 2nd Open Male
4 41:13:00 Lehner, Chris 10km M 3rd Open Male
5 42:55:00 Bailey, Benjamin 10km M 4th Open Male
6 44:05:00 O'Sullivan, Kevin 10km M 5th Open Male
7 44:23:00 Graham, Karen 10km F 1st Veteran Female
8 45:29:00 Cleaver, Thomas 10km M 6th Open Male
9 45:29:00 Dickinson, Stuart 10km M 7th Open Male
10 46:51:00 Murat, Edi 10km M 2nd Veteran Male
11 47:14:00 Young, Andrew 10km M 3rd Veteran Male
12 47:17:00 Abbott, Michael 10km M 8th Open Male
13 47:28:00 Irvine, Molly 10km F 1st Open Female
14 47:28:00 Meyer, Hilary 10km F 2nd Open Female
15 49:01:00 Wolfe, Sean 10km M 9th Open Male
16 49:59:00 Mayer, Phill 10km M 4th Veteran Male
17 50:22:00 Fox, Gary 10km M 5th Veteran Male
18 52:07:00 Flowers, Marnie 10km F 3rd Open Female
19 53:02:00 Thomas, Meg 10km F 4th Open Female
20 53:30:00 Diamente, Angeline 10km F 5th Open Female
21 53:59:00 Irvine, Jason 10km M 6th Veteran Male
22 55:56:00 Flowers, Shane 10km M 10th Open Male
23 56:34:00 Rollandin, Paul 10km M 11th Open Male
24 56:50:00 Gostling, Naomi 10km F 6th Open Female
25 57:07:00 Callaway, Georgia 10km F 7th Open Female
26 59:59:00 Robertson, Quinn 10km M 12th Open Male
27 1:00:01 Sexton, Liesl 10km F 8th Open Female
28 1:00:12 Lehner, Miranda 10km F 9th Open Female
29 1:00:19 Whitby, Helen 10km F 2nd Veteran Female
30 1:03:26 Heafield, Ian 10km M 7th Veteran Male
31 1:03:26 Higgins, Barry 10km M 8th Veteran Male
32 1:04:12 Colwell, Michelle 10km F 3rd Veteran Female
33 1:04:50 Grixti, Peter 10km M 9th Veteran Male
34 1:10:36 Reeves, Peter 10km M 10th Veteran Male
35 1:12:54 Rong, Tanya 10km F 10th Open Female
36 1:17:14 Reeves, Helen 10km F 4th Veteran Female
37 1:26:45 Lee, Katie 10km F 11th Open Female