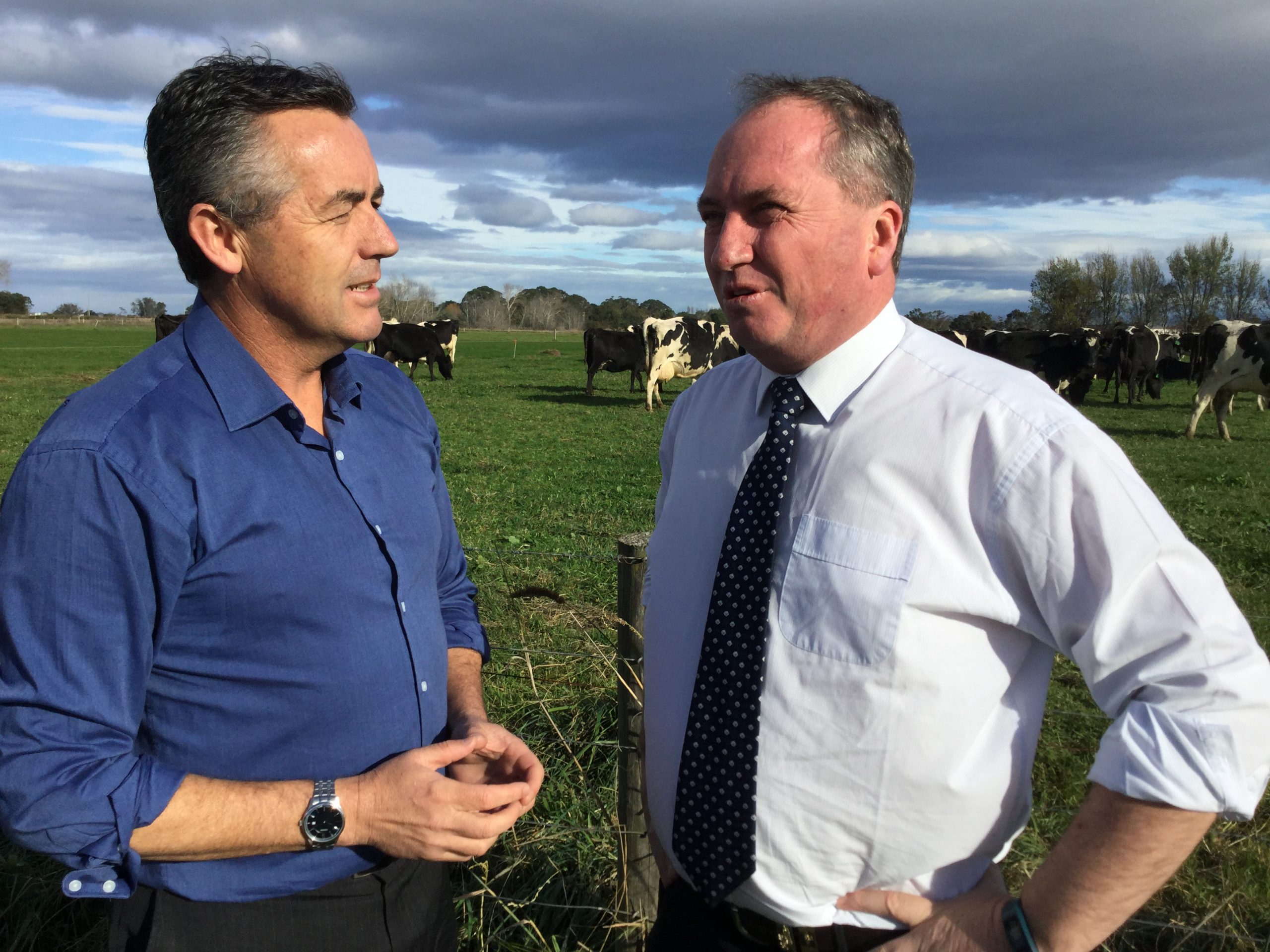 After meeting with dairy representatives last week, sitting Member for Gippsland Darren Chester has proposed a public forum for farming families.
The representatives were able to inform Mr Chester and Deputy Prime Minister and Agriculture Minister Barnaby Joyce about the issues facing Gippsland farmers.
Mr Joyce said he was open to working closely with his Labor counterpart, Joel Fitzgibbon, in extending support loan criteria.
"We've changed the criteria, and we'll continue to work on the Farm Household Allowance to get a payment through to these mum and dads, so they can get themselves through this crisis," he said.
"That's why I'm making sure that today, I'm doing everything in my power to assist these people on the land, these dairy farmers who do so much for their own local communities."
Two of the farmers who attended the meeting with the ministers, Graeme Anderson and United Dairyfarmers Victoria local president Brad Missen, agreed that while they were happy with the government response so far, the government was limited in what it could do.
Mr Anderson said the priority would be getting through the season for most farmers.
"The only one thing that'll fix the industry is better returns," he said.
A major issue is retaining employees, with many farms stretched to breaking point.
Mr Missen, from Denison, said that farmers needed to examine their entire business with a clear head.
"Every farmer's different, we're organising a process to make it (financial counselling) more easily available," he said.
"There's lots of smaller tools to help, but getting them together for people is the hard part, especially when people are stressed."
However, local farmers are unsure if extra loans will help in the long term.
The announcement of changes to the Fonterra pricing system will see milk prices rise in the short term, but result in farmers being locked in to paying money back.
Dairy farmer Matt Bechaz said that even with the price rise, it's still far below the expected price.
"We're funding our own relief package," he said.
"It's gut-wrenching and demoralising."
Mr Bechaz said activist group Farmer Power would hold a demonstration at Parliament House on Wednesday.
Mr Chester said that there was light at the end of the tunnel, but the industry had to survive the current downturn.
"There is a growing demand for dairy around the world and we have negotiated three Free Trade Agreements which will benefit local producers in the years ahead," he said.
"But that doesn't help us with the immediate problem and it's important we work together as a community to support each other at this difficult time."
The State Government has also announced $1.5 million in funding to support community outreach and boosting mental health programs.
Announced by Premier Daniel Andrews on Friday morning, Lifeline will receive additional funding and 750 people will be trained in mental health first aid.
"Farmers are resilient and proud people, but we know that even the most resilient need support during these difficult times for the dairy sector," Mr Andrews said.
Tactics for Tight Times meetings will also be held around the district this week, including on Fridayfrom 10.15am at the Yarram Uniting Church and 31 May at the Bruthen Pub from 10.45am.
The meetings will focus on developing individual farm plans and examining options, as well as providing a space to air grievances and touch base with other farmers.
RSVP to GippsDairy on 5624 3900 or email executiveassistant@gippsdairy.com.au
Mr Chester said the local public forum would involve representatives from support agencies and the dairy industry to ensure families were aware of the help that was available to them if they needed it.
It will be held on Thursday at the Maffra Football Club rooms from 11am.