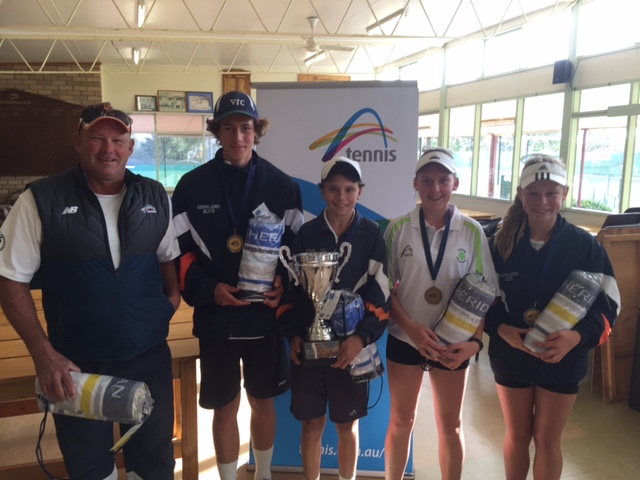 THE Bradtke Luczak Cup will remain in the Central Gippsland trophy cabinet for a third consecutive year after the region took out the 15 and under state regional team event at Sale on Sunday.

Central Gippsland defeated the South West Region 7-3, 55 games to 34 in the final of the tournament.
The victory marked a personal hat-trick for Inverloch's Jack Clements, who has been a member of the past three cup winning sides.
Clements was this year backed by a string of first-time players at the cup in Traralgon trio Ben Grumley, Zoe Fitzpatrick and Jemma Ashe.
With Ben able to play again next year, along with 13 year-old Zoe and 12 year-old Jemma, a fourth title could be in the cards in 2017.
Central Gippsland coach Graham Charlton said winning with such a young side was a bonus.
"It's great for the younger ones to step up; most of our kids get exposure to stronger players playing in metro (tournaments) all the time. They're used to playing stronger and older players – as soon as they're strong in their age I put them up," he said.
"They're not really phased by that, they play the tennis ball rather than the individual.
"Quite often they'll play kids three, four, five years older than them and they adjust quite well."
Charlton said while Central Gippsland was favoured to win the event, it was pushed all the way by some quality opposition.
"We were the favourite team but South West was a strong team, we had a close match with them in the rounds and stepped up in the final and did really well," he said.
Charlton said the regional team events were a good opportunity for tennis players to experience competing as a squad rather than an individual.
"Tennis is an individual game and it's easy to get caught up in your own self-importance but the team events really make you play for other reasons and I think they're invaluable," he said.
Charlton thanked Tennis Victoria and Sale Tennis Association for hosting the event.