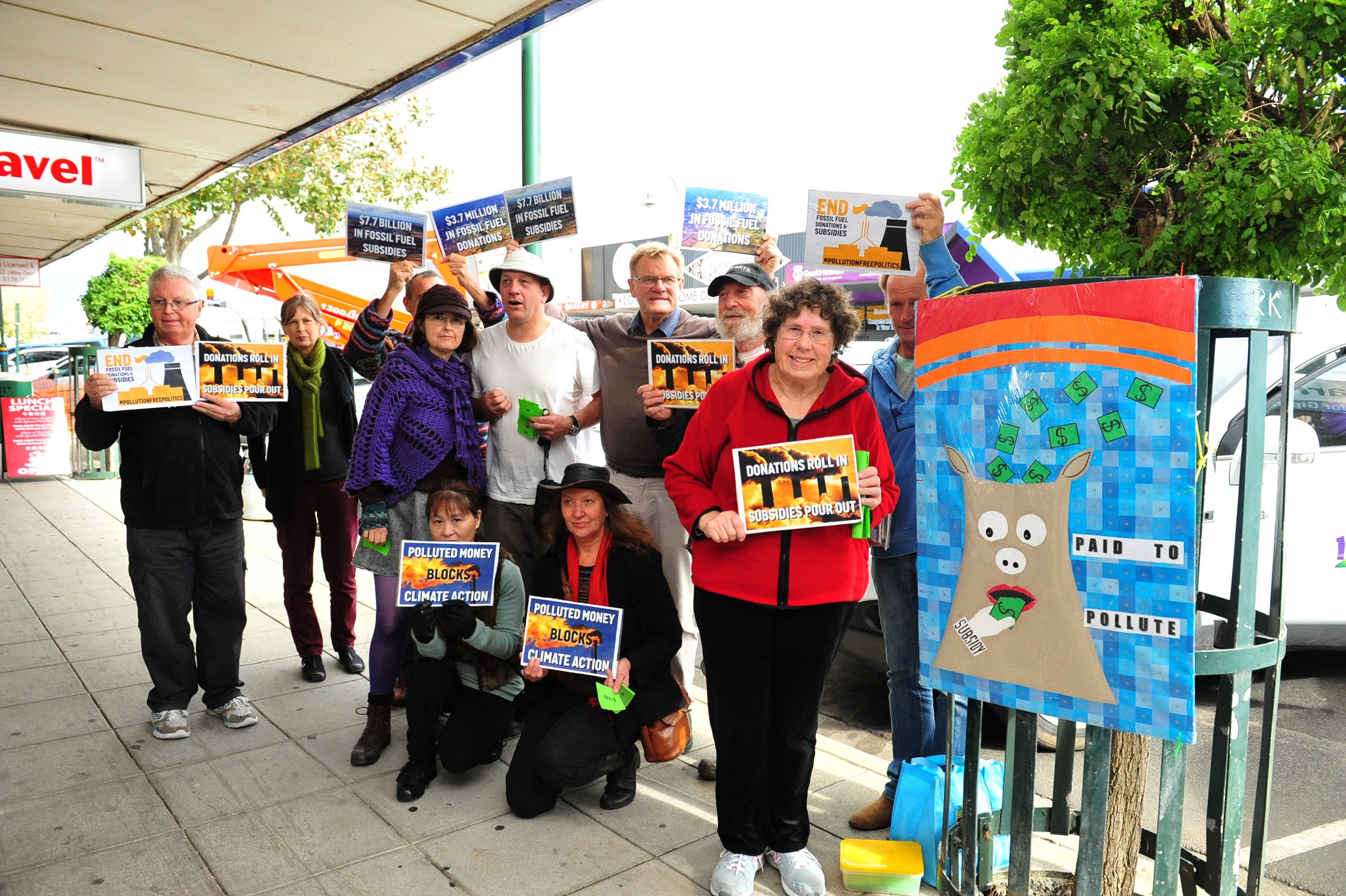 Latrobe Valley environmental activists have called on the Federal Member for Gippsland to support a nation-wide push to ban political donations from mining companies.

The Latrobe Valley Sustainability Group converged on Darren Chester's office on Thursday asking the politician to support a ban on the donations, along with subsidies to "polluters".
LVSG president Lorraine Bull said she believed these donations were impacting the government's decisions when it came to planning for climate change and transitioning into renewable energies.
She said politicians had an important role to play in addressing climate change and wanted Mr Chester to sign a gofossilfree.org pledge calling for an end to the donations.
"These companies have donated $3.7 million to various political parties since the last federal election, with $2.4 million to the Coalition and $1.3 to Labor," Ms Bull said.
"In return, the fossil fuel companies get $2.5 billion back in subsidies, benefits and diesel rebates."
According to Ms Bull, these subsidies benefited Latrobe Valley coal companies to a sum of $1 million annually.
She said political donations encouraged diesel consumption in the mining industry because "they're not looking for alternative sources".
"It undermines community efforts in reducing greenhouse waste – no matter how many times we turn the light switch off it gets wasted by what these companies are doing," Ms Bull said.
"It costs each tax payer $182 annually to subsidise fossil fuel companies…should you and I be subsidising them to pollute the environment and increase climate change?"
Thursday's demonstration included LVSG members giving randomly selected residents fake money which the group asked to place into buckets labelled renewable energy, health, education and fossil fuels in order of where they thought the cash should be spent.
The results were that 39 per cent went to renewable energy, 37 per cent to health, 24 per cent to education and zero per cent to fossil fuels.
Ms Bull said the activity showed government spending did not reflect community desires. Mr Chester said the country's system of democracy allowed for individuals and companies to exercise their right to support political parties of their choice.
"It's important that we have an open, transparent system of declaring any political donations and that is a process which is managed independent of the government of the day," Mr Chester said.
"Hardworking Latrobe Valley power station employees and their families have made an enormous contribution to the wealth of Victorians and our nation and I will continue to back them 100 per cent in the future."
Federal Environment Minister Greg Hunt was contacted by The Express for comment, but did not respond to questions at the time of going to print. Details of the petition, including a list of politicians who have pledged their support, can be found at gofossilfree.org.au