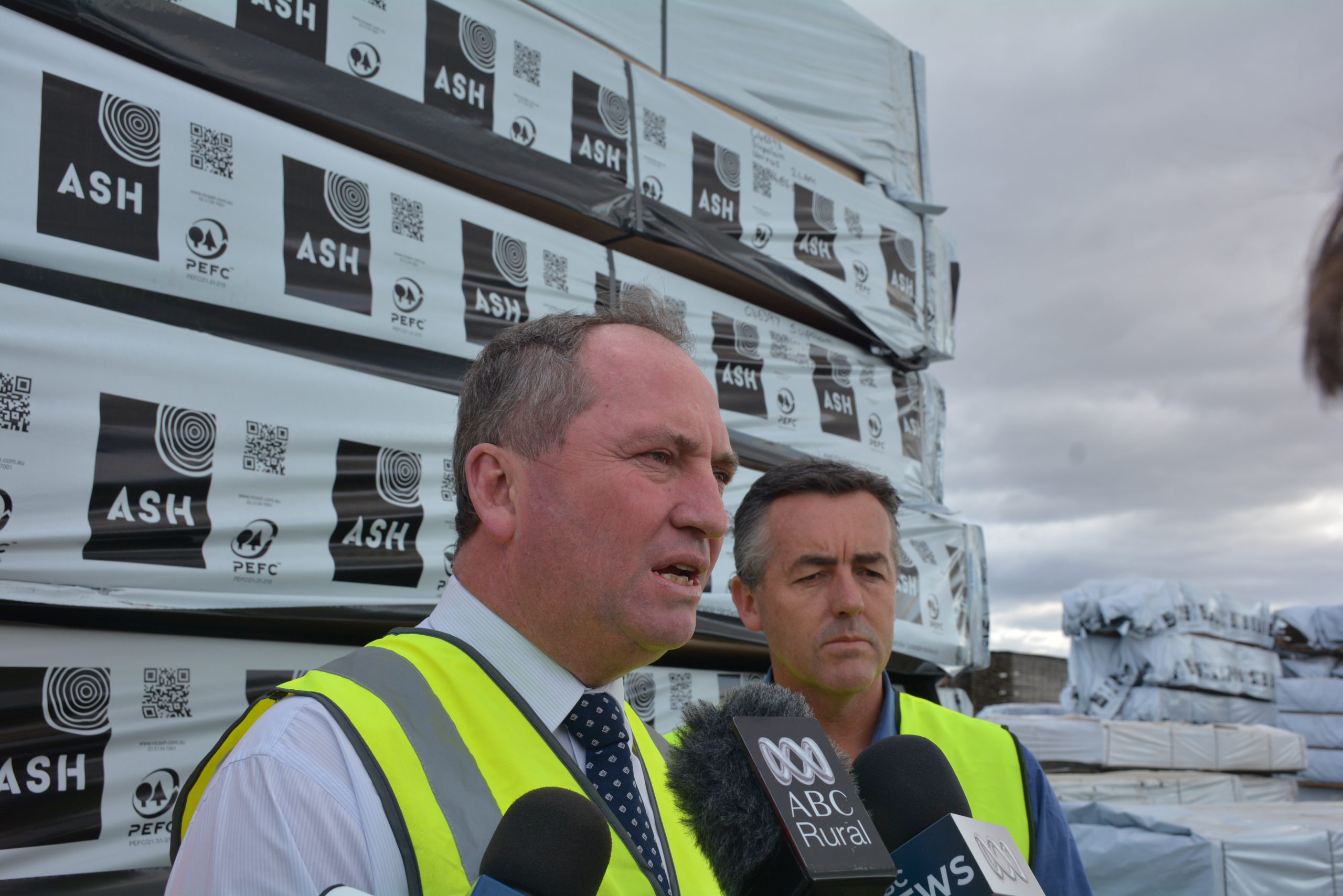 Struggling farmers hit by dairy processor milk price cuts are set to receive a share in a half-a-billion-dollar support package.
Deputy Prime Minister Barnaby Joyce, who visited dairy farmers in Heyfield last week, announced $555 million in concessional loans as well as $20 million to upgrade Gippsland's Macalister Irrigation District.
Dairy Australia will provide assistance to dairy farmers who have had their incomes retrospectively cut by dairy processors Murray Goulburn and Fonterra. Additional money for financial counsellors will also be available.
Westbury dairy farmer, Stuart Griffin, who met with Mr Joyce at a farm in Shepparton recently, said it was important the government support services were made available immediately, not a month down the track.
"It's an acknowledgement that these services are needed and people need to make decisions around their business now coming into a lower milk price," Mr Griffin said.
The Fonterra supplier said there had been shock and a reasonable amount of confusion since the dairy processor announcements, but local farmers were starting to understand the numbers.
He said it was important processors announced their opening price as soon as possible, with Fonterra indicating a figure early next month.
"People are still concerned with the expected lower milk price and tough seasonal conditions, and need to say this is a situation that we've got and get a good handle on their farm business and find a way through," Mr Griffen said.
The concessional loans will be funded by expanding the drought concessional loan scheme to include dairy-specific criteria. The recovery loans will be for terms of 10 years.
Nine financial counsellors in Victoria, Tasmania, South Australia and New South Wales will also be employed to work specifically with the dairy sector as well as the appointment of a Department of Human Services dairy liaison officer.
The government said it would also spend $2 million to establish a commodity milk price index, while $1.8 million would be provided for business advice and financial counselling.
Federal Member for Gippsland Darren Chester said the announcement was welcome news for Gippslanders who had been hit hard by the fall in milk prices.
He said the MID upgrade was also a critical project with a potential irrigation growth of 9000 hectares, creating more jobs in the dairy industry.
Human Services Minister Alan Tudge said the government was taking immediate action to ensure eligible dairy farmers had fast-tracked access to the support they need to get through the tough times.
"We've ramped up the number of staff processing Farm Household Allowance claims," Mr Trudge said.
"An extra 18 people have been brought in to process claims and to work directly with farming families on their individual cases, with a special focus on people in financial hardship."