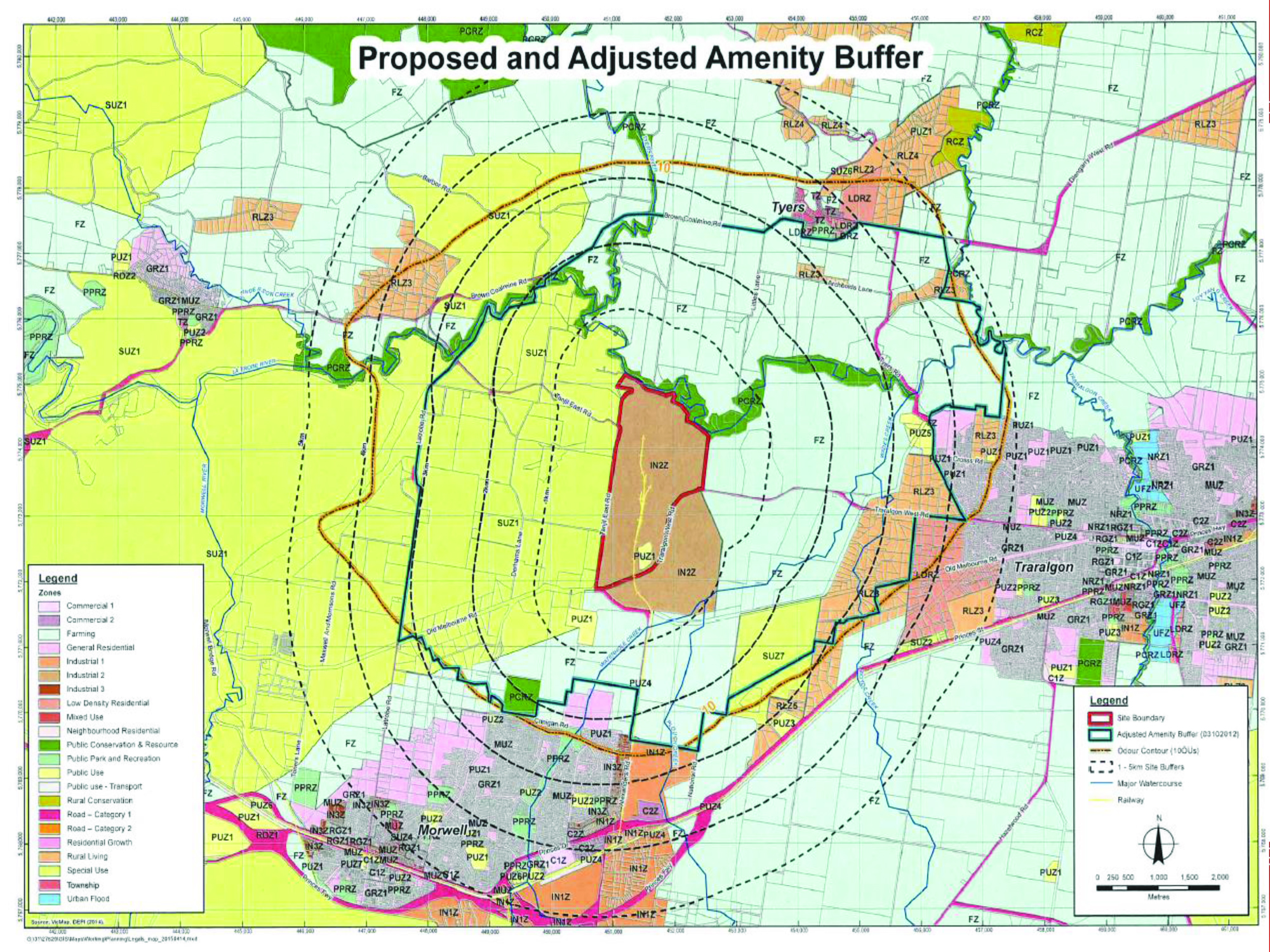 Disagreement over how far odours that emanate from Australian Paper's Maryvale Mill reach has stalled a key component of council plans for Traralgon's future expansion.
Residents insist they are not affected by odours that could omit from the plant, but Australian Paper's own modelling suggests otherwise.
On Monday night Latrobe City councillors voted to implement most of the Traralgon Growth Areas Review framework into council's rulebook on how it develops land.
This was after deputy mayor Sharon Gibson split the TGAR amendment into three parts to allow councillors to debate contentious issues separately.
But councillors resolved to delay a decision on the proposed urban amenity buffer in a bid to find out, once and for all, whether residents were affected by the mill's emissions.
"I am hoping that cool heads will prevail in this – the matter has become extremely emotional," Cr Graeme Middlemiss later told The Express.
"The residents are very concerned, but on the other side, I fully understand Australian Paper's desire to prevent further residential encroachment around their plant. All I am asking for now is for both parties to step back, agree to conduct the testing that I have suggested and I am positive that council and the minister will stand by the results."
Australian Paper spokesperson Craig Dunn said residential development around Maryvale Mill had been increasing and the company required planning certainty to support capital investment.
He said for the past six years, Australian Paper had been working with the Environment Protection Authority, community and council to define an urban amenity buffer around the mill.
"Without a defined buffer to establish clear boundaries between residential and industrial development, future investment at the mill is potentially under threat," Mr Dunn said.
"The proposed buffer has been specifically designed to provide planning certainty for local residents living near the Maryvale site, and Australian Paper has taken a flexible approach to tailor the boundaries around features like roads and waterways.
"We have also taken into account pre-existing development agreements."
Despite a ministerial-appointed panel's recommended buffer of 10 odour units, council officers incorporated a smaller, negotiated buffer into the amendment.
Australian Paper had agreed to that negotiated buffer, but residents in Tyers' south, Morwell's north and Traralgon's west still reject it with the view it's too large.
"Council faces a dilemma," Latrobe City general manager of city development Phil Stone said.
"A panel of experts recommends it be bigger, but a whole lot of landowners who sit inside the proposed buffer are unhappy it's there and they say it should be smaller than what was proposed.
"Australian Paper is happy with the line as it was negotiated with council officers."
On Monday night Cr Middlemiss suggested council request an extension of time to conduct further monitoring around the mill before making a decision.
Mr Stone said council faced a deadline of September to establish a defined buffer, with all work required to start again if it failed to reach a decision.
Councillors agreed to seek an extension of time, if necessary, from the planning minister.
Mr Dunn said this delay greatly concerned Australian Paper, "given the consultative approach" the company had taken.
"Australian Paper is a major local employer and future development at the Maryvale site remains uncertain until the urban amenity buffer has been resolved and is in place," he said.
Mr Stone said it was important the community looked at the big picture despite one last piece yet to be finalised.
"This is a comprehensive plan to grow Traralgon – the majority of that work has been done now," he said.
"That's pretty exciting in the seven years of hard work and this is entirely appropriate for council to be planning for the long-term growth of this city."