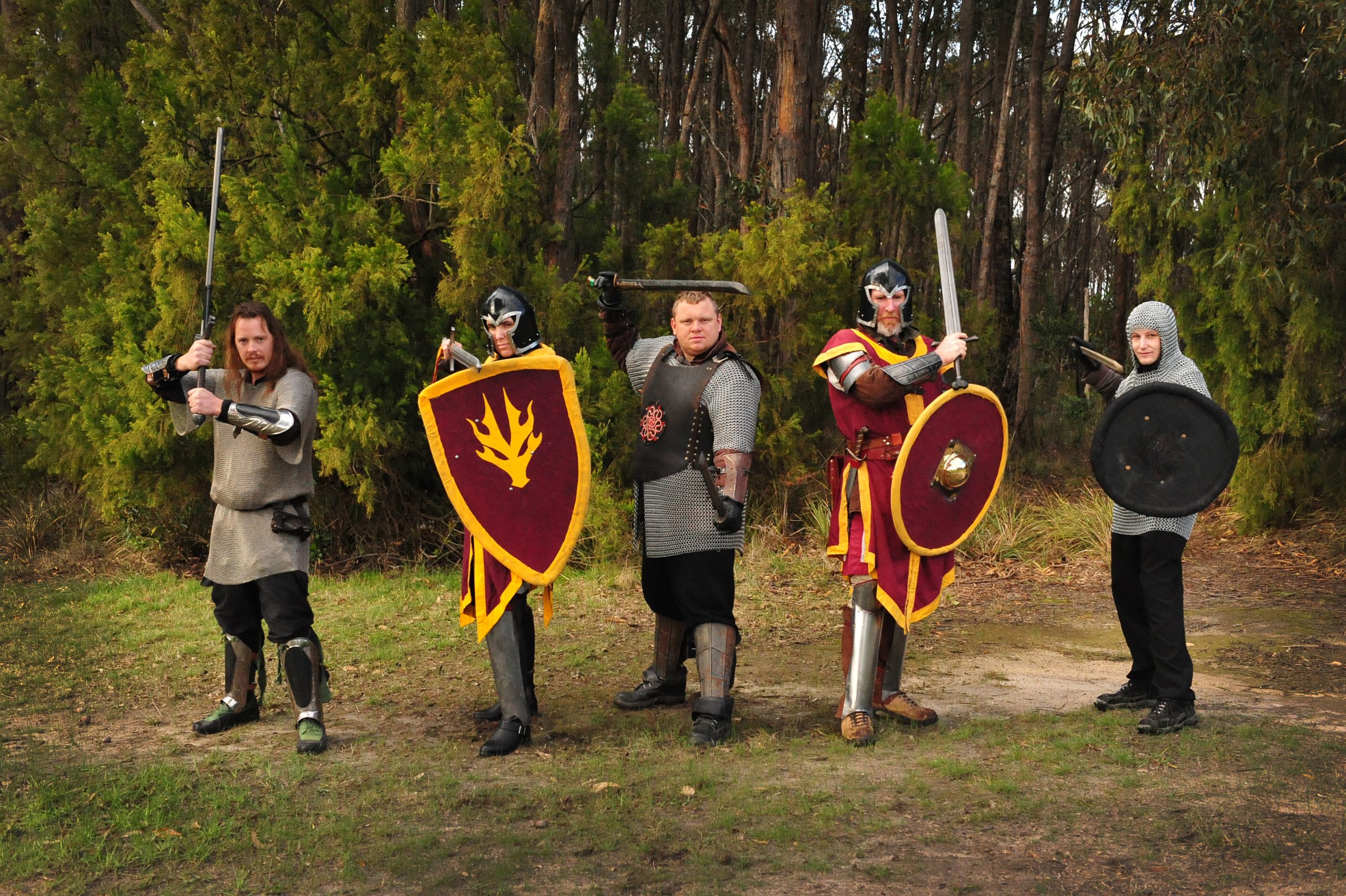 WINTER is upon us and war is at hand.
The battle is coming to Apex Park, Moe on Monday when knights, bandits and warlocks will brawl for glory and honour on the Queen's Birthday holiday.
And you're invited to join the fray.
Gippsland LARP (live action role-playing) has put out a call to arms for locals to discover their inner warrior on Monday at its Queen's Birthday Bash event.
Combining elements of fantasy, combat, role-playing, theatre and cosplay in a medieval setting, the battle will be on for young and old, prince or pauper.
"We do a medieval type of LARP primarily. We use medieval type armour, swords and even some good old fashioned magic," Gippsland LARP spokesman Anthony Bennett said.
"What you're going to see is 20 to 40 people decked out in armour, such as chain mail, helmets and realistic latex swords (going to battle).
"If they (the public) want to they can come and grab a sword and try it out."
LARP is a real life role-playing game in which participants create characters and physically act out scenarios within a fictional setting.
The Gippsland LARP group participates primarily in 'Swordcraft', a medieval battle game fought out with realistic latex weapons, padded arrows, shields, armour and plenty of valour.
The local chapter formed about a year ago after the realisation that many players travelling to Melbourne to participate were locally based.
A group of four people, including Mr Bennett, began training together to improve their swordsmanship and skills and the faction has since ballooned to about 50 active members.
For Mr Bennett, a member of the chaos emperor's clan which currently rules the land, LARP is a chance to dive headlong into another world.
"The combat is really great and it's good to just fight against each other, but the whole fantasy thing where you can be someone completely different is fantastic," he said.
"Normally I'm a pretty nice guy but in the LARP world I'm pretty evil. It's good to have those different avenues.
"You develop a character slowly… if you want to be a medieval knight you might start off as a peasant and work your way up as you build armour and get better with your skills, or you might want to become a bandit.
"The great thing about LARP is it enables you to do what you want to do."
Ranging in theme from sci-fi to post-apocalyptic and medieval warfare, Mr Bennett said there was a LARP out there for "everyone and every taste" with at least six groups operating in Victoria alone.
Monday's event will be open to the public, with loaner swords and gear available, as Gippsland LARP looks to expand its roster of champions.
"We will be having new player training so everyone will be on the same page and will know how to handle their weapons safely," Mr Bennett said.
"If anyone is interested they can come down… sign a waiver form, listen to our rules and they can jump in free of charge."
Sign in at Apex Park will be from noon, with new player training from 1pm and games to run from 1.30pm to 4pm.
The event is for ages 18 years plus, or 16 years plus with parental permission, and spectators are welcome.
For more information visit the Gippsland LARP Facebook page.